How To Make Wendy's Dave Single At Home
Note- This post may contain affiliate links, we earn from qualifying purchases made on our website. If you make a purchase through links from this website, we may get a small share of the sale from Amazon and other similar affiliate programs.
Are you wondering what Wendy's Dave single is? Let me be your guide. Wendy's dave single is a small burger loaded with a single beef patty and fresh veggies. It is a mouth-watering and delightful burger. Do you wish to go on a burger trip in your kitchen? If yes, then check out the article below!
Get started in your kitchen with just a few pantry items. Here, we have used a brioche hamburger bun to make the dave single. You can easily find it in the nearby stores. For the filling of the burger, you need sirloin, lettuce, onions, tomatoes, jalapenos, and some seasoning spices. 
The Dave single burger at Wendy's is customizable. You always have the option to choose the filling. Nevertheless, nothing beats the comfort of cooking in your kitchen. Prepare the fresh homemade Wendy's Dave single in just 25 minutes. This is just an estimated time, you might take less or more!
Grab your pantry items and follow the step-by-step instructions to make Wendy's Dave single burger. Seek out the list of equipment, ingredients, steps to make, and nutritional facts. You will also find out some of the most searched FAQs. But before you read out the entire recipe, check out other Wendy's copycat recipes from our website.
1. Wendy's Baconator Fries – What goes perfectly with the Baconator burger? Of course, none other than Wendy's Baconator fries. The delicious golden fries are topped with a creamy cheese sauce, chunks of bacon, and some shredded cheese. What more can anyone ask for?
2. Wendy's S'Awesome Sauce – Wendy's S'awesome sauce is truly an awesome sauce. You can easily make it at home by mixing some mayonnaise, mustard, ketchup, and a variety of warm and aromatic spices. This sauce is the perfect companion to your burgers and fries.
3. Wendy's Oatmeal Bars – Need your extra dose of fiber and energy? Try Wendy's oatmeal bar! These soft and chewy bars are easy to make and can last up to a week. You can make them with nuts, oats, and some seeds. Use mashed banana as a binding agent, bake, and voila!
3. Wendy's Chili Seasoning – Want the Wendy's like touch to your chili. Just make Wendy's chili seasoning. This thick seasoning is made by mixing corn syrup, vinegar, gelatin, and other flavors. You can use this versatile seasoning with pizzas, burgers, or sandwiches.
What Equipment Will You Need To Make Wendy's Dave Single?
Knife – Use a knife to slice the burger in between. Moreover, use it to further chop the veggies. 
Butter Knife – Keep one butter knife to slather the mayonnaise and ketchup on the burger bun.
Grilling Pan – By using a grilling pan, grill the patty nicely until it is crisp and golden-brown. 
How Much Time Will You Need To Make Wendy's Dave Single?
| Preparation Time | Cooking Time | Total Time |
| --- | --- | --- |
| 5 Minutes | 15 Minutes | 20 Minutes |
What Ingredients Will You Need To Make Wendy's Dave Single?
Brioche Hamburger Buns – To make Wendy's dave single take brioche hamburger buns. Brioche bread is a butter-flavored bread. 
Sirloin – Sirloin is the tender cut of beef. Take the ground sirloin to prepare the beef patty. 
Canola Oil – Grill your beef patty by using canola oil. It results in a smooth and juicy texture of patty. 
Jalapenos – Diced jalapenos will add spicy flavor to the dave single.
American Cheese – Add a slice of American cheese inside the burger buns.It compliments the beef and melts easily. 
Mayonnaise – For creamy flavors spread a layer of mayonnaise on the halves of burger buns. s 
Lettuce – Add freshly torn lettuce leaves to the filling of the dave burger.
Onions – White onions sliced have mild flavors and are best when eaten raw. 
Tomato – Grab some thinly sliced tomato for dressing the top of the burger.  
Tomato Sauce – The sweet and saucy flavors can be achieved by slathering some tomato sauce. 
Garlic Powder – Season the ground sirloin with garlic powder. It will bring out pungent flavors.
Salt – Add salt to your taste.
Black Pepper – Season your beef patty with black pepper. 
Onion Powder – Mix the ground sirloin with a teaspoon of onion powder along with other spices.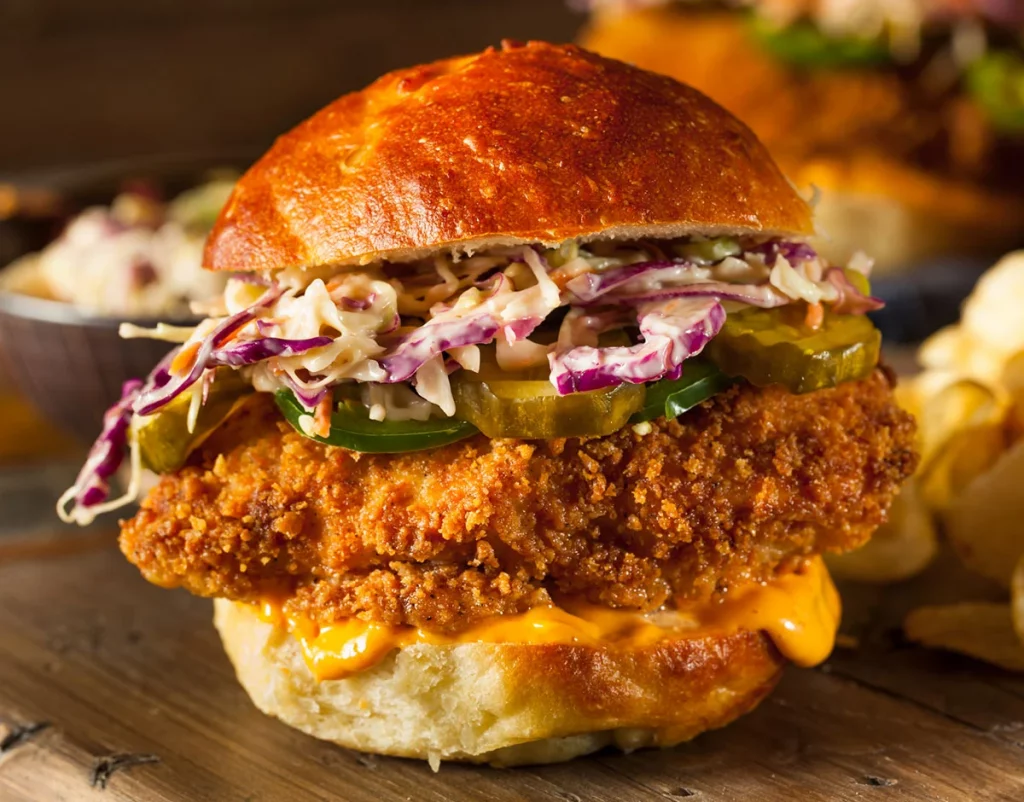 Steps To Make Wendy's Dave Single
1. Get Set Go
Gather all the elements together. Slice your brioche buns, and toast them. Simultaneously, in a bowl, add ground sirloin and mix it with the spices like onion powder, garlic powder, salt, and pepper. Roll it out in a round shape of a patty. Chop onion, tomatoes, jalapenos, and lettuce.
2. Light The Heat 
Grill the beef patty on the grilling pan. By using a tong, flip to cook on both sides. Season the patty with salt and black pepper. If you wish, you can also add cayenne pepper.
3. Put Together 
Begin to assemble the dave single burger. Slather mayonnaise and ketchup on the bottom bun. Begin to add the fillings. Place the beef patty on the bun. Put some jalapenos, onions, tomatoes, lettuce, and an American cheese slice on its top. Cover the burger with the other half of the bun. Serve with your choice of beverages. 
Nutritional Information
| | |
| --- | --- |
| Calories | 390 kcal |
| Carbohydrates | 3 g |
| Fat | 31 g |
| Protein | 24 g |
| Sodium | 810 mg |
| Cholestreol | 100 mg |
| Sugar | 2 g |
| Dietary Fiber | 1 g |
How Will Wendy's Dave Single Look And Taste Like?
Wendy's dave single burger is juicy, well-loaded with fresh veggies and healthy beef patties. With each bite of a single dave burger, you can feel the freshness added. 
Wendy's Dave Single Recipe
Wendy's dave single burger is a single chicken patty burger offered at Wendy's. It is prepared with rich marinated and grilled chicken. Moreover, the fresh lettuce, onions, tomatoes, and jalapenos enhance the flavors. Get ready to prepare this burger in just 20 minutes.
Brioche Buns

Sirloin Beef

Canola Oil

Jalapenos

American Cheese

Mayonnaise

Lettuce

Onions

Tomato

Tomato Sauce

Garlic Powder

Salt

Black Pepper

Onion Powder
Toast the brioche bun to achieve a crispy texture of burger bun.

Shape the beef mixture into a round patty.

Preheat the grilling pan and place the beef patty. Use a tong to flip and grill on both sides until crispy.

Simultaneously, chop the veggies and gather everything to club the dave single burger.

Spread tomato ketchup on one side of the bun and mayonnaise on the other side. Place the grilled beef patty on the bottom half of the bun.

Put tomatoes, jalapenos, onion, and lettuce slices onto the burger. Close the burger with the other half of the bun and enjoy.
Frequently Asked Questions (FAQs)
1. What goes on a Dave's single
 Wendy's dave single is a burger prepared with beef patty, American cheese, crisp lettuce, onions, jalapenos, ketchup, mayo, and tomatoes. All these elements are clubbed in a brioche hamburger bun.
2. How much is a Wendy's Dave single?
Wendy's dave single burger costs you $4.49, and dave's triple costs you $6.49. They even offer the dave triple combo that costs you $9.89.
3. How much beef is in a Wendy's Dave's single?
Wendy's dave single has a quarter pound of beef added to it. 
4.Does Wendy's put mustard on their burgers?
Wendy's uses mustard sauces on their selected burgers. The sauce is not added to all the burgers. Even the mustard is not added in Wendy's dave single.
Prepare copycat Wendy's dave single burger at home now. Grab some essentials and get ready to make the recipe in your kitchen. Do share your valuable feedback with us in the comments section below.