How To Make Wendy's Chili At Home
Note- This post may contain affiliate links, we earn from qualifying purchases made on our website. If you make a purchase through links from this website, we may get a small share of the sale from Amazon and other similar affiliate programs.
Wendy's is popular for its classic chili. It is a scrumptious bowl filled with fresh elements they offer. Today I am sharing the copycat recipe to make Wendy's chili. You are going to surely adore this scrumptious bowl of chili in your kitchen.
Wendy's is known for the quality food they offer. Also, do you know the fresh meat used at Wendy's chili never touches the insides of the freezer? Yes, that's why it always tastes better. So, make sure you use the right and fresh elements. Add your tweaks or replace the ground beef with chicken or turkey. It's your kitchen, not to forget.
For making Wendy's chili, you need some fresh onions, celery, green bell pepper, two types of beans, beef, and chili seasoning. The two types of beans are pinto and kidney beans. Sauté the veggies and cook the beef with some spices in just one pot. The best thing about this recipe is that it goes with most of the side dishes. Be it breadsticks, baked potatoes, nachos, salads, or soft pretzels.
If you follow the right steps, you can emulate all the flavors of Wendy's chili at home. As fast as you can hit the drive-thru, you can also make it in your kitchen. Don't have pinto beans? Here is a list of pinto beans substitutes that you can use. You can also replace beef broth with this list of beef broth substitutes.
So don't delay more. Check out the detailed list of equipment, ingredients, nutritional facts, and steps to make the chili. The copycat Wendy's chili recipe will be ready in 40 minutes. But before you read out the entire recipe, check out other Wendy's copycat recipes from our website.
1. Wendy's Taco Salad – Craving a taco when on a diet? Make Wendy's taco salad for yourself. Just top some taco chips with chili, lettuce, and salsa. If you're not on a die, just add some cheese and a generous dollop of sour cream.
2. Wendy's Frosty – Wendy's frosty is a drink known for its smooth and delicious taste. It is also fun to make. Just blend some condensed milk and cool whip with yummy frozen chocolate cubes. In the end, you'll have a delicious frosty dessert drink, all to yourself.
3. Wendy's Baconator – The Wendy's Baconator is perhaps the most loved Wendy's burger. The juicy fresh beef patty is topped with mayonnaise, cheese, vegetables, and crispy roasted bacon. If you weren't a Wendy's fan before this, you'll definitely become one after eating the Baconator.
4. Wendy's Seasoned Potatoes – Wendy's seasoned potatoes are crispy, flavorful, and baked. The potatoes are cut into wedges and then seasoned with herbs and spices. Then, they are baked to give you those beautiful golden-baked wedges.
What Equipment Will You Need To Make Wendy's Chili?
Saucepan – Make the chili by using a saucepan.
Bowl – Chop the veggies in the bowls. 
Ladle – By using a ladle, stir in the spices, veggies, and beans while making the chili. It can also be used in serving. 
How Much Time Will You Need To Make Wendy's Chili?
| Preparation Time | Cooking Time | Total Time |
| --- | --- | --- |
| 10 Minutes | 40 Minutes | 50 Minutes |
What Ingredients Will You Need To Make Wendy's Chili?
Ground Beef – Chili is made by using half a cup of ground beef blended with other elements. 
Bell Peppers – Bell peppers add sweet and colorful flavors to the chili. 
White Vinegar – Add a teaspoon of white vinegar before serving. It brightens up the tangy flavors. 
Pinto Beans – Pinto beans are colorful pink beans with rich earthy and nutty flavors.
Kidney Beans – Kidney beans are well paired with the pinto beans in making the chili.
Yellow Onions – Add some chopped yellow onions to make the chili. It gives sweet and savory flavors to the chili. 
Celery – For adding herbaceous flavors, add chopped celery.
Garlic – Add a teaspoon of minced garlic for pungent and aromatic flavors. 
Beef Broth – The liquid will tenderize the meat nicely and instead of using water take half a cup of beef broth. 
Olive Oil – Saute the veggies in a tablespoon of olive oil. 
Crushed Tomatoes – A freshness to your culinary creation is added by using crushed tomatoes. It is the best element to be used in making chili.
Chili Powder – Add a little spice in the chili as per your taste. 
Cumin Powder – Cumin powder will add warm, nutty flavors to the chili. 
Coriander Powder – It is great if you add a teaspoon of coriander powder. Ground coriander has a citrusy flavor that lifts the chili's flavor.
Salt – Add salt as per your taste. 
Black Pepper – Season the chili with a pinch of black pepper. 
Dried Oregano – A teaspoon of oregano adds herbal flavors. 
Sugar – To balance the spices, add a tablespoon of sugar.
Cayenne Pepper – Cayenne peppers will bring out the heat and spices to Wendy's chili.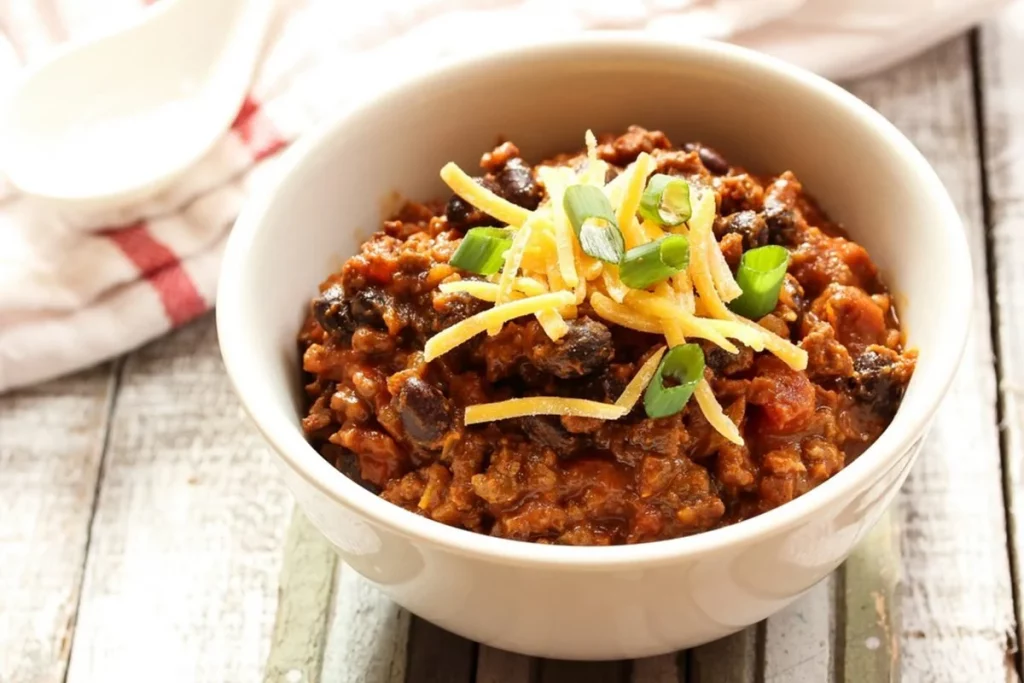 Steps To Make Wendy's Chili
1. Begin The Flame
For making Wendy's chili, take a saucepan. Add olive oil, bell peppers, diced onions, and celery. Saute them for 2 minutes. Then add minced garlic and ground beef. Cook for 5 minutes until everything is combined well. Add the spices cumin, coriander, chili, salt, black pepper, and cayenne pepper. Let the spices cook for another 2 minutes. 
2. Chili Concoction
Moving forward, add crushed tomatoes, pinto beans, kidney beans, and beef broth. Over medium heat, cook for 35 minutes or until the broth is soaked up. Add a teaspoon of white vinegar for tangy flavors when it is almost cooked. Turn off the flame when it is cooked. You can serve the chili with breadsticks, baked potatoes, nachos, salads, soft pretzels, and much more. 
Nutritional Information
| | |
| --- | --- |
| Calories | 250 kcal |
| Carbohydrates | 23 g |
| Protein | 23 g |
| Fat | 7 g |
| Sodium | 1170 mg |
| Cholesterol | 50 mg |
| Sugar | 9 g |
| Dietary Fiber | 5 g |
How Will Wendy's Chili Look And Taste Like?
Wendy's chili is thick, rich, and full of flavors. The beef is cooked and tenderized nicely. The flavors of beans and veggies are combined well. With these two beans, extra deliciousness is added to the chili. All in all, it is a delightful full-fledged meal.
Wendy's Chili Recipe
Wendy's is popular for its classic chili. It is a scrumptious meal prepared by using fresh ground beef, veggies, and some rich spices. When you decide to make Copycat Wendy's chili, know that it is a healthier choice. Feel good and prepare this hearty and healthy chili in your kitchen.
Ground Beef

Bell Peppers

White Vinegar

Pinto Beans

Kidney Beans

Yellow Onions

Celery

Garlic

Beef Broth

Olive Oil

Crushed Tomatoes

Chili Powder

Cumin powder

Coriander Powder

Salt

Black Pepper

Dried Oregano

Sugar

Cayenne Pepper
Saute bell peppers, onions, and celery for 2 -3 minutes in olive oil. Then, add ground beef and minced garlic.

Add the spices like cumin, coriander, chili, salt, black pepper, and cayenne pepper.

Cook for 5 minutes to brown the ground beef.

Add pinto beans, kidney beans, crushed tomatoes, c beef broth, olive oil, coriander, pepper, and oregano to the pot.

Cover the saucepan with a lid and wait while it simmers for 35 minutes.

When it is almost cooked, add a teaspoon of white vinegar for tangy flavors.

Turn off the flame when the liquid is all soaked up. Serve copycat Wendy's chili with your favorite side dishes.
Frequently Asked Questions (FAQs)
1. How does Wendys make their chili?
Wendy's makes their chili by using fresh meat, which is never frozen. They add rich pinto beans that are paired with kidney beans. Moreover, there is a blend of rich and flavorful spices like cumin, garlic, cayenne, coriander, and chili. 
2. Is Wendy's chili healthy to eat?
Wendy's chili is made with 7 grams of fat, 5 grams of fiber, and 23 grams of protein. Overall it has 230 calories which is a hearty and healthy meal in itself.
3. Does Wendy's put sugar in their chili?
To balance the spices, Wendy's adds a blend of sugar with other elements. However, it is completely optional. 
4. What is the best secret ingredient for chili?
When it comes to the best ingredients for preparing chili, you can use a lot of options. The liquid smoke, white vinegar, Worchester sauce, fish sauce, soy sauce are some of them. 
Make your homemade chili exactly like Wendy's. Refer to the article above. Do share your views with us in the comments section below!