How To Make Wendy's Baconator Fries At Home
Note- This post may contain affiliate links, we earn from qualifying purchases made on our website. If you make a purchase through links from this website, we may get a small share of the sale from Amazon and other similar affiliate programs.
Ever thought of fries with bacon? Just like Wendy's baconator burger, the baconator fries also have applewood smoked baked bacon. This is quite an easy and quick recipe to follow. With this article, you will get to make Wendy's baconator at home in your kitchen. 
Wendy's prepares natural-cut, skin-on, seasoned potato fries topped with crispy bacon chunks and warm cheesy sauce. You can also prepare these bacon fries in no time. Fry or bake the potato fries. I'll leave that up to you. Moving forward for the cheese sauce, mix milk with butter and cheddar cheese. 
The smooth and creamy texture of the sauce will make you fall in love with cheese. You can also store the cheese sauce for up to 3-4 days. For bacon lovers, this snack is no less than a dream because it is just prepared in 30 minutes. So, along with the cheese, bake the crispy bacon in the oven. 
I know you can't wait to prepare the baconator fries in just your kitchen. Find the detailed list of ingredients, equipment, and steps to make the copycat Wendy's baconator fries. Also, don't miss out on the nutritional information given below. Now scroll down quickly. But before you read out the entire recipe, check out other Wendy's copycat recipes from our website.
1. Wendy's S'Awesome Sauce – Wendy's S'awesome sauce is truly an awesome sauce. You can easily make it at home by mixing some mayonnaise, mustard, ketchup, and a variety of warm and aromatic spices. This sauce is the perfect companion to your burgers and fries.
2. Wendy's Oatmeal Bars – Need your extra dose of fiber and energy? Try Wendy's oatmeal bar! These soft and chewy bars are easy to make and can last up to a week. You can make them with nuts, oats, and some seeds. Use mashed banana as a binding agent, bake, and voila!
3. Wendy's Chili Seasoning – Want the Wendy-like touch to your chili. Just make Wendy's chili seasoning. This thick seasoning is made by mixing corn syrup, vinegar, gelatin, and other flavors. You can use this versatile seasoning with pizzas, burgers, or sandwiches.
4. Wendy's Dave Single – Wendy's Dave's single is a deliciously juicy burger and gets its name from Wendy's founder, Dave Thompson. The burger has a square juicy beef patty topped with fresh veggies and cheese. The brioche buns are the perfect ones for this burger.
What Equipment Will You Need To Make Wendy's Baconator Fries?
Bowl – Season the potato fries by tossing them in a bowl.
Parchment Paper – Keep the bacon slices on the parchment paper. 
Oven – Bake the bacon in the oven. 
Knife – Use a knife to slice the potato fries. 
Saucepan – Prepare the cheese sauce in a saucepan.
Frying Pan – Fry the batches of potato fries by using a frying pan. 
How Much Time Will You Need To Make Wendy's Baconator Fries?
| Preparation Time | Cooking Time | Total Time |
| --- | --- | --- |
| 10 Minutes | 20 Minutes | 30 Minutes |
What Ingredients Will You Need To Make Wendy's Baconator Fries?
For Baconator Fries 
Potato Fries – Baconator fries have potato fries as the base. 
Applewood Smoked Bacon – The crispy baked bacon is the main element added to Wendy's baconator fries. 
Olive Oil – Fry the potato fries using olive oil.
Salt – Add salt to your taste to season the potato fries.
Garlic Powder – A pinch of garlic powder brings out strong flavors when used as a seasoning. 
For Cheese Sauce
Milk – In a cup of milk, melt the butter and cheese evenly to achieve a thick texture. 
Butter – The butter will add rich flavors to the cheese sauce. 
Cheddar Cheese – Mix a cup of shredded cheddar cheese with milk and butter. This will result in smooth and creamy cheese sauce. 
Salt – Add salt to your taste
Black Pepper – Season your cheese sauce with a teaspoon of black pepper.
Cayenne Pepper – For extra flavors and spice, add a teaspoon of cayenne pepper to the cheese sauce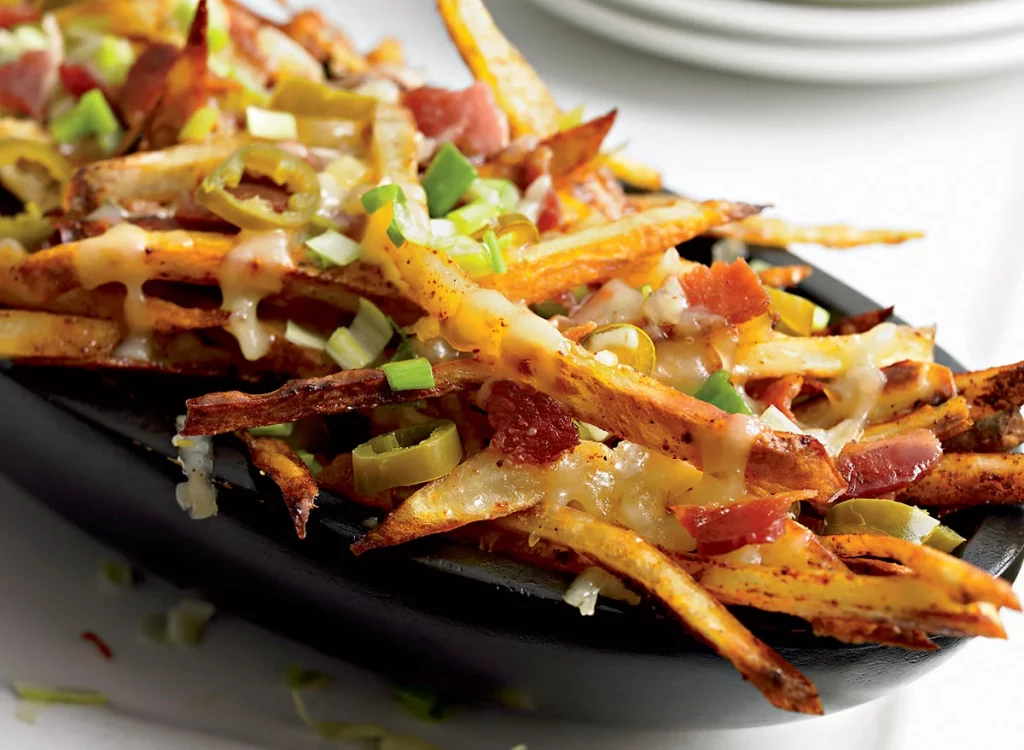 Steps To Make Wendy's Baconator Fries
1. Prep Step
Slice the potatoes to make the fries, and lay out the bacon to bake. Add the fries to a frying pan with preheated oil. Simultaneously, prepare the cheese sauce. In a saucepan, add butter and milk. Let it boil until it is frothy and thickened. Add a cup of shredded cheese once you see it frothing. Mix it well to melt the cheese. Season the cheese sauce with salt, pepper, and cayenne pepper.  
2. Plate The Fries 
When the potato fries are golden brown, take them out and season them with salt, pepper, and garlic powder. Take out the bacon and chop them into chunks. Place the seasoned fries on the plate. Pour the cheese sauce, followed by some more bacon on the top. Garnish the baconator fries with shredded cheddar cheese.
Nutritional Information
| | |
| --- | --- |
| Calories | 450 kcal |
| Carbohydrates | 44 g |
| Protein | 12 g |
| Sodium | 490 mg |
| Dietary Fiber | 4 g |
| Cholesterol | 25 mg |
| Fat | 25 g |
| Sugar | 2 g |
How Will Wendy's Baconator Fries Look And Taste Like?
Wendy's baconator fries prepared at home are appetizing. The smoky flavors of crispy baked bacon are complemented with cheese sauce. The seasoned potato fries are also crispy and crunchy. It is an amazing snack option. Do try it with your loved ones.  
Wendy's Baconator Fries Recipe
Wendy's baconator fries are rich and luscious. Prepared in just 30 minutes these baconator fries are loaded with chees sauce, potato fries, and crispy bacon. They are so delightful to make in your kitchen. Fries, cheese sauce, bacon and you are good to go.
For Baconator Fries
Potato Fries

3

slices

Applewood Smoked Bacon

1

tablespoon

Olive OIl

1

teaspoon

Salt

1

teaspoon

Garlic Powder
For Cheese Sauce
1

cup

Milk

½

cup

Cheddar Cheese (Shredded)

1

tablespoon

Butter

1

teaspoon

Salt

1

teaspoon

Black Pepper

1

teaspoon

Cayenne Pepper
Layout the bacon grasped with oil on the parchment sheet to bake for 10 minutes until crispy.

Simultaneously, slice the potatoes, wash them, and put them to fry for 10 minutes.

For making the cheese sauce, in a saucepan, add butter and flour.

Mix until it is well combined. Next, add one cup of milk and let it boil until it is frothy. Keep flipping the fries at the same time.

Turn off the flame and add 1 cup of grated cheddar cheese. Mix until the cheese is melted through. Season it with salt, cayenne pepper and black pepper.

Start to assemble. Season your fries with any seasoning. Place the fries onto the plate.

Add the chunks of crispy baked bacon. Then, pour the creamy, cheesy sauce on the top with a little more bacon.

Finally, garnish it with shredded cheddar cheese.
Frequently Asked Questions(FAQs)
1. What is on Wendys Baconator Fries?
Wendy's baconator fries are prepared with potato fries topped with warm cheese sauce and crispy bacon. The toppings also include shredded cheddar cheese.
2. What kind of cheese does Wendy's use on Baconator Fries?
Wendy's uses cream cheese sauce on baconator fries. It is made by using milk, butter, and cheddar cheese.
3. How does Wendy's season their fries?
Wendy's uses sodium acid pyrophosphate to season the fries. It prevents the fries from turning excess brown.
4. Does Wendys use real bacon?
Wendy's is known for the fresh quality food they serve. The bacon served at Wendy's is fresh, real, and never frozen.
Prepare the baconator fries in your kitchen with this article. Be sure you share the recipe with your loved ones. Leave us the feedback in the comment section below.