How to Make Watercress Soup at Home
Note- This post may contain affiliate links, we earn from qualifying purchases made on our website. If you make a purchase through links from this website, we may get a small share of the sale from Amazon and other similar affiliate programs.
Who doesn't love to have soups in winter? Everyone right! And if it is healthy and leafy soup, then our cravings even increase more. One of my favorites is Watercress soup. So, today I am gonna share the recipe for this delicious and healthy soup.
I first tried this soup during my childhood when I once visited my Grandmother's house and from then onwards I started making Watercress soup during every winter season. This soup has been proved a savior to me during every winter season and I can't wait to share this awesome recipe with you guys.
Watercress soup is a quick recipe that can be made in less than 5 minutes. The most exciting thing is that it can only be made with one leafy vegetable that is Watercress. But if you want to load your soup with more nutrients you can add potato, spinach, celery, cheese, lemon juice and sprinkle with salt and pepper as per your taste. Garnish it with watercress leaves and parmesan cheese and your healthy soup is ready to serve.
Well, this was a quick glimpse of how you can make your healthy soup but you will not want to miss the detailed cooking instructions that will make your soup even more perfect. Also, there are other recipes that you can have as starters, let's check them out.
1. Cock-a-Leekie Soup– Cock-a-Leekie soup is a very tasty and light soup made up of chicken, bacon, vegetables, herbs and bread. You can imagine that it's high in nutritional contents and is very healthy, in addition to being hearty and delicious.
2. Lemongrass Ginger Soup– This simple soup can be eaten hot or cold, in winter, or in summer. Many are aware of the healing benefits of carrots, mainly the antioxidant-rich carotenoids that are known to pack anticancer powers.
3. Potato Soup– Potato is one of the major ingredients used in a variety of dishes. Potato soup is one of them. It is an amazing dish made with bacon, potatoes, milk, cheese, chicken broth and carrots as well.
4. Acorn Squash Soup– Acorn squash is a simple, vegan and delicious soup. It is roasted and blended with onion, carrot and garlic to make a smooth soup. It is very good for consumption during winters.
Ingredients for Watercress Soup
3 bunches of Watercress
2 Onions
2 Potatoes
2 Garlic Cloves
400 ml of Organic stock
You can easily get these ingredients at your home except watercress which you can buy at the supermarket or fresh vegetable store. Now let's see how much time does it take to make Watercress Soup.
How Much Time It Will Take To Make Watercress Soup?
| Preparation Time | Cooking Time | Total Time |
| --- | --- | --- |
| 6 mins | 35 mins | 41 mins |
This is a very quick and easy soup recipe that you can prepare in less than an hour. Whenever you think of a healthy soup you want to prepare quickly, this soup should be on the top. Now without wasting any time, let's see the recipe for Watercress soup.
Steps to Make Watercress Soup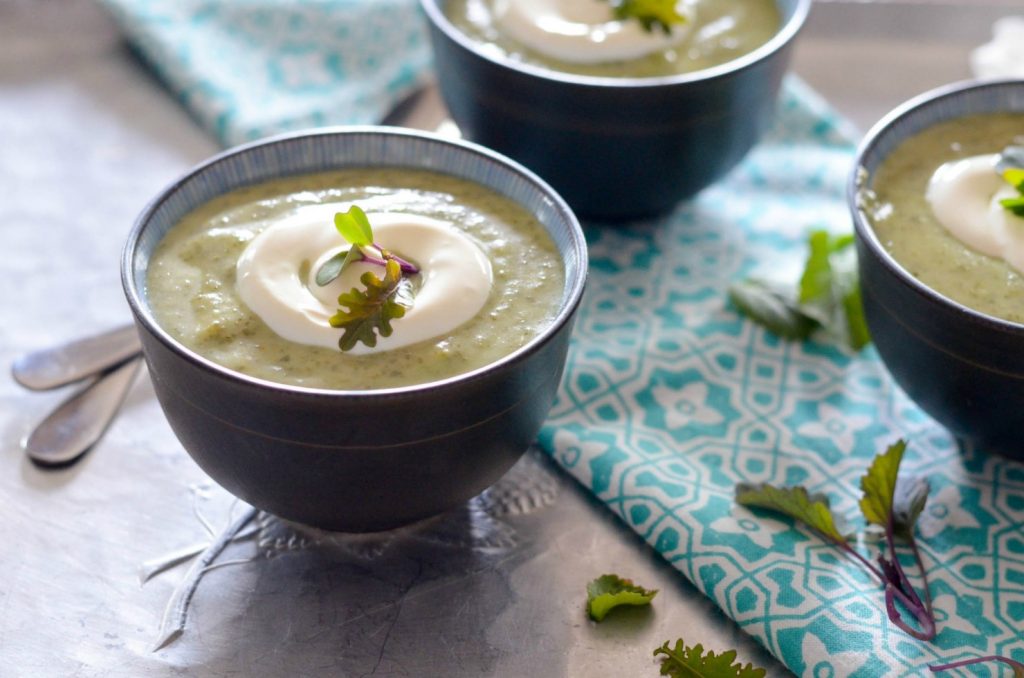 First, peel and roughly chop the onions, potatoes, and garlic. Keep them aside.
Take a big saucepan and heat some olive oil. Then saute the onions, potatoes, and garlic until onions become transparent.
Add the organic stock. Simmer until the potatoes become soft.
Now chop and add the watercress. Simmer for 3-4 minutes more.
Now blend using a hand blender until the soup is smooth.
Garnish with crème fraîche if you like.
Now your Watercress soup is ready and enjoy it on a winter evening or anytime you like. So let's see how much nutrients it provide to your body.
Nutritional Breakdown of Watercress Soup
This is a very healthy soup and very beneficial for winter flu. So let's check out the nutrients present in this soup.
| | |
| --- | --- |
| Calories | 235 |
| Fat | 4.2 g |
| Sugars | 11.6 g |
| Protein | 10.3 g |
| Carbs | 41.4 g |
How to Make Watercress Soup at Home | Video
Here is a step by step recipe video that can follow while making Watercress Soup at home.
So don't forget to make this tasty and healthy soup during the winter season. We would love to hear your reviews about the soup in the comment section below. And stay connected with us for more such tasty recipes.