How To Make Venison Heart At Home
Note- This post may contain affiliate links, we earn from qualifying purchases made on our website. If you make a purchase through links from this website, we may get a small share of the sale from Amazon and other similar affiliate programs.
Venison heart recipe is one of the best natural delicacies. It is a savored part of deer meat. Venison's heart is easily prepared with some aromatic ground spices. This article will walk you through the important tips and tricks.
For preparing the venison heart meat recipe, all you need is deer heart, kosher salt, Italian seasoning, black pepper, soy sauce, red wine vinegar, and olive oil. Marinate the deer heart meat with the spices and keep it aside for an hour.
After some time, grill the marinated meat and the venison heart recipe will be ready. Marination tenderizes the meat evenly and therefore gives you a flavorful meal. Grilling makes the final cut tender and delish. On top of that, the smokey flavor of grilled steak complements the venison heart.
Serve it with sauteed veggies, mushroom cream, or some sauces. There are endless culinary possibilities to make the venison heart. However, we tried this recipe by marinating and grilling the venison heart.
Follow the complete article to know the entire recipe, equipment, ingredients, and nutritional information. Also, there are other main course recipes on our blog as well that you should also check.
1. Meatball Nirvana – Meatball Nirvana is made with ground beef and spices. It is served with pasta and made in red sauce.
2. Venison Stew – For this Venison Stew recipe you need oregano, red wine, Worcestershire sauce, and lots of winter vegetables. Bring out some perfect earthy flavors by making this recipe at home.
3. Venison (Deer) Meatloaf – This savory Venison Meatloaf recipe is delectably tender, perfectly seasoned, and lacquered in a rich and tangy sauce! This recipe will quickly become a favorite use of deer meat.
4. Dahi Gosht – Dahi Ghost (also known as Curd Lamb Curry) is a thick, creamy meat curry most popular in India's northern part. Dahi Ghost is popular for its deliciousness and spicy taste.
What Equipment Will You Need To Make Venison Heart?
Mixing Bowl – Take a large size bowl to marinate the venison heart with other condiments.
Whisk – With the help of a whisk, mix the marinade nicely.
Fillet Knife – The fillet knife will help you to cut the equal slices of venison heart.
Tong – By using a tong, flip the venison heart pieces to grill from both sides.
Oven – Grill or roast the venison heart meat in the oven. If you have a separate griller or gas stove, that would also work. 
Basting Brush – Use a basting brush to brush up the oil on top of deer heart meat.
How Much Time Will You Need To Make Venison Heart Recipe?
| Preparation Time | Resting Time | Cooking Time | Total Time |
| --- | --- | --- | --- |
| 5 Minutes | 2 Hours | 45 Minutes | 2 Hours 50 Minutes |
What Ingredients Will You Need To Make Venison Heart?
Venison Heart – It is the cut of meat from a deer. If it is nicely sliced, no one can guess it is organ meat.  
Black Pepper – Season it with a pinch of black pepper to add spicy touch.
Olive Oil – It is one of the versatile and healthy oils. Add 4 tablespoons of olive oil to the marination to keep the venison heart moist and tender. 
Soy Sauce – The soy sauce will add a hefty dose of flavors to the marination. 
Kosher Salt – Adding kosher salt to the marination will enhance the savory flavors. 
Red Wine Vinegar – The red wine vinegar will add sweet zest flavor to the marinade. Moreover, it is well paired with bold sauces and spices. 
Italian seasoning – The seasoning adds aromatic essence to your food. The typical Italian seasoning is filled with aromatic and fragrant spices like thyme, rosemary, oregano, basil, sage, and parsley.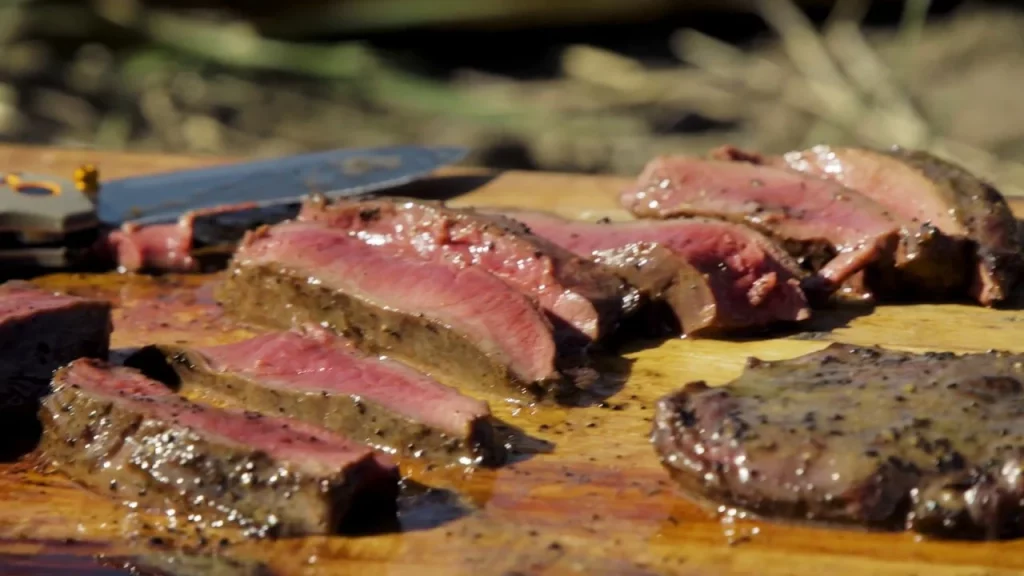 Steps To Make Venison Heart 
1. Get-Ready
Take the heart of deer, before you get to cutting though, make sure to wash the heart with clean water. Remove any leftover blood in the internal valves of the venison heart. Simultaneously, gather all the ingredients on the table. To make Venison's heart (a cut of meat from deer) recipe, begin with marinating the meat pieces. The marinade has the real chance to tenderize the meat.
2. Immersion
Take a mixing bowl, add kosher salt, one tablespoon of Italian seasoning, black pepper, soy sauce, and red wine vinegar. Finally, add 4 tablespoons of olive oil. Mix it well with a whisk. Toss your slices into the marination. Soak them for 2 hours or leave them overnight. The longer you marinate the meat, the more tender and juicy it is.
3. Grilling 
Any griller, stove, or oven would work to grill the venison heart meat. Place the soaked venison heart meat slices on a griller. Slather olive oil with a basting brush to keep the meat moist. Within an hour, you will see the color of meat changing to glazing deep-brown. You can use a fork to check if it is cooked properly. Serve Hot when it is ready!
Nutritional Information
| | |
| --- | --- |
| Protein | 82 g |
| Cholesterol | 562 mg |
| Fat | 32 g |
| Carbohydrates | 10 g |
| Calories | 678 kcal |
| Sodium | 107 mg |
How Will Venison Heart Look And Taste Like?
The venison heart boasts delicate, slightly sweet, and peppery flavors. It is a must-try recipe because of its tenderness and delish taste. The texture is soft and chewy. The taste of venison heart is somewhat similar to beef steak. As it is soaked in the marination, you will notice an aromatic sense of ground spices.
Recipe Card
Venison Heart Recipe
Venison's heart recipe is easily prepared with some aromatic ground spices. This recipe is a must-try because of its tenderness and delicious taste. All you need is venison heart, red wine vinegar, soy sauce, Italian seasoning, salt, black pepper, and olive oil.
250

g

Venison Heart (deer heart)

1

tablespoon

Black Pepper

4

tablespoon

Olive Oil

1

tablespoon

Red Wine Vinegar

1

tablespoon

Soy Sauce

1

teaspoon

Salt

1

teaspoon

Italian Seasoning
Cut the heart vertically from the ventricle to its narrow tip.

In a large bowl, add olive oil, vinegar, salt, Italian seasoning, black pepper, and Soy sauce in it. To this, add the meat and mix well so that it is properly coated with the mixture. Keep it asie for 2 hours.

Heat the grill and make it ready. Sprinkle some oil and salt on bell peppers and onions. Toss them so they get coated well.

Grill the meat. Flip them all and cook again for five more minutes.

Cook everything until they get charred. Use the thermometer to check the temperature of the meat from its center. Remove the meat at 130°F Check if the hearts are cooked properly or not. If some rawness is present, then cook them covered for another 5 minutes. 

Once cooked, sprinkle them with black pepper and salt. Serve hot. 
Frequently Asked Questions (FAQs)
Should I soak my deer heart?
Yes, you can soak the deer's heart. It will help you to remove excess blood and keeps the heart meat clean.
How long should I boil a deer heart?
Simmer the deer heart for at least half an hour. In case it isn't cooked, give me some more time to make tenderized version.
How do you brine your heart?
Brine your venison heart in salted cold water.
How long does it take to smoke a deer's heart?
It takes 30-40 minutes to sear the venison heart to perfection.
Make this recipe by adding your tweaks and share your experience with me in the comments section below. Moreover, stay tuned for some more exciting recipes.