How To Make Velvety Chocolate Butter Pecan Pie At Home
Note- This post may contain affiliate links, we earn from qualifying purchases made on our website. If you make a purchase through links from this website, we may get a small share of the sale from Amazon and other similar affiliate programs.
A dessert is the most loved part of the meal. The recipe of velvety chocolate butter pecan pie will be a great option for a mesmerising dessert. 
The richness of this pie will make you go nuts. This pie is a classic combination of Pecan Pie and Chocolate Pie. This dessert is undoubtedly irresistible once you take a bite. You can even bake this pie in advance. Bake it few days before the serving day, loosely cover the pie and refrigerate it. 
To bake velvety chocolate butter pecan pie, make a dough to create a pastry and place it on a pie plate. Now, create the chocolaty filling with some pecan in it to be filled in the pastry. Once the filling is poured into the pastry, bake it till the filling gets set. The pie is ready to serve!
You will get the detailed steps to be followed in the recipe further. It makes a great dessert for your guests. Everyone will love it at your place. But first, I've mentioned some other cherry pie recipes that I think you should definitely try at your home.
1. St Clements Pie- St Clements pie is named after Saint Clements. It is basically very much similar to the key lime pie that tastes creamy and tangy. The only difference is it has a base made from digestive biscuits and oranges and limes.
2. Chocolate Cream Cheese Pie– The perfect blend of chocolate and the whipped cream, what else one needs to cherish their mood? So not wasting any time, check out the recipe and make it a reality in your kitchen.
3. Peanut Butter Pie Jars– You are going to love this combination of peanut butter and milk chocolate. Another this that is going to make this peanut butter pie jars is because you can make them at home without any cooking or baking process.
4. Sawdust Pie– This pie got its name because of how all the ingredients look like sawdust when combined. If you never had this pie before, then it will indeed become a family favorite. So while you have your dinner, just put it in the oven to be prepared.
Ingredients For Velvelty Chocolate Butter Pecan Pie
1-1/4 cups all-purpose flour
1 tablespoon sugar
1/2 teaspoon salt
1/3 cup cold butter
2 tablespoons butter-flavored shortening
3 to 4 tablespoons ice water
1/2 teaspoon white vinegar
1/4 teaspoon vanilla extract
For Egg Wash:
1 large egg
1 tablespoon water
For Filling:
1/2 cup butter
4 ounces bittersweet chocolate (chopped)
1-1/4 cups packed brown sugar
3/4 cup light corn syrup
3 large eggs, lightly beaten
2 tablespoons molasses
1 teaspoon vanilla extract
1/2 teaspoon salt
1-1/2 cups finely chopped pecans
1/2 cup pecan halves
How Much Time Will It Take To Make Velvety Chocolate Butter Pecan Pie?
| Preparation Time | Cooking time | Additional time | Total time |
| --- | --- | --- | --- |
| 45 Minutes | 55 Minutes | 8 Hours | 9 Hours 40 Minutes |
Baking this pie will take 1.5 hours approximately. Rest of the time is just to refrigerate the dough. This recipe will be worth all the efforts. It is a time-consuming recipe but as it is said – 'Patience is the key to success.' you will be delighted by the result. Take a note of the steps for making this pie.
Steps To Make Velvety Chocolate Butter Pecan Pie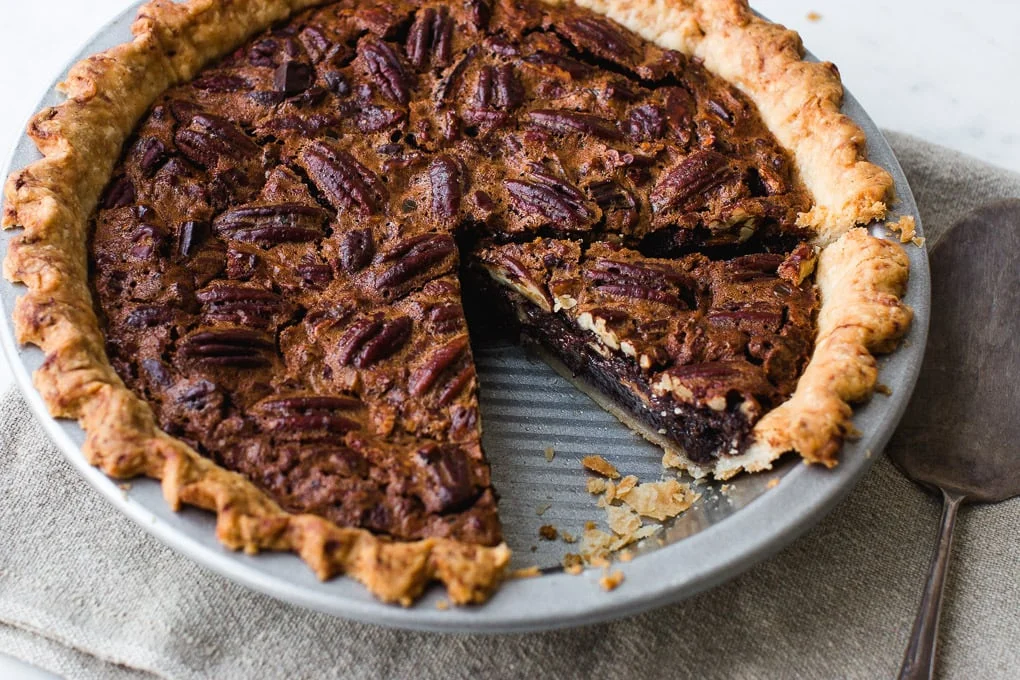 Take a large bowl to make a crumbled mixture of flour, sugar, salt with some butter and shortening. Add vinegar, vanilla and water to this flour mixture gradually. Now mix the dough well with the help of a fork to make a ball of dough. Using a plastic wrap, wrap the dough ball and refrigerate it for minimum 8 hours or overnight.
Roll this dough to make a pastry to fit in a 9 inch plate. Transfer this pastry to a pie plate and trim it ½ inch beyond the edges of the plate. Now beat egg wash ingredients in a small bowl and brush them over the pastry.
To make the filling of the pie, melt butter and chocolate in microwave and stir them to make them smooth. In another large bowl to make a mixture of brown sugar, corn syrup, molasses, eggs, vanilla and salt. Combine them well. Add pecans and the butter mixture to it. Pour this mixture in the pie and place pecan halves over it.
Bake the pie for 55-65 minutes at 350 degrees. Bake till the knife comes out clean when inserted in the pie. When 15 minutes of baking is left then cover the pie edges so that it does not get over browned. 
Cool it down and serve.
You can refrigerate the leftover pie.
NutritionalBreakdown of Velvety Chocolate Butter Pecan Pie
Check out the calorie count of this chocolaty delight.
| | |
| --- | --- |
| Calories | 784 |
| Protein | 8g |
| Carbohydrates | 88g |
| Fat | 49g |
| Cholesterol | 138mg |
| Sodium | 493mg |
How To Make Velvety Chocolate Butter Pecan Pie At Home | Video
In any case you are not clear of any step involved in this recipe, I have uploaded the video with similar recipe. Do watch the video once to know about every detail.
Try this recipe and share your reviews in the comment section below. I will happy to know if you liked the recipe. Not just this, you are free to share any suggestion or a recipe you want to know more about. I will be happy to help you. For now, grab your pie slice. Enjoy!