How To Make Vegan Cheese Pizza At Home
Note- This post may contain affiliate links, we earn from qualifying purchases made on our website. If you make a purchase through links from this website, we may get a small share of the sale from Amazon and other similar affiliate programs.
There are many misconceptions among the masses that veganism will restrict your food options. Today I will debunk those misconceptions with a quick Vegan Cheese Pizza Recipe. This recipe is quick as well as scrumptious and will leave you wanting for more. Dive into the details in order to know it all.
Veganism has transformed into more of a lifestyle than just an eating habit. More and more number of people are changing their current lifestyle to one which is free of any sort of animal cruelty. If you have recently turned to veganism, it can be a tad bit difficult for you to get the hang of it in the initial days. Fret not! Here is a recipe for vegan cheese pizza to tame your food cravings.
To make vegan cheese pizza, prepare dough with activated yeast, water, salt, olive oil and sugar. Boil cauliflower in a pot, then crush it with nutritional yeast, salt, tapioca flour and almond milk. Mix pasta sauce with garlic powder, parsley, oregano and red pepper flakes. Bake it in the oven at 450 F for 15 minutes and enjoy your pizza.
This was just a premise of the recipe which is discussed further in detail along with the ingredients you will be needing to make the pizza from scratch, preparation time, the nutritional value of the end product to inform you in the best possible manner. But here are some other amazing recipes that you should definitely try.
1. BBQ Chicken Pizza– This is a recipe for classic BBQ chicken pizza with tangy BBQ sauce, chicken, and red onion. Gouda cheese gives the homemade pizza the most delicious smoky flavor and cilantro adds a touch of freshness. 
2. Kohlrabi Noodles– Kohlrabi noodles are low-carb and flavorful noodles. The sweetness of this vegetable will make a great combination with other spices used in the recipe. It is a gluten-free recipe, so it is a perfect dish for the health-conscious people out there.
3. Cheeseless Pizza– Cheeseless pizza is originated from New York. As you know, New York is the capital of obesity. Hence, people are very afraid of calories over there. So in such an environment, cheeseless pizza is a great option.
4. Primavera Pizza– Primavera Pizza is an American pizza chain and their pizzas are so popular and tasty as well. The pizza recipe that I am going to tell you is really tasty and anyone can make it at their home.
Ingredients for Vegan Cheese Pizza
For Dough
3 Cup Flour (360 g)
1 Packet of Yeast
1 Tbsp Sugar
1 1/2 Tbsp Olive Oil
1 Cup Warm Water
1/2 Tbsp Salt
For Vegan Cheese
1/2 Cauliflower (375g)
3.5 Tbsp Tapioca Flour
1 Tbsp Nutritional Yeast
2 Tsp Salt
1/2-1 Cup Non-Dairy Milk, Unsweetened and No Flavor
For Pizza Sauce
3/4 Cup Tomato Sauce
1/4 Tsp Garlic Powder
1/4 Tsp Parsley
1/4 Oregano
A pinch of red pepper flakes
After you have gathered all of the ingredients from your kitchen and the nearest supermarket, all that is left is for you to put up an apron and start cooking. But before you do that, mark a check on the next section of the article to see how long do you need to wait before you can gobble this amazing vegan cheese pizza.
How Much Time It Will Take To Make Vegan Cheese Pizza?
| Preparation Time | Cooking Time | Total Time |
| --- | --- | --- |
| 10 Minutes | 20 Minutes | 30 Minutes |
As you can see, the total time required for the recipe is 30 minutes which makes this dish a readily available option for you to cook when you are feeling a little hungry.
Steps To Make Vegan Cheese Pizza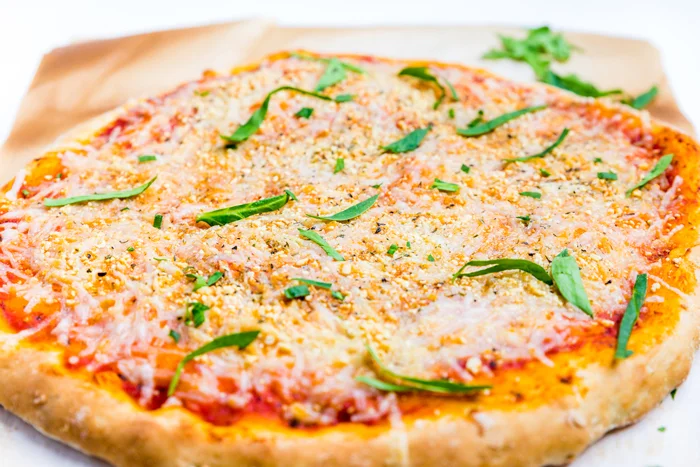 The following is a detailed step by step description of making vegan cheese pizza from scratch which is fluffy and super light. All the steps involved in the process are explained thorough so that you do not end up missing on any particular specifications.
Heat up 250 ml of water and add yeast to it along with some sugar to activate it. Sift 3 cups of flour in a bowl to make sure that there are no lumps. Add a pinch of salt, olive oil and foamy yeast and fold the mixture.
Add more flour to the mixture to give it the shape of dough and start kneading it with dry flour. Cover the dough with a cloth and let it rise to twice its current size. This should not take more than half an hour.
Boil cauliflower in a pot until it is fork-tender, drain the water and wait for the cauliflower to cool down a little bit and then crush it in a high-speed blender along with nutritional yeast, salt, tapioca flour and almond milk. Blend it until you get a smooth consistency.
Empty the contents of the high-speed blender into a pot and heat it on medium flame and stir consistently.
Season the regular pasta sauce with garlic powder, parsley, oregano and red pepper flakes.
Spread the dough evenly on a pizza pan after greasing it with olive oil. Fold up the extra sides, pop it in the oven at 450 F for 7 minutes to cook the crust, spread the tomato sauce, slather the cheese as much you like and then bake it in the oven for 10-15 minutes at 450 F. You can also add some corns, or any chopped vegetables as per your preference. Garnish it with some parsley and you are good to go.
Your vegan cheese pizza is ready for you to relish. Enjoy it with a refreshing glass of lemonade on a summer afternoon.
Nutritional Breakdown of Vegan Cheese Pizza
Here is a tabular representation of the recipe of Vegan Cheese Pizza.
| | |
| --- | --- |
| Carbs | 29 g |
| Dietary Fiber | 3 g |
| Protein | 3 g |
| Fat | 9 g |
| Sodium | 379.7 mg |
How To Make Vegan Cheese Pizza At Home | Video
To make things a little easier and more smooth for you, I have added a recipe video so you can visually interpret the process of making vegan cheese pizza.
Share your experience of making vegan cheese pizza from the scratch with me in the comment section along with if you have any pro-tips for the fellow readers. Happy Cooking!