How to Make Vanilla Custard Cups at Home
Food makes us all its fans after we eat it. We always admire and want to have a great taste of any food that we eat. It doesn't matter what type, cuisine, or form of a recipe it is; all we want is the satisfying taste and mouth-watering presentation. These two factors decide whether we like that food or not. Food is always good, but what makes it exceptional and outstanding are its ingredients and cooking.
Today, I have brought you an easy, simple, and sweet recipe that will make your tastebuds enjoy a roller coaster ride and you will make this recipe every time you crave something sweet. Why I said this is because of the timings and the number of ingredients that this recipe includes.
So today, we are about to make Vanilla Custard Cups. It is a very famous European recipe and got popular throughout the whole world. These cupcakes are the best for any birthday party or a gathering where plenty of people are present. Make these Vanilla Custard Cups and welcome your guests with a beautiful and sweet recipe that will leave a good impression upon them.
So come and let's start the procedure, but the ingredients should be available before we start. If you don't have the below-mentioned ingredients at your home, grab them from your nearest store and continue the procedure. But here are some other amazing recipes that you should definitely try.
1. Thickened Cream– Thickened cream is actually whipped cream but thicker. For a perfect dessert or to make an awesome pound cake, this cream would be a perfect idea.
2. White Chocolate Truffles– White Chocolate Truffles are mini candies that are made using White Chocolate. These candies are considered as one of the most luxurious sweets on the planet because of their very smooth texture. 
3. Coconut-Pecan Frosting– If you are a fan of pecans and coconut, you are going to love this decadent and delicious frosting that takes german chocolate cake to the next level.
4. Krusteaz Waffles– Krusteaz Waffles recipe is easy and anyone could make it in around 15 minutes. And if you want to make Kruteaz Waffles at home, just follow the procedure in this recipe.
Ingredients for Vanilla Custard Cups
| Ingredients | Amount |
| --- | --- |
| Egg | 1 pc |
| Milk | 1 cup |
| Brown sugar | 3 tsp |
| Vanilla extract | ¾ tsp |
| Salt | ⅛ tsp |
| Ground nutmeg | ⅛ tsp |
Given below is the complete time frame of this recipe that will tell you how long you have to wait to get these delicious cupcakes. Note it down and move further.
How Much Time Will It Take?
| Preparation Time | Cooking Time | Total Time |
| --- | --- | --- |
| 20 minutes | 35 minutes | 55 minutes |
Now we have reached the step where we will make this recipe with some proper steps that will help you to get the best recipe for these Vanilla Custard cups ever. Waiting for it is worth it and you will enjoy the procedure of this recipe as it is quite easy and convenient to make.
Vanilla Custard Cups Recipe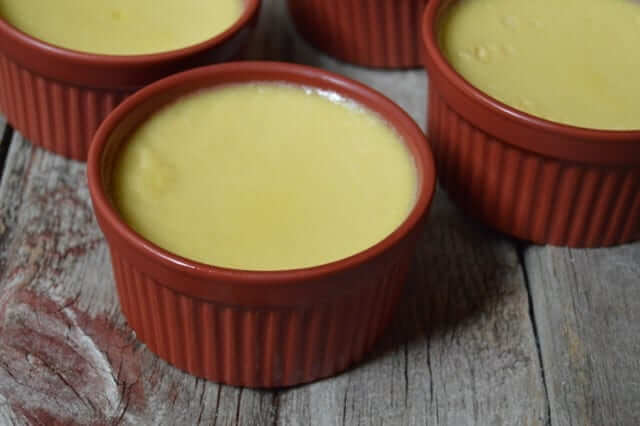 Take a mixing bowl, add the first five ingredients in it and blend it well.
Pour it into two ungreased 6 oz cups of custard.
Sprinkle some nutmeg if you want. 
Keep the cups in the square pans that are 9- inch in size.
Add some water to this pan and keep it almost 1 inch in depth.
Bake it for 30-35 minutes and keep the heat at 350F. Check if they are ready or not by inserting a knife in it and if it comes out clean, then take it out, and your Vanilla Custard Cups are ready.
Your Vanilla Custard Cups are ready and can now be served to your guests, family or anyone you want to. Do try it once and enjoy its sweet and creamy taste.
Nutritional Breakdown of Vanilla Custard Cups
The nutritional breakdown of this recipe is in the table below. Check the table for correct and accurate values for your reference.
| | |
| --- | --- |
| Calories | 360 |
| Fat | 6 gm |
| Cholesterol | 70 mg |
| Sodium | 230 mg |
| Carbohydrates | 53 gm |
| Protein | 16 gm |
| Sugar | 2 gm |
How to Make Vanilla Custard Cups at Home | Video
A video is here for your help. If you want to know more about this recipe or want some details, I recommend you to watch this video once. All of your doubts and confusion will get cleared after you watch it.
So what do you think about this recipe? Tell me if you know something more about this recipe and I will love to add it. Do share this Vanilla Custard recipe with your friends and let us know their reviews and experiences as well, in the comments section below.