How to Make Vanilla Brownies at Home
Note- This post may contain affiliate links, we earn from qualifying purchases made on our website. If you make a purchase through links from this website, we may get a small share of the sale from Amazon and other similar affiliate programs.
Vanilla brownies are one of the best brownies that you can make for your kids. Here I will show how you can make these awesome brownies at your home.
Vanilla Brownies are also known as Vanilla Blondies and I learned this awesome recipe from my mother. She used to make these brownies when I was a kid. This recipe will lighten up your mood and gives a good aroma. When you follow the recipe below, it will be a lot easier to make this brownie. Make these brownies for your loved ones and make them happy.
To make Vanilla Brownies, beat the eggs in a mixture of flour, baking powder and salt. Now cream butter, white sugar, brown sugar and vanilla in a small bowl. Preheat the oven to 350 degrees. Now, spread the batter in an evenly greased pan and bake for 35-45 minutes. Brownies are ready!
Make sure you follow the detailed recipe below to make the perfect Vanilla Brownies. Now let's what ingredients you'll need for making the vanilla brownies.
1. Christmas Brownies– These brownies are far away from your typical brownies. These brownies have a beautiful decoration to make them the perfect Christmas baked delight. They are the best Christmas gift for people who love sugar, chocolate and of course, Christmas.
2. Vanilla Yogurt– Yogurt is said to have positive effects on our immune, cardiovascular systems as well as boosting our metabolism. Yogurt with the flavour of vanilla in it makes it an incredible dish. Homemade Vanilla Yogurt is just irresistible.
3. Scottish Cranachan– This recipe is a traditional Scottish dish that is flavorful and very easy to make. It is made with oats along with other ingredients and also uses malt whisky for a boozy flavor.
4. Baklava– This honey baklava is flaky, crisp and tender and I love that it isn't overly sweet. It's basically a party in your mouth. I am a huge fan of baklava and this is the BEST baklava recipe I have ever tried. Hands down.
Ingredients for Vanilla Brownies
2 1/2 cups All-Purpose Flour
1/2 tsp Salt
2 1/2 teaspoons Baking Soda
3/4 cup Unsalted Butter (softened)
1 1/4 cups packed Brown Sugar
1 1/4 cups White Sugar
3 Eggs
1 tsp Vanilla Extract
Note: You can also use semi sweet chocolate chips for flavours.
How Much Time Will It Take To Make Vanilla Brownies?
| Preparation Time | Cooking Time | Total Time |
| --- | --- | --- |
| 15 mins | 45 mins | 1 hour |
Baking these brownie will take almost 35-45 minutes. Now let's see steps to make these brownies.
Steps to Make Vanilla Brownies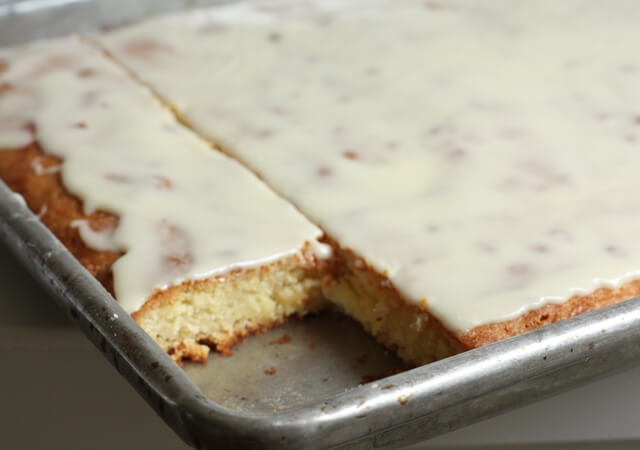 Take a small bowl. Put flour, baking powder and salt into it and mix them properly.
Take a large bowl now. Cream butter, white sugar, brown sugar and vanilla together until they get smooth.
Beat the eggs with a fork and whisk them in the flour mixture.
Chocolate chips can be mixed as per your desire or requirements.
Meanwhile, preheat the oven to 350 degrees. Also during the meantime take a jellyroll pan and grease it properly.
Now, the batter should be spread evenly in the greased pan.
Bake for 35 – 45 minutes in the oven.
Now, cool it in the pan on a wire rack.
Once it gets completely cooled, cut it into squares with precision.
Serve these vanilla brownies with ice creams and everyone is going to love it.
Nutritional Breakdown of Vanilla Brownies
Below is the complete nutritional breakdown of these vanilla brownies.
| | |
| --- | --- |
| Calories | 169 |
| Carbohydrates | 26.4 g |
| Fiber | 0.8 g |
| Sugars | 20 g |
| Saturated fats | 4.2 g |
| Cholesterol | 26 mg |
| Proteins | 1.8 g |
| Calcium | 33 mg |
| Potassium | 60 mg |
How to Make Vanilla Brownies at Home | Video
If you're having any difficulty in making this recipe, make sure to watch the video below.
Now it's your time to make Vanilla Brownies. Make these awesome brownies at your home and tell us your reviews in the comment section below.