How to Make Vanilla Birthday Party Cake at Home
Note- This post may contain affiliate links, we earn from qualifying purchases made on our website. If you make a purchase through links from this website, we may get a small share of the sale from Amazon and other similar affiliate programs.
No one can deny a super yummy vanilla cake on birthdays. The creamy layers and the classic finish is guaranteed to steal everyone's heart at the birthday party. If you are looking for a birthday cake for children, then this cake will just be perfect for them.
I still remember when my kid (George) asked me to make his birthday cake at home this year. After listening to his wish, I was quite surprised because I've never made a cake before. So I called a friend of mine who owns a bakery and she suggested me to make this Vanilla Birthday Party Cake for my son.
So I practiced the recipe of Vanilla Birthday Party Cake by trying it several times and on the day of his birthday, everyone loved it, especially George. And I was very happy with that. So today, I decided to share this wonderful Vanilla Birthday Party Cake recipe with all of you.
If you love cakes, then you should definitely check out the other cake recipes that I've handpicked just for you.
1. Vanilla Mousse Cake– This is a brilliant, moist chocolate cake with a sweet, creamy vanilla mouse filling. Serve it with fresh fruit, chocolate shavings or fruit sauce.
2. Eggless Vanilla Cake– A slice of soft and moist cake with coffee sounds like the perfect recipe for a relaxing evening. All you need to do is bake this delicious eggless vanilla cake. If you are vegan or not, this cake is perfect for you.
3. Bunny Butt Cake– This coconut flavoured cake is something very unusual by look but will be loved by your kids. Anyone can easily make it at their home by following the recipe that I've mentioned.
4. Trifle with Leftover Cake– Making Trifle at home from scratch might be a difficult recipe to be made. But making it with the leftover cake is what makes it easy. So do check out this recipe.
Ingredients for Vanilla Birthday Party Cake
| Ingredients | Amount |
| --- | --- |
| Unsalted Butter | 225 gm |
| Vanilla Extract | 1 tbsp |
| Egg Whites | 5 |
| Plain Flour | 325 gm |
| Corn Flour | 25 gm |
| Caster Sugar | 25 gm |
| Buttermilk | 250 ml |
| Baking Powder | 1 ½ tbsp |
For the Meringue Buttercream
| Ingredients | Amount |
| --- | --- |
| Egg Whites | 3 |
| Unsalted Butter (Softened) | 360 gm |
| Caster Sugar | 240 gm |
| Vanilla Pod (halved lengthways and seeds scraped out) | 1 |
| Multi-coloured Edible Polka Dots | to decorate |
| Vanilla Extract | 1 tsp |
You get all these ingredients from any supermarket near your home. So now let's check out how much time is it required to make this Vanilla Birthday Party Cake at home.
How Much Time It Will Take?
| | | |
| --- | --- | --- |
| Preparation Time | Cooking Time | Total Time |
| 2 Hours | 30 Minutes | 2 Hours 30 Minutes |
Now you know the list of ingredients and the time this Vanilla Birthday Party Cake take to prepare at home. So now, let's check out the thing for what we've been waiting for. Yes, I am talking about the recipe of Vanilla Birthday Party Cake.
Vanilla Birthday Party Cake Recipe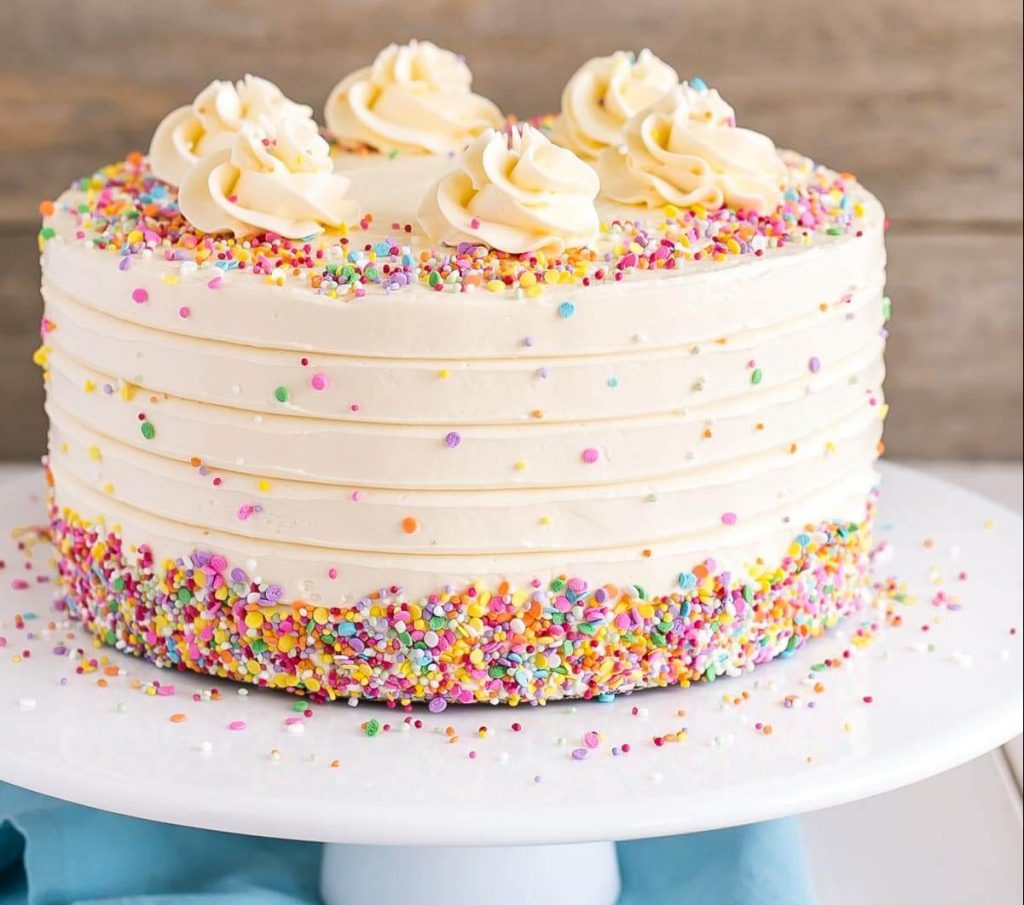 Preheat the oven to 180 degrees C and oil 3*20 cm sandwich containers, fixing the bases with parchment paper and lubing the paper as well.
Beat the butter and sugar in a big bowl with an electric blender until light and cushioned. Include the vanilla extract and the egg whites, one at a time, beating until completely mixed before including the next.
Combine the flour, baking powder, and cornflour. Include the dry ingredients in three additions, substituting with the buttermilk. Equally, divide the batter between the containers and level the tops. 
Bake for around 25 to 30 minutes. Let the cakes cool for five minutes and then invert them on a wire rack to cool totally.
To make the buttercream, put the egg whites and sugar in a large bowl with the vanilla seeds and set over a container of stewing water. Slowly beat until the sugar has completely broken down.
Remove the bowl from the warmth and continue beating until a thick meringue has shaped. Keep whisking until the meringue has cooled to room temperature, and then gradually include the butter, 1 tbsp at once. Once the butter is mixed, the mixture will turn into a smooth buttercream. Add the vanilla extract and blend to mix well. 
To complete the cake, place the baked cake on the turntable or cake board and top it with a buttercream layer. Repeat the same with the rest of the cake layers and wrap up by spreading the remaining buttercream over the top and sides of the cake. To get a smooth completion, utilize the edge of a palette blade, and drag delicately around the sides of the cake, streamlining the buttercream.
To further decorate the cake, decorate the sides of it with the edible sprinkles in the way you like. You can create any design or pattern with the sprinkles and can even write Happy Birthday! The cake is ready. You can refrigerate the cake for a few hours before serving.
So, that was the complete recipe to bake a delicious birthday cake. You can bake it by following all the instructions properly.
Nutritional Information of Vanilla Birthday Party Cake
For every health conscious person out there, I've mentioned the nutritional breakdown of the Vanilla Birthday Party Cake. So you and your kids know how much cake they should eat without worrying about their health.
| | |
| --- | --- |
| Calories | 694 |
| Carbohydrates | 69 g |
| Protein | 6 g |
| Fat | 44 g |
| Cholesterol | 160 mg |
| Sodium | 219 mg |
| Sugar | 51 g |
| Calcium | 83 mg |
| Iron | 14 mg |
How to Make Vanilla Birthday Party Cake at Home | Video
To easily understand the procedure to make this Vanilla Birthday Party Cake at home, I've added a video below. It'll make the task easier for you.
I hope you've liked this recipe. Whenever is your kid's birthday, don't forget to make this cake and share your wonderful experience in the comments section below. Stay tuned for more recipes like these.