How to make Turkey Brine at Home
Note- This post may contain affiliate links, we earn from qualifying purchases made on our website. If you make a purchase through links from this website, we may get a small share of the sale from Amazon and other similar affiliate programs.
The time of the year is Thanksgiving and you are still confused about what to make at your home. Well, you don't have to worry anymore because today I will provide you a very delightful recipe that you can make at your home easily on any occasion. I am talking about Turkey Brine.
As we all know that Turkey has a variety of health benefits like turkey is a very rich source of protein and other very vital nutrients for the human body. It has features that are anti-cancer in nature. Having a great turkey meal can enhance your mood as well.
This Turkey Brine recipe has a huge difference in taste and texture when compared to the other Turkey dishes. It is due to the fact that this dish is made from a process called Brining.
Brining Turkey means making a saltwater solution and putting your turkey in it for around 24 hours before roasting it. This brining procedure enables the turkey to soak all the flavours of the herbs and spices.
So now after hearing all this praise of this dish, let's start making this Turkey Brine at home. The first step is the ingredients, so let's see the ingredients that are required to make this holiday feast.
1. Kielbasa And Cabbage– Kielbasa and cabbage is a Polish dish that contains kielbasa, which is Polish sausage and cabbage along with other ingredients and flavors.
2. Braised Sauerkraut– This is a German cuisine that anyone can easily make at their home within an hour. It is most popular in Poland and now you can have the authentic taste of Poland by just sitting at your home.
3. Irish White Pudding– I fell in love with white pudding living in New York and eating numerous Sunday breakfasts at our local Irish pub, Fiona's. 
4. Jamaican Jerk Seasoning– This seasoning consists of Jamaican spices which are known for their great flavor and taste. This spice includes many ground spices like cinnamon, cumin, black pepper and many more which are known for their anti-inflammatory properties.
Ingredients for Turkey Brine
| | |
| --- | --- |
| Ingredients | Amount |
| Apple cider | 3 Cups |
| Brown sugar | 2 Cups |
| Kosher salt | 1 Cup |
| Tricolor peppercorns | 3 tbsp |
| Whole bay leaves | 5 |
| Garlic cloves (minced) | 5 |
| Rosemary sprigs | 4 |
| Three large oranges (peel them and removed in large strips) | ——- |
| Turkey | 1 |
You will get all these mentioned ingredients from the nearest store. But before getting into the kitchen, let's see how much time will it take to make this Turkey Brine at home.
How much time it will take?
| | | | | |
| --- | --- | --- | --- | --- |
| Prep time | Cook time | Additional | Total time | Servings |
| 10 minutes | 25 minutes | 1 Day | 1 Day 35 minutes | 18 |
 Now, the main part comes that is the recipe of Turkey Brine for which you were waiting. So, let's see the directions that we need to follow while making it.
Turkey Brine Recipe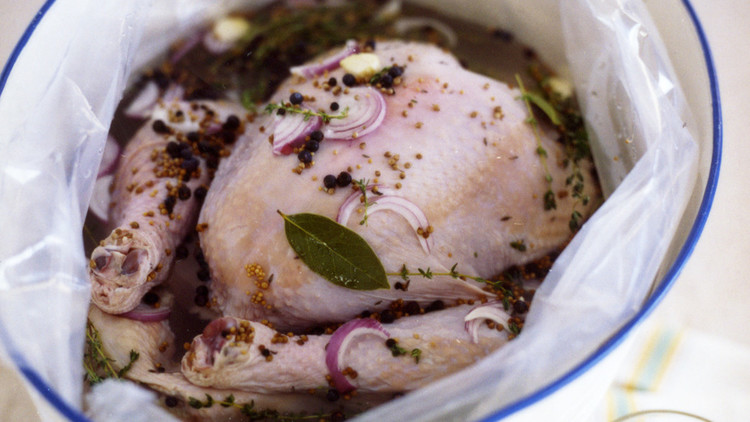 Mix two gallons of cold water with bay leaves, apple cider, kosher salt, tricolor peppercorns, garlic, brown sugar, rosemary sprigs, and orange peels in a pot.
Mix it until the salt and sugar get dissolve. Bring the mixture to a boil, and then turn off the flame.
Cool it completely, then put it inside the fridge to chill.
Add the uncooked turkey in the chilled brine, then again put it inside the refrigerator for a maximum of 24 hours.
Remove the turkey from the brine. Immerse the turkey in a pot of cold water and allow it to sit in clean water for a maximum of 15 minutes to remove the excess salt.
Dump the brine and remove the turkey from the water and dry it.
Now for 15 minutes, roast the turkey at around 325° F.
Roast uncovered for the first few hours and cover the turkey brine with a foil while roasting in the last few hours.
After roasting, leave the turkey aside for around 3 minutes.
Now, your Turkey Brine is ready. Make it at home and enjoy it with your family and friends.
Nutritional Facts of Turkey Brine
As we all know that Turkey is a very good source of protein. So to prove this, I've added a nutritional breakdown of the nutrients present this in the Turkey Brine recipe.
| | |
| --- | --- |
| Calories | 34.7 |
| Protein | 1.1 g |
| Carbohydrates | 5.9 g |
| Fat | 0.6 g |
| Cholesterol | 0 mg |
| Calcium | 47.7 mg |
| Iron | 67.8 mg |
| Sodium | 6130.6 mg |
How to make Turkey Brine at Home | Video
Although this recipe is not that difficult, still I would recommend this video for your help. Do watch it before you try this at your home.
I hope you will like this Turkey Brine recipe. Do try this at your home and please let us know your reviews and queries in the comments section below. And for more recipes like this, stay tuned.