How to make Transparent Pie at Home
Note- This post may contain affiliate links, we earn from qualifying purchases made on our website. If you make a purchase through links from this website, we may get a small share of the sale from Amazon and other similar affiliate programs.
Today we are going to discuss a very simple yet sweet recipe that I guess some of you might have heard of. Yes, I am talking about Transparent Pie. When I used to be a child, my mother used to makes different varieties of pie for me. And my favourite was the Transparent Pie.
And she always had a habit of teaching me about the benefits of different recipes and ingredients. Because she is a very health-conscious person. She wants me to be an expert in cooking and a person who has full cooking knowledge.
Now as I know the best Transparent Pie recipe, I thought I must share it with you all. This recipe of pie requires few ingredients and is not very difficult to understand. So, let's start the process. But first, I've mentioned some other cherry pie recipes that I think you should definitely try at your home.
1. St Clements Pie- St Clements pie is named after Saint Clements. It is basically very much similar to the key lime pie that tastes creamy and tangy. The only difference is it has a base made from digestive biscuits and oranges and limes.
2. Black Raspberry Pie– This is the best black raspberry pie because of it is a two crust pie and has a hint of cinnamon and nutmeg to bring your fork back for another piece of pie.
3. Star-Studded Blueberry Pie– The star-studded blueberry pie is a delicious and aesthetically pleasing dessert. It not only savours our taste buds but also is a treat for our eyes. So, you can make this pie easily at your home.
4. Frito Pie– Frito pie is a Mexican dish but is quite popular in America. Even though the name suggests otherwise, it is a savory dish made of beef, frito chips and cheese. It is a perfect combination of spicy, salty and cheesy flavor.
Ingredients for Transparent Pie
| | |
| --- | --- |
| Ingredients | Amount |
| Margarine (melted) | 1/2 Cup |
| White sugar | 1 1/2 Cup |
| Large eggs | 4 |
| Distilled white vinegar | 1 tbsp |
| Vanilla extract | 1 tsp |
| Pie shell | 1 (9inch) |
For the Filling
| | |
| --- | --- |
| Ingredients | Amount |
| Large eggs | 4 |
| Granulated sugar | 1 Cup |
| Brown sugar | 1 Cup |
| Flour | 2 tbsp |
| Melted butter | 1/2 Cup |
| Heavy cream | 1 Cup |
| Salt | 1/4 tsp |
| Vanilla | 1 tsp |
You can buy all these required ingredients from the nearest supermarket or from any grocery store. Now, let's see how much time it will take to make the whole pie recipe.
How much time it will take?
| | | | |
| --- | --- | --- | --- |
| Prep time | Cook time | Total time | Servings |
| 20 minutes | 55 minutes | 1 hr 15 minutes | 8 |
Now we know all the ingredients and the time that transparent pie will take to prepare. So without waiting more, let's check out the exact recipe of Transparent Pie that I learnt from my mom.
Transparent Pie Recipe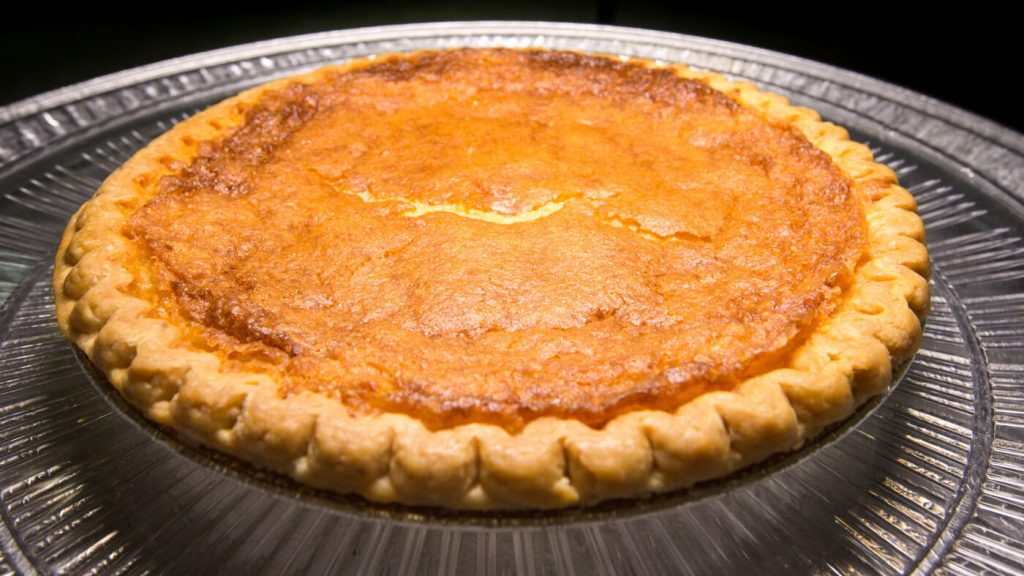 Take a bowl, add eggs, and whisk it gently.
Mix sugar and margarine, give it a quick blend.
Add vanilla extract and vinegar and whisk all the ingredients together.
Transfer the whole mixture into the pie shell and put it inside the oven at 450-degree temperature.
Bake it maximum for 10-15 minutes.
Take a bowl and whisk the eggs gently.
After that, add the sugar, flour, melted butter, heavy cream, salt, and vanilla. Mix it properly.
Pour the mixture into the pie crust and place a shield over the edge.
Transfer the pie again to the oven and bake it for a maximum of 35 minutes.
Remove the shield and again continue baking for the last 10 minutes.
Now, your mouthwatering Transparent pie is ready. You can serve it your guests and they'll love it.
Nutritional Facts of Transparent Pie
I have mentioned below the complete breakdown of nutrients of this Transparent Pie recipe for those people who are always conscious about their health.
| | |
| --- | --- |
| Calories | 363.8 |
| Protein | 4 g |
| Carbohydrates | 45.7 g |
| Fat | 18.9 g |
| Cholesterol | 93 mg |
| Calcium | 21.1 mg |
| Iron | 0.8 mg |
| Magnesium | 6.3 mg |
| Potassium | 58.3 mg |
| Sodium | 268.7 mg |
How to Make Transparent Pie at Home | Video
Watching the video of this recipe while making it will definitely make your cooking process easy. So, I have added a video below that will definitely help you.
I hope you all liked this Transparent Pie recipe. Make this at your home and share your experience with me in the comments section below. I will definitely try to cover it in our upcoming blogs.