How To Make Tootsie Rolls at Home
Note- This post may contain affiliate links, we earn from qualifying purchases made on our website. If you make a purchase through links from this website, we may get a small share of the sale from Amazon and other similar affiliate programs.
As an adult, we always miss our childhood. If I talk about myself, I always miss my childhood and the thing which I used to miss is making different shapes from Tootsie Rolls like flowers, cartoon characters, etc.
Now what are Tootsie Rolls?
Tossie Rolls is a candy that was started in 1907 in the United States as a company that serves mildly chocolate-flavored taffy-like candy. The headquarters Of Tootsie Rolls company is in Chicago, Illinois. People were attracted to this candy because they target audience by giving relatable adds like Tootsie Roll Hero, Tootsie Jingle and the tag line is "Whatever It Is I Think I See".
One day, I saw my son enjoying a chocolate candy. So I decided to make Tootsie Rolls for my son, so he will come to know how tasty a candy can be candy without chocolate.
I searched over the internet about the Tootsie Rolls Candy recipe got it. After I gathered all this information, I made Tootsie Rolls Candy and my son loved it. I saw him this candy so much that I thought to share the recipe with my lovely people over here.
But first, we have to gather all the ingredients required to make Tootsie Rolls at Home. But here are some other amazing recipes that you should definitely try.
1. Pistachio Butter– This delicious nut butter can be spread on a crunchy toast or a scoop into oats or mixed into a cookie batter. You can even replace peanut butter with pistachio butter in some other recipes.
2. Candied Lime Slices– This recipe can be used as a topping over cupcakes, puddings, cakes, or a cocktail. And you can also serve it as a dessert itself. I love recipes like these. This multi-purpose recipe is the easiest.
3. Tootsie Rolls– Tossie Rolls is a candy that was started in 1907 in the United States as a company that serves mildly chocolate-flavored taffy-like candy.
4. Baked Mini Pumpkins– Easy to make and deliciously sweet and savory, these adorable little stuffed pumpkins will be the hit of your next fall gathering.
Ingredients For Tootsie Rolls
| Ingredients | Amount |
| --- | --- |
| Unsweetened Chocolate | 2 ounces |
| Light Corn Syrup | 1/2 Cup |
| Butter | 2 tbsp |
| Powdered Milk | 3/4 Cup |
| Vanilla Extract | 1 tsp |
| Powdered Sugar | 2–3 Cups |
So, making this Tootsie Rolls at home is also very easy just like its ingredients. All these ingredients must be easily available at your home and if not, then you can buy all these from the nearby store. Now let's see how much time would it take to make this Tootsie Rolls.
How Much Time It Will Take?
| | |
| --- | --- |
| Preparation Time | Total Time |
| 30 Mins | 30 Mins |
So, let's move towards the final destination that are the directions to make this Tootsie Rolls at home.
Tootsie Rolls Recipe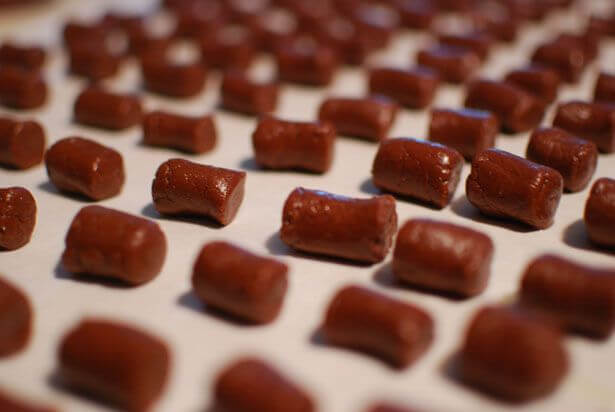 In a bowl, add chocolate and place it in the refrigerator to melt.
When the chocolate melted stir the corn syrup, butter, powdered milk, vanilla extract, stir until butter melts.
In the mixture, add sugar and stir the mixture until the dough is stiff.
Make a granulated sugar surface and knead the dough and add sugar into.
Knead until the candy looks smooth and cut the candy with a knife into small pieces.
Place the candies in the refrigerator for 1 hour and serve.
Finally, Tootsie Rolls are ready. Serve it to your kids and I bet that they'll love it.
Nutritional Facts Of Tootsie Rolls Candy
Tootsie Rolls is a delightful candy. But many people consider candy as unhealthy. So here is the complete nutritional breakdown of this Tootsie Rolls if you need it.
| | |
| --- | --- |
| Calories | 208.7 |
| Protein | 3.4g |
| Carbohydrates | 46.3g |
| Fats | 2.5g |
| Cholesterol | 6.6mg |
| Sodium | 63.3mg |
How To Make Tootsie Rolls at Home | Video
This recipe of Tootsie Rolls is very simple to make but still, I have added a video and recommend you all to watch this video if you are making this for the first time.
I hope you all have liked this Tootsie Rolls. Do try it once at your home and share your experience with us in the comments below. I will definitely try to cover it in the foodxp blog.