How to Make Too Much Chocolate Cake at Home
Note- This post may contain affiliate links, we earn from qualifying purchases made on our website. If you make a purchase through links from this website, we may get a small share of the sale from Amazon and other similar affiliate programs.
As the name suggests, Too Much Chocolate Cake has chocolates as its major ingredients. Too delicious and too tasty. This lip-smacking dessert as you can call it is a go-getter for all chocolate lovers. You would want to have it more and more.
As far as I am concerned, I love chocolates. So I have been making them since very long. Too Much Chocolate Cake recipe adorns every occasion at my home and has become almost a tradition. Well, I am at the lead always to prepare it. I absolutely love making it but not more than eating it finally. Also, it requires fewer efforts and time to come to its delightful form.
So without further ado, let's check out the delicious Too Much Chocolate Cake Recipe.If you love cakes, then you should definitely check out the other cake recipes that I've handpicked just for you.
1. Strawberry Rhubarb Dump Cake– Made with only 7 ingredients, this simple and easy dump cake recipe with the perfect combination of sweet and tart.
2. Chocolate Depression Cake– Chocolate depression cake is not your regular chocolate cake. The reason behind the name of this cake is that this recipe is from the era of the Great Depression when basic ingredients like eggs, milk and butter were really hard to find and were very expensive.
3. Chocolate Cheesecake Recipe with Fresh Raspberries and Strawberries– This white chocolate cake topped with fresh raspberries or strawberries incredibly smooth, creamy, and rich last course that is just the right filling end for your tummy.
4. Chocolate Beer Cake- It is cake prepared using beer as a secondary ingredient and if you make chocolate beer cake it includes stout and chocolate stout beer and gingerbread cakes. There is a tribe called the Rabha tribe which uses rice beer to make beer cake.
Ingredients required for Too Much Chocolate Cake Recipe
| | |
| --- | --- |
| Ingredients | Amount |
| Sour cream | 1 cup |
| Vegetable oil | 1 cup |
| Eggs | 4 |
| Warm water | 1/2 cup |
| Semi-Sweet Chocolate Chips | 2 cups |
| Instant Chocolate Pudding Mix | 1 (5.9 ounce) package |
| Devil's Food Cake Mix | 1 (18.25 ounce) package |
How much time will it take?
| | | |
| --- | --- | --- |
| Preparation time | Cooking time | Total time(excluding cooling time) |
| 5 minutes | 55 minutes | 1 hour |
Too Much Chocolate Cake Recipe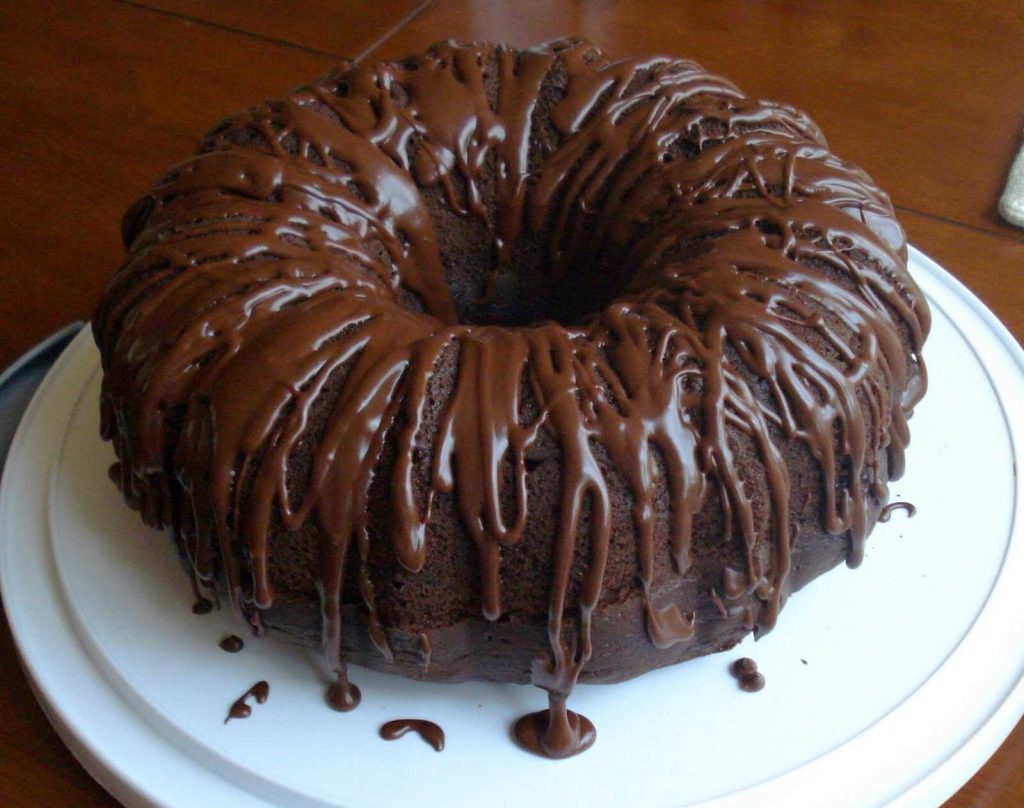 Take a large bowl. Combine the cake and pudding mixes, sour cream, oil, beaten eggs and water.
Put in the chocolate chips and pour out the prepared batter into well-greased Bundt pan.
Bake it in a preheated oven ( 350 F ) for 50 to 55 minutes.
Let it cool for 30 minutes in a pan.
After this, immediately put it into a plate.
Powdered sugar can be used to dust over the cake.
Nutrition facts of Too Much Chocolate Cake Recipe
| | |
| --- | --- |
| Calories | 600 |
| Saturated fat | 12.8 gm |
| Total fat | 38.6 gm |
| Cholesterol | 79 mg |
| Sodium | 550 mg |
| Potassium | 338 mg |
| Carbohydrates | 60.9 gm |
| Fibre | 2.4 gm |
| Sugar | 43 gm |
| Protein | 7.6 gm |
How to Make Too Much Chocolate Cake at Home | Video