How To Make Thai Red Curry With Vegetables At Home
Note- This post may contain affiliate links, we earn from qualifying purchases made on our website. If you make a purchase through links from this website, we may get a small share of the sale from Amazon and other similar affiliate programs.
The Thai red curry with vegetables is an excellent dish from Thai cuisine. The curry is spicy and fragrant and has balanced flavors. The vegetables are cooked in coconut milk and water. Then, spices and aromatic herbs are added to it. This gives the curry a bright color and spicy taste.
If you love Thai cuisine as much as I do, then you know that the Thai red curry is delicious and full of flavor. If you make it at home with your own additions and subtractions, then it is much healthier and suits your tastes better. The combination of this red curry with rice is just divine!
To make Thai red curry with vegetables, take a deep pot. Add oil and then cook onions in it. Then, add vegetables and cook until tender. Add coconut milk, water, kale, and sugar and cook on low heat. Season with tamari and fresh lime juice. Garnish with cilantro, basil, pepper flakes, and sriracha. Serve with rice.
Do you know that Thai red curry paste can be used as a yellow curry paste substitute? Want to know some more substitutes? Here is a list of yellow curry paste substitutes.
This was a snippet of the whole recipe. You'll find the complete recipe scrolling down. There are other main course recipes on our blog as well that you should also check.
1. Instant Pot Vegan Mac And Cheese– An easy and delicious option is the instant pot vegan mac and cheese recipe. This recipe is specially curated for vegan people as it uses vegan butter, almond milk, and vegan cheese.
2. Mexican Red Bean Salad with Corn and Chickpeas– This salad is just the respite to a long uninteresting day; it's light and colorful and would be just what you'd need to lighten you up like rainbow scenery.
3. Vegetable Manchurian– Veg Manchurian is a tasty Indo-Chinese dish of fried veggie balls in a spicy, sweet, and tangy sauce.
4. Peri-Peri Tofu with Kale and Mustard Seeds– Tofu is made from soybeans that are ground in water, heated, and coagulated with minerals like calcium or magnesium salt. The curds are then pressed into a block, which is then sold as tofu.
Ingredients For Thai Red Curry With Vegetables
1 tablespoon Coconut Oil
1 cup White Onion (chopped)
Salt (as per taste)
1 tablespoon Ginger (finely grated)
2 cloves Garlic (pressed)
1 Red Bell Pepper (sliced)
1 Yellow Bell Pepper (sliced)
3 Carrots (peeled and sliced)
2 tablespoons Thai Red Curry Paste
1 can Regular Coconut Milk
1 1/2 cup Water
1 1/2 cups Kale (thinly sliced)
1 tablespoon Tamari
2 teaspoons Fresh Lime Juice
Garnish: Basil, Cilantro (chopped); Red Pepper Flakes, Sriracha
How Much Time Will It Take To Make Thai Red Curry With Vegetables?
| Preparation Time | Cooking Time | Total Time |
| --- | --- | --- |
| 10 Minutes | 30 Minutes | 40 Minutes |
Steps To Make Thai Red Curry With Vegetables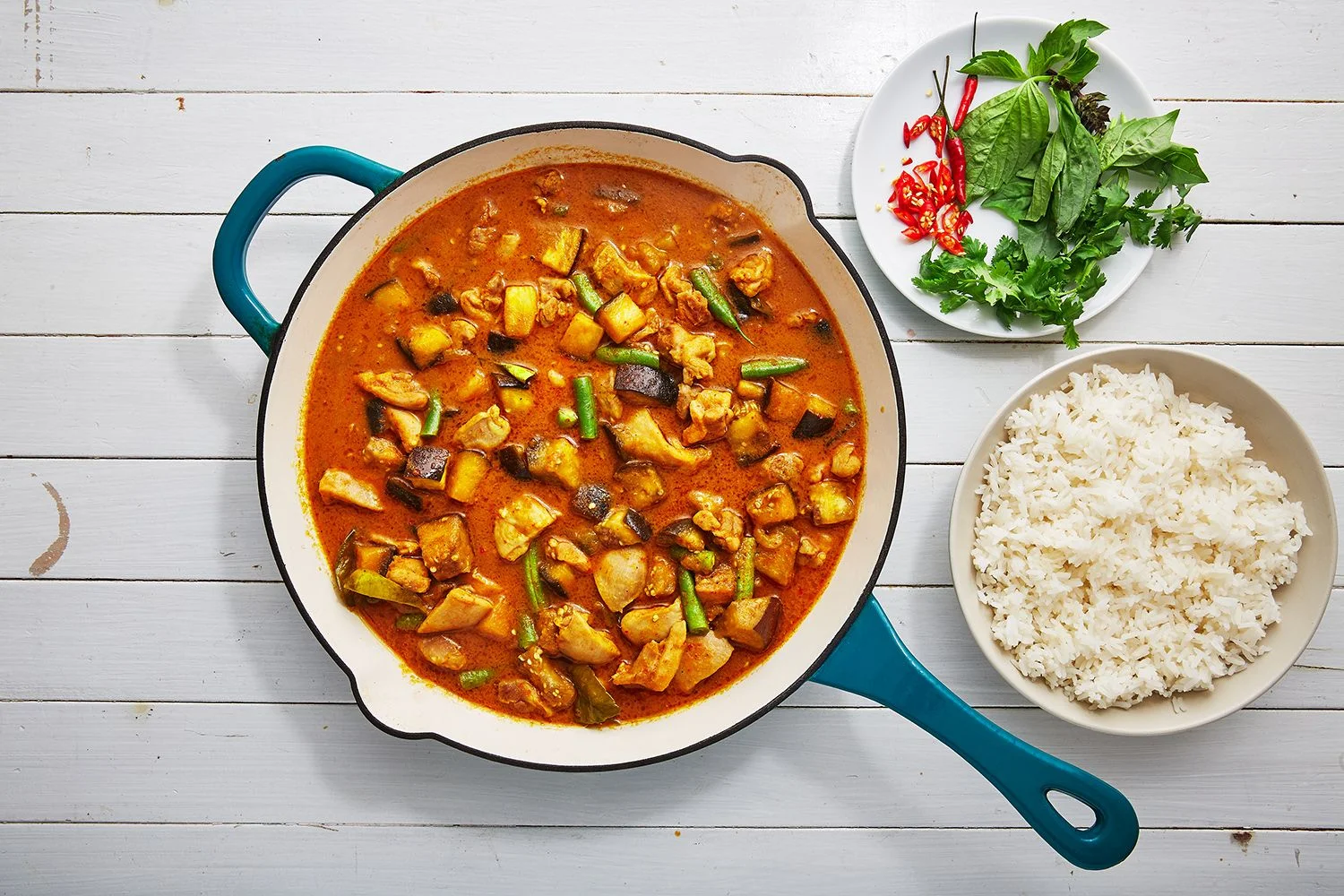 In a deep pan, add oil over medium heat. Add the onions with a bit of salt and cook. Keep stirring until the onions have become soft. Then, add ginger and garlic and cook for about 30 seconds.
Now, add bell peppers and carrots to the pan. Cook for about 3-5 minutes, stirring occasionally. Add the curry paste and cook for 2 more minutes.
Add coconut milk, water, kale and sugar to the pan and stir to combine all the elements. Bring this to a gentle simmer and let it cook for about 5-10 minutes.
Remove the pot from heat and then add tamari and fresh lime juice. Also, add salt as per taste. Garnish with cilantro, basil, pepper flakes and sriracha. Serve the curry with rice.
Nutritional Breakdown Of Thai Red Curry With Vegetables
| | |
| --- | --- |
| Calories | 340 |
| Fat | 11.3 g |
| Carbohydrates | 56.3 g |
| Fiber | 5.6 g |
| Protein | 8.3 g |
How To Make Thai Red Curry With Vegetables At Home | Video