How To Make Thai Red Curry Chicken At Home
With the deeply layered flavors, Thai red curry chicken is an amazing choice for main course meals. Thai-inspired red curry chicken is a dish that can be easily whipped up in the comfort of your home. Besides being a crowd-pleaser, it gives a lip-smacking experience. If you are already drooling, follow the recipe!
Gather your pantry items like chicken breasts, garlic, ginger, olive oil, scallions, cilantro, Thai red curry paste, coconut milk, and some ground spices. If you're out of red curry paste, you can use any of its substitutes.
Bake the chicken in the oven, prepare the curry, and finally, soak the chicken with the curry. The knockoff Thai red curry chicken will be ready in no time. 
Fresh aromatic elements do wonders in enhancing the flavors of the curry. Like most Asian curries, Thai red curry has a significant depth of flavors. Burst the right Thai flavors in your kitchen with our recipe article. 
The detailed list of equipment, ingredients, nutritional facts and instructions are mentioned below. The homemade version of Thai red curry chicken will taste a notch higher. So dive in quickly. 
What Equipment Will You Need To Make Thai Red Curry Chicken?
Skillet – Take a skillet or a large pan to prepare the curry chicken. 
Ladle – Stir in with the help of a ladle. 
Baking Tray – Pre Bake the chicken strips on the baking tray. 
How Much Time Will You Need To Make Thai Red Curry Chicken?
| Preparation Time | Cooking Time | Total Time |
| --- | --- | --- |
| 10 Minutes | 30 Minutes | 40 Minutes |
What Ingredients Will You Need To Make Thai Red Curry Chicken?
Chicken Breast – For making Thai-styled red curry chicken, take half a pound of chicken breasts. 
Garlic – Add minced garlic for an aromatic blend of flavors. 
Olive Oil – Make the curry using olive oil. It will keep the chicken moist and will unleash the flavors of spices. 
Cooking Spray – Drizzle cooking spray all over the baking tray to bake the chicken strips. 
Ginger – The curry will be enhanced with piquant flavors of minced ginger. 
Onions – Chopped onions will add a savory blend to the curry. 
Thai Red Curry Paste – A tablespoon of Thai red curry paste will enhance the flavors of the curry. On top of that, it will spice up the curry. 
Scallions – Scallion has a subtly sweet flavor that improves the texture and taste of the curry. Add freshly chopped scallions to the curry. 
Cilantro – Garnish the curry with fresh cilantro. 
Unsweetened Coconut Milk – Bring out thick consistency to the curry by adding half a cup of coconut milk. 
Coriander Powder – Add a teaspoon of coriander powder for mild aromatic flavors. Moreover, it sets the appetite in motion.
Salt – Add salt to your taste.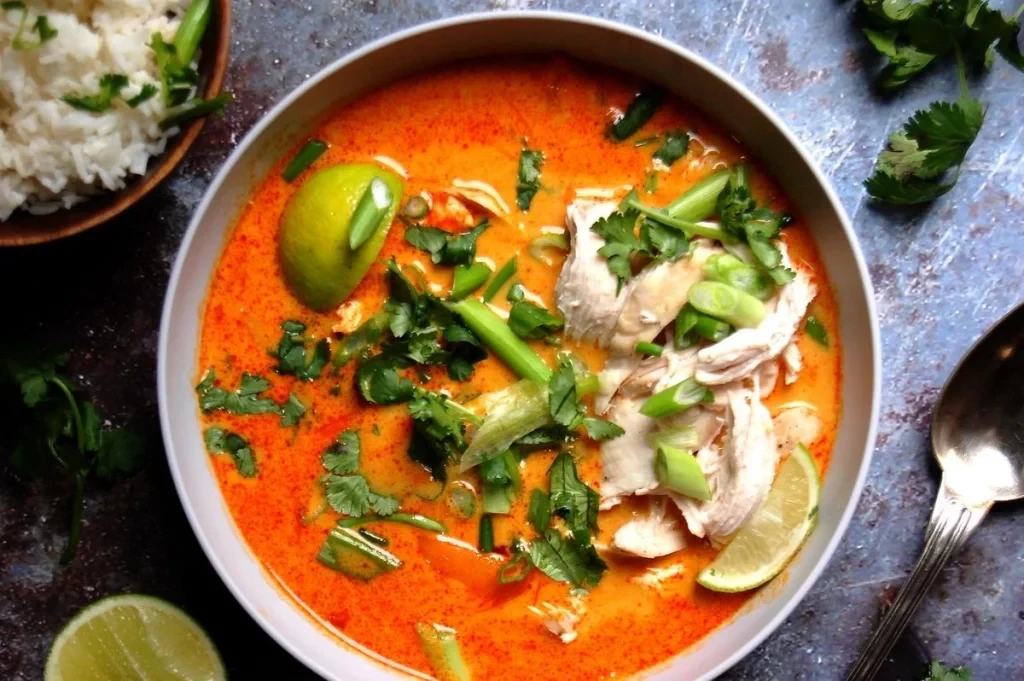 Steps To Make Thai Red Curry Chicken
1. Initial Stage 
Place the chicken breasts in the oven to cook beforehand. Meanwhile, prepare the curry using a large skillet. Preheat the oil in the skillet. Saute the onions until they are translucent. Add garlic, ginger, red curry paste, and coriander. Incorporate the elements evenly. 
2. Concoction
Moving forward, add coconut milk and simmer for 10 minutes until the curry is thickened. Remove the cooked chicken from the oven and put it in the curry. Let it boil for 2-5 minutes. Turn off the flame when the curry is reduced to half. Finally, garnish the curry with freshly chopped cilantro. 
Nutritional Information 
| | |
| --- | --- |
| Calories | 380 kcal |
| Carbohydrates | 54 g |
| Fat | 11 g |
| Sodium | 520 mg |
| Protein | 16 g |
| Cholesterol | 35 mg |
| Sugar | 11 g |
| Dietary Fiber | 3 g |
How Will Thai Red Curry Chicken Look And Taste Like?
Thai red curry chicken prepared with flavorful and rich elements tastes delightful. It is filled with spicy hot notes and unique flavors. Once you make it, I am sure it will be difficult to resist the rich and hearty red curry chicken. So, try this spicy, savory, and coconut-flavored curry at your home right away!
Recipe Card
Thai Red Curry Chicken Recipe
Thai red curry chicken is an appetizing curry prepared with rich and aromatic spices. The flavors and spiciness will give you a mouth-watering experience. All you need is Chicken, oil, coconut oil, red curry paste, scallions, ginger, garlic, and some fragrant spices.
Skillet

Ladle

Baking Tray
250

g

Chicken Breast

1

teaspoon

Garlic

1

tablespoon

Olive Oil

1

tablespoon

Cooking Spray

1

tablespoon

Ginger

½

cup

Onions

2

tablespoons

Thai Red Curry Paste

½

cup

Scallions

½

cup

Cilantro

½

cup

Unsweetened Coconut Milk

1

teaspoon

Coriander Powder

1

teaspoon

Salt
Preheat the oven to 400 F. Grease the baking tray with cooking spray.

Place the chicken breasts onto the baking tray and bake the chicken for 20 minutes.

Meanwhile, in a skillet over medium heat, pour olive oil. Sauté the onions until translucent.

Then, add the garlic, ginger, red curry paste, and coriander. Stir in for a minute, and then add coconut milk. Stir well and simmer over low heat while the chicken is being cooked in the oven.

Once the chicken is cooked, remove it from the oven and add the chicken strips to the curry. Simmer for 2-3 minutes. It will help the chicken to soak the curry flavors.

Garnish the chicken curry with some fresh cilantro, and serve warm!
Frequently Asked Questions (FAQs)
Which curry is hotter than green or red Thai?
The spiciness of the dish depends on the chef's preference. However, Thai red curry chicken is hotter than green Thai curry chicken.
What is Thai red curry paste made of?
Thai red curry paste is made with versatile flavors of red chili peppers, garlic, sea salt, lemongrass, turmeric, and ginger. 
How can I make my Thai curry more flavorful?
If you wish to add enhanced flavors or smoky flavors to the curry, you can sear the chicken over medium heat.
How do you thicken a curry?
For achieving the thick and creamy texture of curry, you can add dairy products. Coconut milk, roux, peanut butter, and yogurt are some of the best choices. 
Grab your apron and get ready to make Thai red curry chicken with our above recipe article. Refer to the details and let us know how it goes in the comment section below.