How To Make Texas Yum Yum At Home
Note- This post may contain affiliate links, we earn from qualifying purchases made on our website. If you make a purchase through links from this website, we may get a small share of the sale from Amazon and other similar affiliate programs.
Texas yum yum is the best no-bake frozen dessert that you can make at your home. This recipe will tell you the easiest way to make this dessert and your loved ones will definitely say yum after eating this.
During summers, I wanted to make some dessert that will make my family feel refreshed and cool. So, I searched for some recipes and found this pudding pie recipe known as "Texas Yum Yum". Believe me, this was the yummiest pudding pie I ever tasted. I am going to share exactly the same way I make this recipe.
For the recipe of Texas yum yum, combine chocolate pudding mix and milk. Add the mixture to graham crackers. Now, beat the cream cheese. Then, add sugar and whipped topping to the cheese. Mix vanilla pudding and milk over the layer of cream cheese. Refrigerate for 30 minutes and serve.
This was just a short summary of the recipe. The full step-by-step procedure with all the ingredients, nutritional facts and much more are mentioned below. Make sure you check the full recipe to make your family say, Yum Yum. But, before we jump onto the recipe, let's check out some other desserts that you might like.
1. Texas Tumbleweed– This recipe is perfect when you are in a rush but still want to make a delicious dessert. It is a no-bake recipe. It has a hint of salt, sweetness, and cream. These treats will be a perfect combination of flavors.
2. Texas Gold Bars– Texas Gold bars are so addictive as they are a combination of cake and cookies. It is a perfect dessert that is simple and unique. You can also make it at your home by following this simple recipe.
3. Candied Kumquat– This kumquat recipe is quite easy to make and is the best version of this fruit that you will ever have. Having a sweet and tart taste makes it more delicious and satisfying. The best part is, your kids are going to love these candies.
4. Donauwelle– Donauwelle is a traditional sheet cake with layers of chocolate and plain pound cake with a wavy border between the two. This cake has sour cherries in it and is topped with buttercream and chocolate glaze. It is famous in Germany and Austria.
Ingredients for Texas Yum Yum
1 3.9 ounces packet Instant Chocolate Pudding Mix
1/9 inch Crust Graham Crackers
1 8 ounces packet Cream Cheese
1 cup Sugar
1 3.4 ounces packet Instant Vanilla Mix Pudding
1 8 ounces tub of Frozen Whipped Topping
1 ½ cups Milk
The ingredients are readily accessible in any supermarket. Just make a list of them and grab what is not available to you. Also, let me share the time you need to make this pudding pie.
How Much Time Will It Take To Make Texas Yum Yum?
| Preparation Time | Cooking Time | Total Time |
| --- | --- | --- |
| 10 minutes | 30 minutes | 45 minutes |
It is surely an easy recipe as it does not involve the lengthy process of baking. You have to either mix or make layers of the ingredients.
Steps to Make Texas Yum Yum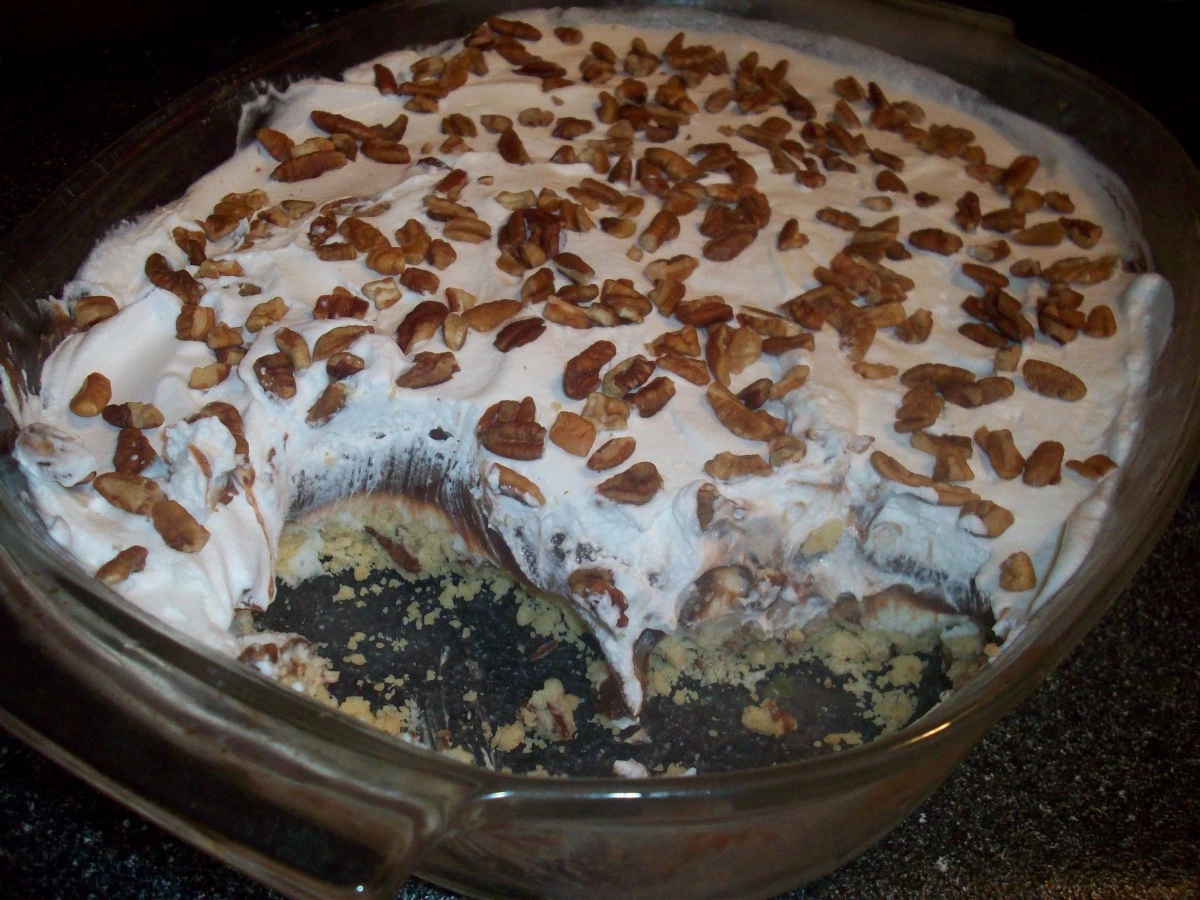 Mix chocolate pudding mix and milk in a bowl to form a smooth paste.
Pour the mixture into the crust made of graham crackers.
In another bowl, with the help of an electric mixer, beat the cream cheese till it gets soft and then add sugar. Mix whipped topping in it and spread this on the chocolate pudding layer.
Then, mix vanilla pudding and milk in another bowl till it becomes smooth. Spread this over the layer of cream cheese. Top it over with the remaining whipped topping.
Refrigerate for 30 minutes and serve.
Such an easy dessert to make at home. Even your kids will love it. So try it out and enjoy its slice.
Nutritional Breakdown of Texas Yum Yum
| | |
| --- | --- |
| Calories | 717 |
| Protein | 9.4g |
| Carbohydrates | 93g |
| Fat | 35.4g |
| Cholesterol | 50.8g |
| Sodium | 886.4g |
Can't wait to begin with the recipe? Try it and share your reviews in the comment section. Just in case you have any queries related to the recipe, you can ask your questions in the comment section too. If you liked this recipe, do share it with your family and friends. Bon Appetite!