How To Make Texas Taco Dip Platter At Home
A great appetizer is what I will be sharing with you today. I am sharing the recipe for the Texas taco dip platter. 
This snack is filled with beans, beef chili and cheese. It is a bowl of chili, which has to be served as a dip with corn chips. I made this appetizer for the party I once hosted. Believe me when I say that it was a party hit. So try to make this recipe to your party menu and you will surely thank me later.
Texas taco dip platter can be prepared at home by cooking beef and onions in a dutch oven. Add all the spices and salt and cook them covered over low flame. To this, add beans and heat them. Layer a platter with corn chips, rice, meat mixture, cheese, lettuce, tomatoes, onions and olives. Serve with a sauce of your choice.
This is just a brief of this recipe. You will find a more detailed version of the recipe below. Just follow as per the given instructions and you will see how amazing this recipe turns out. Let's see the instructions you need to follow. Also, there are other recipes that you can have as starters, let's check them out.
1. Soft Boiled Eggs– The whites of the eggs are firm, but the yolk stays in a silky, creamy, liquid gold state that is a little like a cross between butter and melted cheese. They're seriously divine.
2. Vegetarian Nachos Grande– This recipe is very easy to make at I bet that these nachos will taste better than your normal nachos. These nachos can help to fulfil your hunger while gaming and they are convenient to eat.
3. Chilaquiles– Make Mexican chilaquiles by simmering fried corn tortillas in salsa and serving with cheese, eggs, or beans. An easy and filling breakfast.
4. Vegan Pumpkin Soup– This is a classic, easy pumpkin soup made with fresh pumpkin that is very fast to make. Thick, creamy and full of flavour, this is the pumpkin soup recipe you will make now and forever.
Ingredients For Texas Taco Dip Platter
2 pounds ground beef
1 large onion (chopped)
1 can (14-1/2 ounces) diced tomatoes (undrained)
1 can (12 ounces) tomato paste
1 can (15 ounces) tomato puree
2 tablespoons chili powder
1 teaspoon ground cumin
1/2 teaspoon garlic powder
2 teaspoons salt
2 cans (15 ounces each) Ranch Style beans 
1 package (9-1/4 ounces) corn chips
2 cups hot cooked rice
For Toppings:
2 cups shredded cheddar cheese
1 medium onion (chopped)
1 medium head iceberg lettuce (shredded)
3 medium tomatoes (chopped)
1 can (2-1/4 ounces) sliced ripe olives (drained)
1 cup picante sauce (optional)
The ingredients of this recipe are readily accessible in any supermarket. Most of them can be found in your home. So check them first in your pantry and then visit the supermarket. Now let's see how much time you require to prepare this dish.
How Much Time Will It Take To Make Texas Taco Dip Platter?
| Preparation Time | Cooking time | Total time |
| --- | --- | --- |
| 10 Minutes | 1 ½ Hours | 1 Hour 40 Minutes |
You must be thinking this recipe to be time-consuming for a party. No need to bother, the only time-consuming part is cooking the meat other than that it is all really easy to cook. Take note of the instructions of the recipe.
Steps To Make Texas Taco Dip Platter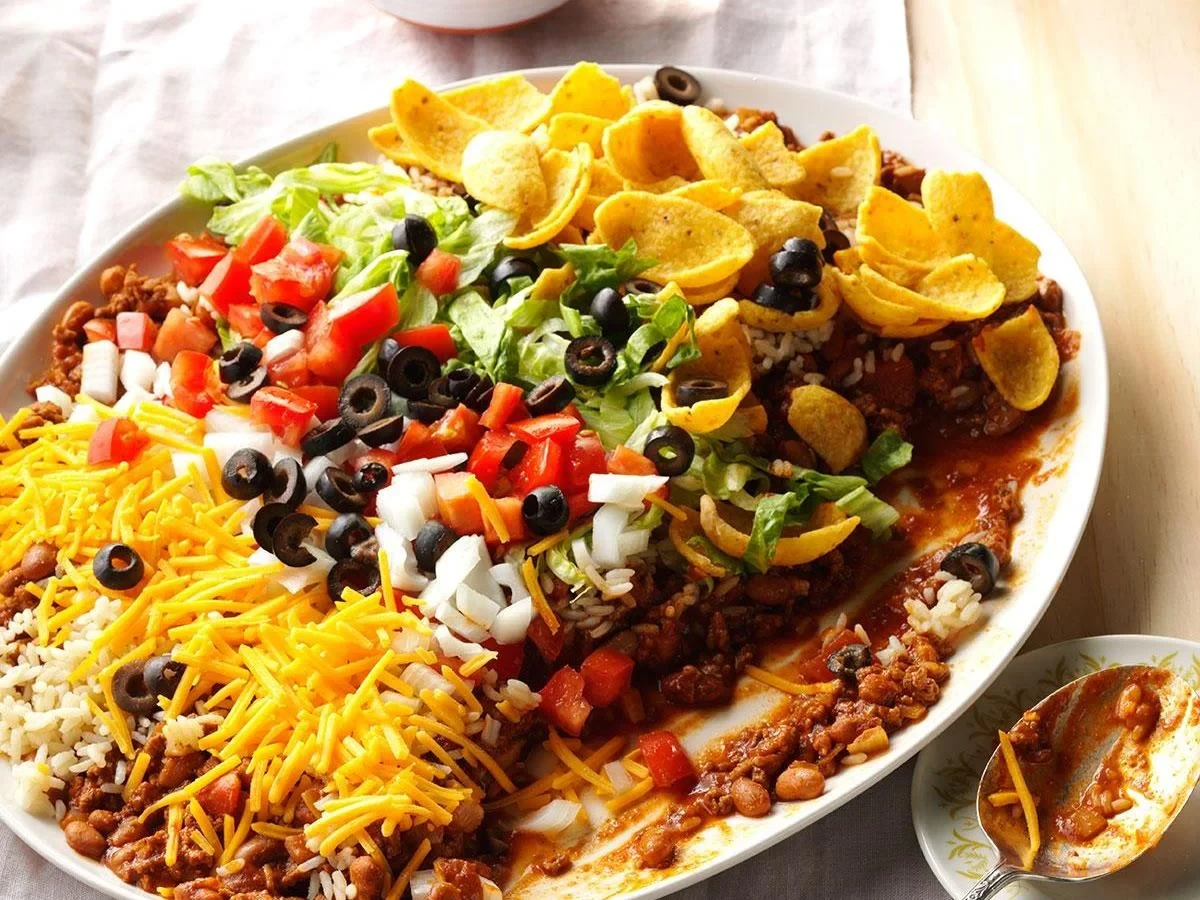 Using a Dutch Oven, cook beef and onions until they are no longer pink over a medium flame. Drain the liquid once it is done.
Now add the tomatoes with their paste and puree, chili powder, ground cumin, garlic powder, and salt. Cook on a low flame for about 1 and a half hours.
Now add beans and heat them. Layer the corn chips on a platter followed by rice, meat mixture, cheese, onions, lettuce, tomatoes and olives.
Serve.
You can also serve them with Picante sauce. 
Nutritional Breakdown of Texas Taco Dip Platter
Check out the nutritional composition of this recipe.
| | |
| --- | --- |
| Calories | 522 |
| Protein | 27 g |
| Carbohydrates | 47 g |
| Fat | 24 g |
| Cholesterol | 56 mg |
| Sodium | 1200 mg |
How To  Make Texas Taco Dip Platter At Home | Video
I have uploaded a similar video to show you every detail. Watch the video to be clear about the steps. In case your doubt still persists, write it in the comment section below and I will help you. 
You can even write up your suggestions in the same comment section. I would love to get some suggestions regarding the recipe you like to know about. If you have something of this sort in your mind, feel free to write. Till then, enjoy!