How to Make Sweet Potato Crunch at Home
As we all know, every thanksgiving dinner is incomplete without a turkey. It is believed that Thanksgiving is all about turkey. But it is not correct as what goes on the plate with turkey also plays an important role. I am talking about the side dish. The main course shouldn't always be the dinner's star; the side dish should also be focused upon. The common side dishes with turkey are cranberry sauce, beans and mashed potatoes. But one side dish that is not usual but is a must to serve with turkey is sweet potato crunch.
Sweet Potato Crunch is buttery sweet potatoes mashed with brown sugar, buttermilk and topped with pecans and crumble of flour and brown sugar. This is a perfect combination with turkey because of the crunch it gives.
Not everyone is a fan of sweet potatoes, but you will surely love sweet potatoes once you try this dish. And you will not look back to any other recipe for your Thanksgiving. This dish will be a great combination with the main source as its sweet taste and crunch will complement a savour meal. But here are some other amazing recipes that you should definitely try.
1. Sous Vide Pastrami– Sous vide is a technique used to cook meat into tender and moist meat. If you like your meat to be slowly cooked and taste smoky, then this recipe is for you.
2. Bell Stuffing– Not only will this recipe be a useful baste for the turkey, but it can also be served as a side dish. It can be served with pumpkin soup. This stuffing is an American cuisine made with the oldest American spices.
3. Smoked Pineapple– In this recipe, the pineapple is baked over a grill with some honey brushed on its surface. The smoky and grilled flavor makes it a treat for the tongue.
4. Smoked Eggs– Smoking is a traditional method used by our ancestors and now it is also used by some meat industries to prepare smoked meat and fish. Smoking is better because it provides that long-lasting smoking aroma and flavour to the dish.
Ingredients for Sweet Potato Crunch
| Ingredients | Amount |
| --- | --- |
| Sweet Potatoes | 2 cans/29 ounce |
| White Sugar | 1 cup |
| Butter | ½ cup |
| Milk | ½ cup |
| Eggs | 2 |
| Salt | 1 teaspoon |
| Vanilla Extract | 1 teaspoon |
| Cinnamon (grounded) | ½ teaspoon |
For Toppings
| Ingredients | Amount |
| --- | --- |
| Brown Sugar | 1 cup |
| Pecan | 1 cup chopped |
| Butter | 1/3 cup melted |
| All Purpose Flour | 1 cup |
These easily accessible ingredients can even be found in your pantry or the kitchen garden. So let's make a list of them and get going to fetch them all. Get started as your meal is waiting for you until they look at the time you need to make this dish.
How Much Time Will It Take?
| Preparation Time | Cooking Time | Total Time |
| --- | --- | --- |
| 15 minutes | 40 Minutes | 55 minutes |
You do not need hours to prepare this up. You can have this dish in less than an hour. I can assure you will like this dish even if you are not fond of sweet potatoes. So here are the directions to prepare the dish. Give it a try.
Sweet Potato Crunch Recipe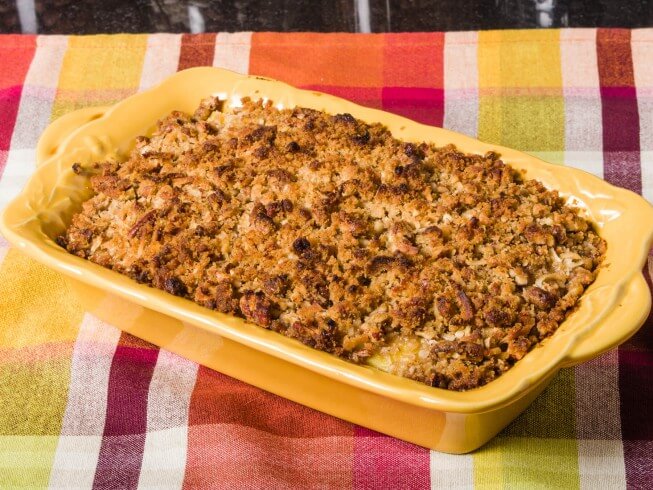 Set the oven on preheat to 350 degrees F (175 degrees C). Till then, take a dish of 9×9 inch and grease it.
Take a bowl and add sweet potatoes, white sugar, butter, eggs, milk, salt, vanilla extract and cinnamon. Mix them well to make it smooth. Spread this into the dish.
In another bowl, mix brown sugar, butter and pecans. Add flour to this and mix well until the pecans get coated properly. Spread this mixture over the sweet potatoes in the dish.
Bake this for 40 minutes until its topping turn brown. 
Cool it before and serve.
Note– You can use a hand mixer to make the sweet potatoes smooth without any lumps. Or you can leave some chunks of sweet potatoes. This is all how you prefer to have them. To help you out more, try this as a side with trash can turkey(to be interlinked) and you will see how amazing this combination turns out.
The best part of this dish is that you can serve it at room temperature. It is upto you how you prefer it warm, cold or at room temperature. Now the wait is over, dig a spoonful and enjoy.
Nutritional Breakdown of Sweet Potato Crunch
| | |
| --- | --- |
| Calories | 489 |
| Protein | 5.7g |
| Carbohydrates | 73..1g |
| Fat | 20.7g |
| Cholesterol | 65.7mg |
| Sodium | 377.5mg |
How to Make Sweet Potato Crunch at Home | Video
If you prefer step-by-step instructions of the recipe, watch the video I have added to make it easier to use.
Can't wait to begin with the recipe? Try it and share your reviews in the comment section. Just in case you have any queries related to the recipe, you can ask your questions in the comment section. If you liked this recipe, do share it with your family and friends. Bon Appetite!