How To Make Suet Pudding At Home
Note- This post may contain affiliate links, we earn from qualifying purchases made on our website. If you make a purchase through links from this website, we may get a small share of the sale from Amazon and other similar affiliate programs.
You should definitely have suet pudding on your menu during Christmas. Today, let's see how you can make it at your home.
A suet pudding was originated in the United Kingdom. It is a British cuisine made up of wheat and suet, either boiled, steamed or baked. Ever heard of meat cooked in the form of a dessert? Well then, this dish is a meat-based dessert. But you can also cook it as a savoring meal.
To make suet pudding, mix suet, baking soda, raisins, corn syrup, water, salt, one teaspoon, cinnamon, nutmeg, flour, cloves and baking powder in a bowl. Steam the mixture in a steamer. Now, make the sauce by adding add milk, butter, salt, sugar and cornstarch to a pan and heat it. Serve.
Now, it's time to see the detailed recipe. But before we jump onto the recipe, let's check out some other desserts that you might like.
1. Sticky Toffee Pudding– Sticky toffee pudding is a British dessert that is popular in the UK and also in other territories like Australia and New Zealand. It is considered as one of the finest English desserts and it's my favorite too, because of its moist texture and sweet taste.
2. Tomato Pudding– Most people think that pudding is always made up of vanilla, chocolate or butterscotch. But this tomato pudding is going to surprise you. This crispy, crimson, and fragrant pudding is a treat straight from the oven.
3. Marie Biscuit Pudding– This biscuit pudding is a simple to make dessert that is a perfect choice if you are planning to make a dessert. The ingredients needed are easily available and the good thing is that it can be prepared a day ahead.
4. Hershey's Baked Yoghurt Pudding– Baked Yoghurt Pudding is a healthy and creamy dessert. Fresh cream would enhance its texture and flavour. Also, custard powder is one of the ingredients which would only add to the taste of an already delicious yoghurt dessert.
Ingredients for Suet Pudding
| Ingredients | Amount |
| --- | --- |
| Suet (chopped) | 1 cup |
| Raisins | 1 cup |
| Dark Corn Syrup | 1 cup |
| Water | 1 cup |
| Baking Soda | 1 teaspoon |
| Salt | 2 teaspoons |
| Nutmeg | ½ teaspoons |
| Cinnamon | 1 teaspoons |
| Cloves | ¼ teaspoons |
| All-purpose Flour | 3 cups |
| Baking Powder | 1 teaspoon |
| Milk | 2 cups |
| Butter | 1 tablespoon |
| White Sugar | 1 cup |
| Cornstarch  | 2 tablespoons |
| Vanilla Extract | 1 teaspoons |
Looking at the ingredients seems like an interesting pudding is about to get cooked. So grab these ingredients. They are easy to get. Let me tell you how much time will suet pudding take to prepared.
How Much Time Will It Take?
| Preparation Time | Cooking Time | Total Time |
| --- | --- | --- |
| 30 minutes | 30 minutes | 1 hour |
This pudding will take an hour to be cooked. But it will be worth all the wait. Once made, this will be a constant dessert in your festive meals.
Suet Pudding Recipe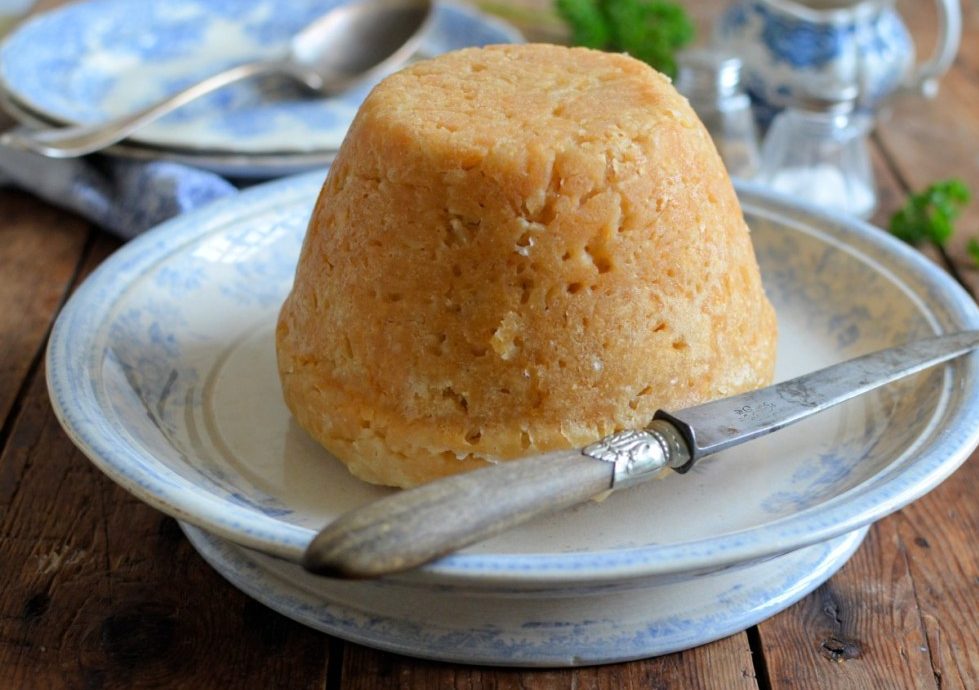 Mix suet, baking soda, raisins, corn syrup, water, salt, one teaspoon, cinnamon, nutmeg, flour, cloves and baking powder in a bowl.
Steam this mixture in a steamer with 1-inch hot water and not boiling water. Check the variety with a toothpick. If the toothpick comes out clean, then it is steamed properly.
Make the sauce in a saucepan. For this, add milk, butter, salt, sugar and cornstarch. Mix them well till it becomes thick. Add some vanilla extract. 
Serve the pudding with warm sauce. 
The sauce you made can also be used with gingerbread. Try it with milk steak (to be interlinked) and enjoy the combination.
Nutritional Breakdown of Suet Pudding
| | |
| --- | --- |
| Calories | 798 |
| Protein | 8.7g |
| Carbohydrates | 125.3g |
| Fat | 30.5g |
| Cholesterol | 29.4mg |
| Sodium | 1015mg |
How to Make Suet Pudding at Home | Video
What a unique dessert is for the festive dinner. If you prefer step-by-step instructions of the recipe, watch the video I have added to make it easier to use.
Can't wait to begin with the suet pudding recipe? Try it and share your reviews in the comment section. Just in case you have any queries related to the recipe, you can ask your questions in the comment section. If you liked this recipe, do share it with your family and friends. Bon Appetite!