How to Make Strawberry Shortcake at Home
Note- This post may contain affiliate links, we earn from qualifying purchases made on our website. If you make a purchase through links from this website, we may get a small share of the sale from Amazon and other similar affiliate programs.
I was surfing over the youtube and I found a video in which chef was making Strawberry Shortcake and I never made it at home so, I started making the cake by following the video and after some time, I ate it and it was so tasty and sumptuous.
I thought to share the Strawberry Shortcake recipe with my favourite people so you can also try it at home when you eat it you will find it as a Strawberry Shortcake is a ripe and juicy combination of the mysterious topping that unravels below.
The rings of the cake are a delight in itself. In lieu of the title of the recipe; each ingredient contributes its best in the sight so formed. Let's go easy and eat tastily. If you love cakes, then you should definitely check out the other cake recipes that I've handpicked just for you.
1. Vanilla Mousse Cake– This is a brilliant, moist chocolate cake with a sweet, creamy vanilla mousse filling. Serve it with fresh fruit, chocolate shavings or fruit sauce.
2. Almond Cake– Almond cake is soft, fluffy with finely grounded almonds and a dash of lemon flavor in it. This recipe is easy to make. It will be a great help in a situation when you get an unexpected visit from guests.
3. Funnel Cake Bites– Funnel Cake Bites are golden fluffy sweet nuggets dusted with powdered sugar. They are crisp on the outside but soft inside. I assure you that once you taste them, you can't stop yourself from having a dozen of them in a row.
4. Pineapple Upside Down– Pineapple Upside Down Cake, a dessert classic is no exception. This yummy cake is loved by people of all ages. Pineapple in itself is a tasty fruit and making a cake out of it is beyond comparison.
Ingredients Required for Strawberry Shortcake Recipe
| | |
| --- | --- |
| Ingredients | Amount |
| Strawberry | 1 cup |
| All-purpose flour | 2 cups |
| Sugar | 2/3 cup |
| Eggs | 2 units |
| Lemon zest | 1 tsp |
| Baking powder | 2 tsp |
| Salt | ¾ tsp |
| Heavy Cream | 1 ½ cup |
| Whipped cream | 2 cups |
| Vanilla Extract | 2 cups |
How much time it will take?
| | | |
| --- | --- | --- |
| Preparation Time | Cooking Time | Total Time |
| 30 MINS | 30 MINS | 60 MINS |
Strawberry Shortcake Recipe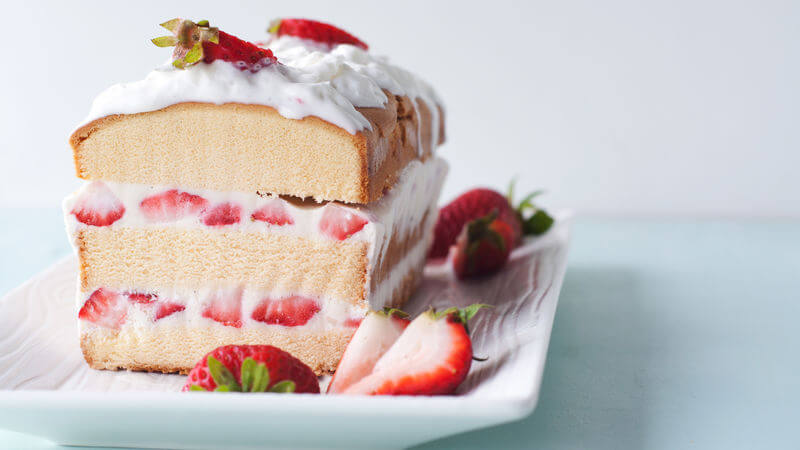 Combine strawberries with sugar and keep it in the refrigerator for at least 30 minutes.
Preheat the oven to 400 degrees F.
Take a bowl and add baking powder, flour, sugar, salt, baking soda, and heavy cream.
Mix every ingredient with each other until every ingredient gets fully combined.
Bake the mixture by adding in a pan until it turns golden.
Remove shortcakes from pan and keep it aside for cooling.
Cut into 6 pieces and split each piece.
Add strawberries over the cake with whipped cream (using a mixer, beat the heavy cream, sugar, vanilla, and lemon zest until soft peaks form, about 1 1/2 to 2 minutes).
Here we have a sight as craved for and the taste; well taste it and find out. find out the mystery of taste in those layers.
Nutritional Facts Of Strawberry Shortcake Recipe
| | |
| --- | --- |
| Calories | 214 |
| Carbohydrates | 38 g |
| Cholesterol | 0 mg |
| Fats | 5 g |
| Sodium | 316 mg |
| Potassium | 0 mg |
| Protein | 4 g |
How to Make Strawberry Shortcake at Home | Video