How To Make Strawberry Rhubarb Dump Cake At Home
Note- This post may contain affiliate links, we earn from qualifying purchases made on our website. If you make a purchase through links from this website, we may get a small share of the sale from Amazon and other similar affiliate programs.
Strawberry rhubarb dump cake is one of the best desserts that can be served during dinner. Today, let's see how you can make it at your home.
I first tried the cake at a fantastic restaurant in San Francisco and it was really delicious. So, I asked the chef for the recipe and he agreed to show me the steps to make the cake. I am gonna share the exact same steps with you guys. Now, let's have a quick overview of the recipe.
To make strawberry rhubarb dump cake, mix rhubarb, strawberries, corn starch, fruit juice, vanilla and salt. Now, preheat the oven to 425 degrees and bake the cake. Cut the slices and serve.
This is a very easy dish to make at home and it will definitely make your special dinner evening more special. All you need is some enthusiasm and strawberries for a perfect dessert. If you love cakes, then you should definitely check out the other cake recipes that I've handpicked just for you.
1. Monster Cake– This monster cake is very popular in the game- Legend of Zelda: Breath of the Wild. This monster cake would restore the health of the character and I was really fascinated with it.
2. Too Much Chocolate Cake– This recipe adorns every occasion at my home and has become almost a tradition. For a chocolate lover, this cake is a dessert from heaven.
3. Macaron Cake– This cake which I must say is the legacy of French baking. You will like the sweet and sour combination of the raspberries and the lemon juice that are assorted together and makes your taste buds go crazy.
4. Thunder Cake– This authentic and vintage thunder cake recipe is very easy to make. You can just prepare by following the steps I've mentioned.
Ingredients for Strawberry Rhubarb Dump Cake
| Ingredients | Amount |
| --- | --- |
| Strawberries | 2 cups |
| Sugar | 1 cup |
| Rhubarb | 1 cup |
| Fruit Juice | 1/2 cup |
| Vanilla | 1 teaspoon |
| Salt | 1/2 teaspoon |
| Corn Starch | 2 teaspoon |
These ingredients can be easily found at any grocery store and half of the things are available at home. Let's have a look at the time we need to make this wonderful dessert.
How Much Time it Will Take?
| Preparation Time | Cooking Time | Total Time |
| --- | --- | --- |
| 20 Minutes | 30 Minutes | 50 Minutes |
This cake is a bit time consuming, but trust me you will enjoy this one hour because this recipe is very amazing and you will be very pleased with the final product.
Now we will move to the steps of making this cake at home. Let's have a look at the recipe which I'm going to write in the coming part.
Strawberry Rhubarb Dump Cake Recipe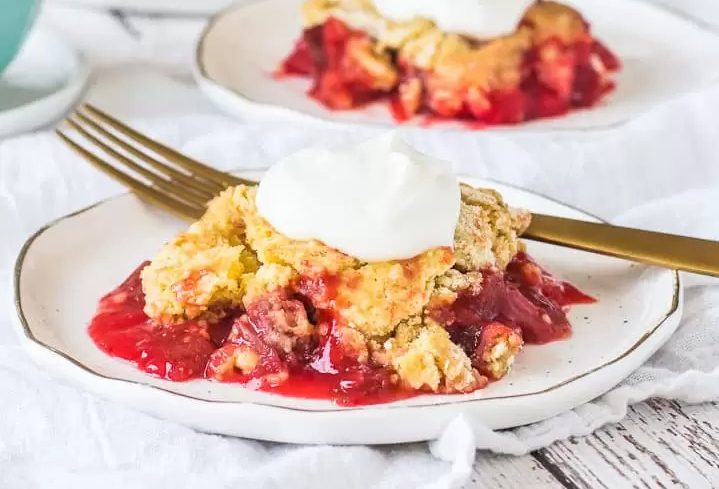 Mix rhubarb and strawberries in a bowl and add some sugar and mix it properly.
Now set it aside for 1 hour.
Set the oven at 425 degrees
Mix the other ingredients like corn starch, fruit juice, vanilla, salt.
Now layer a pan with fruit filling.
Drizzle some melted butter and bake it for 30 minutes at 425 degrees.
Now reduce the temperature to 350 degrees and cook for few more minutes.
Wait until the golden color of the cake appears.
Now shut down the oven and take the cake out.
Cut it in slices or serve it as it is.
With this, your perfect cake for the dessert is ready. Make it at your home and everyone is going to love it.
Nutritional Breakdown of Strawberry Rhubarb Dump Cake
Now let's check the nutritional breakdown of the cake to know about the health benefits.
| | |
| --- | --- |
| Fibers | 0.8 mg |
| Sugar | 16.7 mg |
| Carbohydrates | 24 mg |
| Calories | 155 kcal |
| Protein | 3.2 g |
| Sodium | 301 mg |
How to Make Strawberry Rhubarb Dump Cake at Home | Video
Here is a video of the recipe of Strawberry Rhubarb Dump cake. You can watch this video anytime whenever you want to make this at home. If you have any confusion with the recipe given above, you can always check this video.
Now you know everything about the cake, so give it a try according to your occasion and if you have any confusion or queries related to this dessert, then please write in the comment section. For more wonderful dinner and dessert or any recipe ideas stay connected with us.