How To Make Stir-Fried Vegan Rice Noodles At Home
Note- This post may contain affiliate links, we earn from qualifying purchases made on our website. If you make a purchase through links from this website, we may get a small share of the sale from Amazon and other similar affiliate programs.
Stir-fried vegan rice noodles are a really yummy and healthy option for a special dinner. And today, I'm very excited to share this recipe with you.
Rice noodles are a gluten-free and vegan dish that vegans can eat also. The other name of this vegan recipe is fried rice vermicelli and Singapore noodles. One of my friends cooked this recipe for us once we went to her place and I really liked these stir-fried rice. The taste was so good that I couldn't resist myself asking the recipe.
For stir-fried vegan rice noodles, firstly you need to cook rice noodles in avocado oil and shallots. Season them with salt and pepper till they become golden and crispy. Sautee sesame oil, garlic and broccoli for few minutes. Add coconut sugar, chili garlic and cook for few minutes. Finally, Garnish them with onion.
You can cook this recipe for any special occasion. But that was the short overview of the recipe and ingredients. The detailed directions and the list of ingredients with proper quantities are given below. But here are some other amazing recipes that you should definitely try.
1. Cajun Burger– Burgers are usually a centre of attraction for small kids. They love them a lot and cajun burgers are also one amongst them.
2. Cabbage and Noodles– This recipe is also known as Haluski, this recipe is a perfect way to use the leftover cabbage. It becomes a fantastic side dish with some fries.
3. Instant Cup Ramen– The idea with noodle cups, or pot noodles as the Brits call these, is to pack all your favorite noodle soup components into a jar or other heatproof vessel, but nix the broth. When you're ready to eat, pour hot water over the top, let things warm up for a few minutes, and lunch is served.
4. Kohlrabi Noodles– Kohlrabi noodles are low-carb and flavorful noodles. The sweetness of this vegetable will make a great combination with other spices used in the recipe. It is a gluten-free recipe, so it is a perfect dish for the health-conscious people out there.
Ingredients For Vegan Rice Noodles
15 ounces Wide Rice Noodles
1/2 tbsp Avocado Oil
1 Shallot
1 tbsp Sesame Oil
1 cup Broccoli Florets
4 Garlic Cloves
2 Onion
2 tbsp Tamari
2 tbsp Coconut Sugar
1 tbsp Chili Garlic Sauce
Salt and Pepper
These are the ingredients that you need to gather for these stir fried vegan garlic and sesame noodles. But the best part about the recipe is that it doesn't take much time in preparation.
How Much Time It Will Take To Make Vegan Rice Noodles?
| Preparation Time | Cooking Time | Total Time |
| --- | --- | --- |
| 10 minutes | 15 minutes | 25 minutes |
Now you've got the list of ingredients and the proper timings, so let's check out the detailed instruction of this recipe.
Steps To Make Stir-Fried Vegan Rice Noodles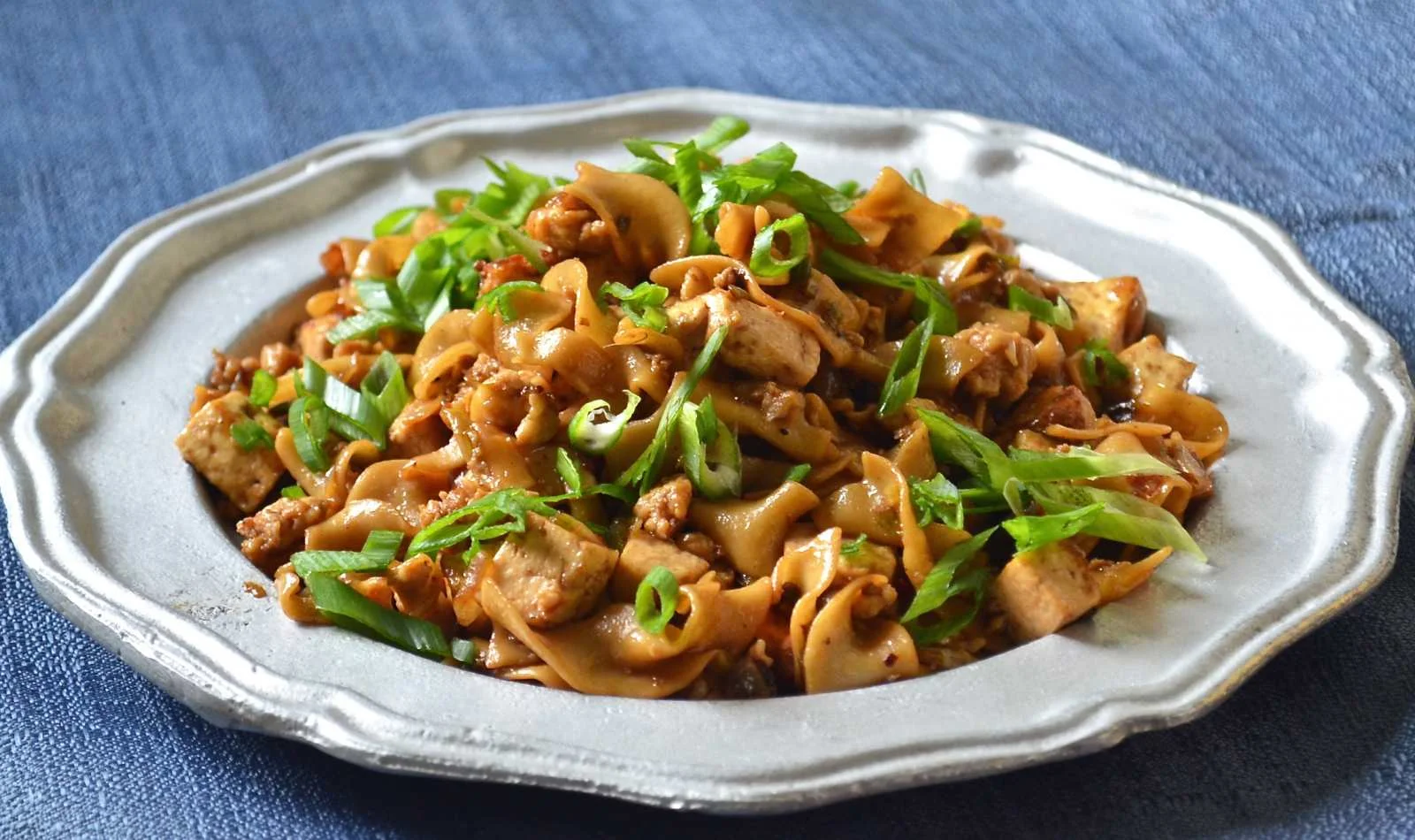 Cook rice noodles over medium heat. In a large skillet, add avocado oil and shallots and cook them for 3 minutes.
Season them with salt and pepper will shallots become golden and crispy.
Add sesame oil, garlic, onions, and broccoli to the skillet and saute them for few minutes.
Add coconut sugar, chili garlic, tamari and cook it for 1 to 2 minutes.
Season them with salt and pepper
Garnish them with onions and serve on a platter.
Your noodles to eat. This recipe is filled with veggies; this makes it a great recipe for family gatherings or special events.
Nutritional Breakdown Of Vegan Noodles
For all the health conscious people, I've mentioned the nutrients present in these Singapore noodles below.
| | |
| --- | --- |
| Calories | 109kcal |
| Fat | 0.2g |
| Sodium | 19mg |
| Potassium | 4mg |
| Carbohydrates | 25g |
| Fiber | 1g |
| Protein | 0.9g |
How To Make Vegan Rice Noodles At Home | Video
I have added this video with all the mandatory steps and ingredients. You can refer to this video anytime, anywhere.
Give a try to this recipe and ask me anything about it in the comment section, don't forget to give your valuable feedback as it is very important for us. Share this recipe with your friends and family and stay connected with us for more wonderful recipes and cooking ideas.