How To Make Sticky Buns At Home
Note- This post may contain affiliate links, we earn from qualifying purchases made on our website. If you make a purchase through links from this website, we may get a small share of the sale from Amazon and other similar affiliate programs.
Baking not only gives us a great dish but also a joy making the dish. So the recipe I will be telling you how you can bake sticky cinnamon buns at home.
These delicious buns will be a treat to everyone at your place. If there are kids at your home, they will love this recipe. You must be wondering that sticky buns are similar to the cinnamon rolls. To make cinnamon rolls, you have to double up the dough as compared to the sticky buns. The sticky bun is heavy in brown sugar and less doughy.
Sticky Buns can be prepared by making a dough out of flour, buttermilk, eggs, butter, sugar, baking powder, salt and yeast. Divide the dough in half and make a rectangle of it. Spread butter and sprinkle sugar and cinnamon. Cut into slices and place them in a round cake pan covered with butter, brown sugar, pecan and raisins. Bake them in a preheated oven and serve hot.
Don't have yeast at home? Here is a list of yeast substitutes that you can use instead. This is just a brief of this sticky buns recipe. You will find a more detailed version in the recipe below. Just follow as per the given instructions and you will see how amazing this recipe turns out. Let's see the instructions you need to follow. But first, take a look at the ingredients you need.
Ingredients For Sticky Buns At Home
2 (.25 ounce) packages Active Dry Yeast
½ cup Warm Water (110 degrees F/45 degrees C)
1 ¼ cups Buttermilk (room temperature)
2 Eggs
5 ½ cups Unbleached All-Purpose Flour (divided)
¼ cup Butter (softened)
¼ cup White Sugar
2 teaspoons Baking Powder
2 teaspoons Salt
2 tablespoons Butter (softened)
½ cup White Sugar
2 teaspoons Ground Cinnamon
½ cup Butter (melted)
½ cup Packed Brown Sugar
⅓ cup Raisins
⅔ cup Pecans (chopped)
The ingredients of these cinnamon sticky buns are readily accessible in any supermarket. Some of them can be found in your home. So check them first in your pantry and then visit the supermarket. Now let's see how much time you require to prepare this dish.
How Much Time It Will Take To Prepare Sticky Buns?
| Preparation Time | Cooking Time | Additional Time | Total Time |
| --- | --- | --- | --- |
| 30 minutes | 30 minutes | 40 minutes | 1 hour 40 minutes |
Once the dough is prepared and the baking arrangement is done, it will take just 30 minutes to cook them up. All the effort is of preparing the dough and making raw buns. Let's see how it is done.
Steps For Sticky Buns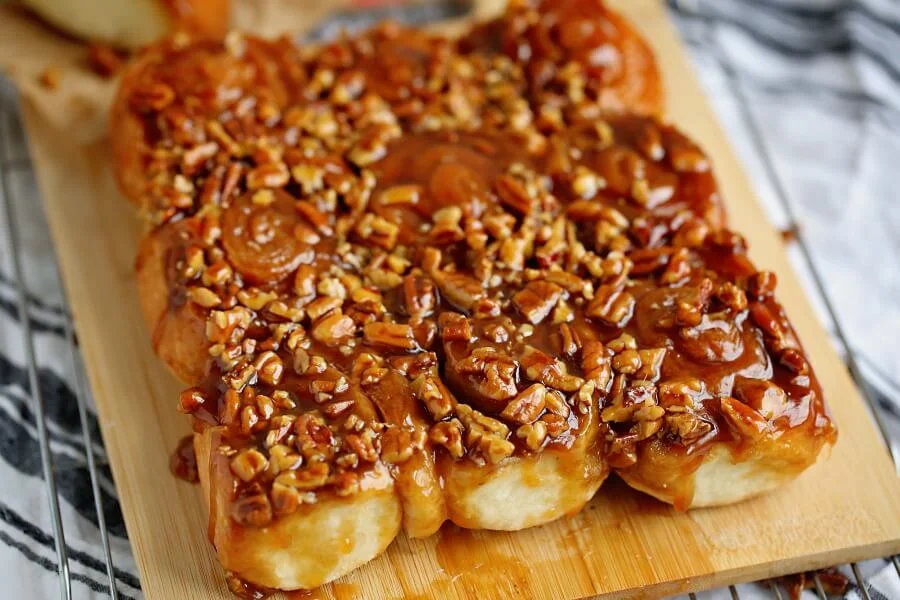 Set the oven on preheat mode at 375 degrees F (190 degrees C).
Till then, dissolve yeast in a large bowl and let it stand for 10 minutes until it turns creamy.
Add eggs, 2 ½ cups flour, buttermilk, ¼ softened butter, ¼ sugar, salt and baking powder to the bowl of activated yeast. Make a dough out of these. Add the remaining flour ½ cup at a time. Dough will be slightly sticky and soft. 
Transfer the dough on a floured surface and knead it until it becomes more smooth and elastic. 
Divide the dough into half and make a rectangle of 12×7 inch. Spread butter on it and sprinkle some ¼ teaspoon sugar and 1 teaspoon cinnamon. Now, roll this half widely. Seal the roll by pinching the sides. Cut 12 slices of each roll.
Take two cake pans of 9 inch and coat them with 1/4 cup melted butter, 1/4 cup brown sugar, 2 tablespoons raisins and 1/2 cup chopped pecans. Transfer the slices into this pan with space between each of them. Cover them and let them rise until they get doubled.
Bake them for 30 minutes.
Invert the pan on the plate when serving.
Serve hot.
You can even store the dough for a day by covering and placing it in the fridge. This way you can make prior arrangements of the dough and bake them the very next day.
Nutritional Breakdown Of Sticky Buns
Want to keep a track on how much calories are you consuming with this sticky bun? Well, then take a look at this table.
| | |
| --- | --- |
| Calories | 488 |
| Protein | 9g |
| Carbohydrates | 70.5g |
| Fat | 19.5g |
| Cholesterol | 67.6mg |
| Sodium | 586.3mg |
How Much Make Sticky Buns At Home | Video
In any case, you are not clear of any step involved in this recipe, I have uploaded the video. Do watch the video once to know about every detail.
Try this easy recipe and share your reviews in the comment section below. I will be happy to know how much you liked the recipe. Not just this, you are free to share any suggestion or a recipe you would love to know more about. I will be happy helping you. For now, grab them as a snack. Enjoy the sweetness!