How to Make Steak Fries at Home
There's one snack that you can never say no to. It's the potato fries. Today, we shall learn about making the Steak Fries in our kitchens. Similar to French Fries, Steak Fries are just potato wedges that are roasted to attain the desired crispiness. Steak Fries are thicker than the French fries and can be had as a side dish with burgers, wraps, dips, guacamole, salsa, etc. They serve as the chips in "Fish and Chips." Steak Fries would go amazing with Cheese Sauce too.
I prefer cooking Steak Fries in the evening when the whole family sits in the living area, crunching on the fries and chit-chatting. It's our favourite evening snack. The crisp outer with the mushy, hot interior is just delish! I end up in the kitchen cooking batches after batches of fries while munching onto mine.
I believe that roasting the potato makes the interior much creamier than frying it. And the bonus is that it's less oily too. So, be careful not to over-roast the potato wedges and keep them golden brown. What a satisfying snack it makes!
So, what are we waiting for? I am quickly going to share the list of ingredients you'd require. The list is going to be teeny-weeny. Also, there are other recipes that you can have as starters, let's check them out.
1. Grilled Chicken Wings– A recipe with less oil is what we seek the most. One of the options is to cook on a grill. This is the reason these Grilled Chicken Wings is a perfect recipe for you.
2. Roasted Fennels– Roasted vegetables are not only healthy but also taste great. Learning to roast them accurately without overcooking them or making them bitter is what you will learn.
3. Sweet and Sour Fish– This Chinese sweet and sour fish recipe uses fish fillets to create a stunning presentation while keeping the cooking process as easy as possible.
4. Meatloaf Sliders– Meatloaf sliders give a twist to your classic moist and delicious meatloaf and make them one of the best snacks. These little sandwiches are the best thing for your taste buds as well as your hungry gut.
Ingredients for Steak Fries
| Ingredients | Amount |
| --- | --- |
| Cooking Spray | N/A |
| Gold Potatoes | 4 (medium sized) |
| Onion Powder | ½  tsp |
| Garlic Powder | ½  tsp |
| Smoked Paprika | 1 tsp |
| Kosher Salt | ½ tsp, plus more for seasoning |
| Black Pepper | ½ tsp |
| Olive Oil | 3 tbsp |
I am sure most of the ingredients would be available in your kitchen. So, let's get rolling. Oh, there's one important thing to share- the time needed to make the Steak Fries. Well, I've added a timetable down below for you all to refer to.
How Much Time Will It Take?
| Preparation Time | Cooking Time | Total Time |
| --- | --- | --- |
| 10 minutes | 40 minutes | 50 minutes |
Well, the Steak Fries does take a bit longer than usual to cook. However, the roasted fries coming out of the oven will melt your heart and every minute spent on the fries will seem to be worth it. So, let's dive into the step by step procedure of the recipe.
Steak Fries Recipe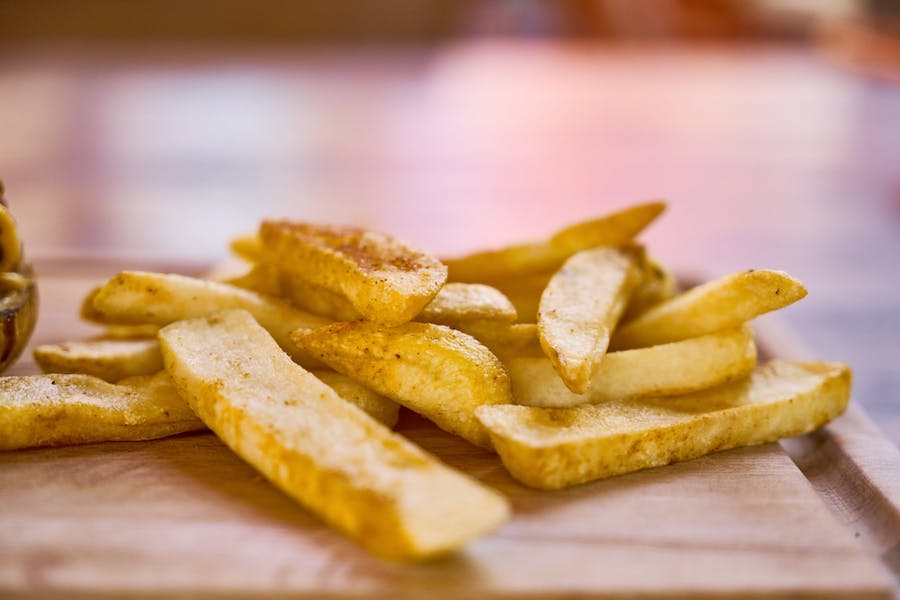 Cut the potatoes into wedges of proper size (neither too thick nor too thin). I cut down the middle of the potato length-wise and then cut each half into four pieces length-wise. I prefer to keep the skin of the potato; you may take it off.
Preheat the oven to 400 degrees Celsius and glaze the baking pan with cooking spray.
Pro tip: microwave the potato wedges for 5 minutes before roasting. 
Now, add olive oil to the baking pan (brush it all over) and scatter the potato wedges on it. Brush a little olive oil on top of the wedges.
Season the wedges with salt, black pepper, onion powder, garlic powder, smoked paprika (or any other seasoning of your choice) and roast for 30 minutes.
Now, take them out, flip them and roast for another 10 minutes.
Check on the fries to make sure they don't burn. And, they're ready! You may sprinkle in more salt, if needed, before serving.
Nutritional Breakdown of Steak Fries 
I have added a table below that shows the nutrition content in the Steak Fries. Check it out for values in detail.
| | |
| --- | --- |
| Calories | 188 |
| Carbohydrates | 25.8g |
| Proteins | 3.0g |
| Fat | 8.5g |
| Sodium | 167.2mg |
| Fibre | 3.3g |
Note- The Nutritional Breakdown is for 1 serving.
How to Make Steak Fries at Home | Video
We will walk you through every step of the recipe with the video attached below. I hope it helps and guides you throughout the process.
If you are a fries lover, I hope you enjoy Steak Fries at home. Do leave your suggestions or feedback in the comment section below. See you soon with more such recipes. Thanks for stopping by!