How To Make Spicy Kale And Coconut Fried Rice At Home
Note- This post may contain affiliate links, we earn from qualifying purchases made on our website. If you make a purchase through links from this website, we may get a small share of the sale from Amazon and other similar affiliate programs.
Spicy kale and coconut friend rice is a great vegetarian recipe to make for dinner. It incorporates spicy, savory and tangy flavors. It is refreshing, healthy and definitely worth a try!
Spicy kale and coconut fried rice is a Thai recipe that makes for a great weeknight dinner. It has the freshness of lime and cilantro. The recipe has tender kale and vegetables as well as crunchy coconut flakes. So, it is high oh flavors as well as textures.
To make spicy kale and coconut fried rice, cook the eggs in pan. Cook the vegetables and kale in the same pan and set all of this aside. Cook the coconut flakes and add the rice. Put the eggs and vegetables back and stir. Remove from heat and add soy sauce, sriracha and lime juice and stir. Garnish with lime wedges and cilantro.
This was just a teaser of the recipe. You can find the complete recipe going down. Before that, let's discuss ingredients and proportions.
Ingredients For Spicy Kale And Coconut Fried Rice
2 tablespoons Coconut Oil
2 Eggs (whisked together)
2 Garlic Cloves (minced)
3/4 cup Green Onions (chopped)
1 cup Vegetables (Bell Pepper, Carrots) (chopped)
1 medium bunch Kale (chopped)
1/4 teaspoon Sea Salt
3/4 cup Unsweetened Coconut Flakes
2 cups Brown Rice (cooked)
2 teaspoons Soy Sauce
2 teaspoons Sriracha
1 Lime (halved)
Fresh Cilantro (for garnish)
Now that we have our shopping list, let's also buy an timer watch to set the time needed for this recipe.
How Much Time Will It Take To Make Spicy Kale And Coconut Fried Rice?
| Preparation Time | Cooking Time | Total Time |
| --- | --- | --- |
| 20 Minutes | 15 Minutes | 35 Minutes |
This is all it takes along with a little hunger and motivation to make this recipe. So, let's start with steps for the recipe.
Steps To Make Spicy Kale And Coconut Fried Rice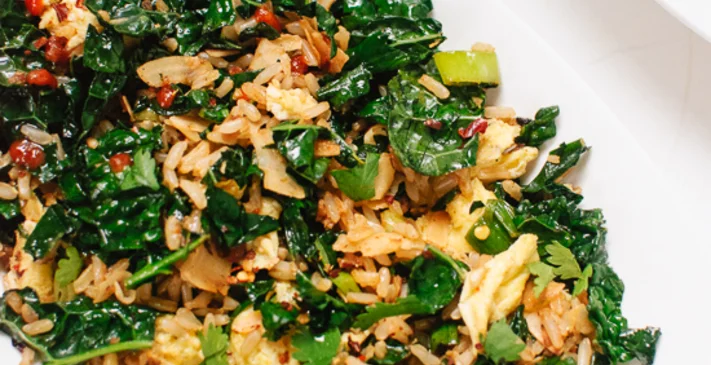 Place a pan on medium heat and add 1/3 tablespoon of coconut oil to it. Pour the eggs into the pan. Cook while frequently stirring until the eggs are scrambled. Then, transfer them to a bowl.
To the same pan, add 1 tablespoon of oil. Then, add the garlic, green onions and the chopped vegetables. Cook, while frequently stirring, until the vegetables are tender, for about 2-3 minutes.
After the vegetables are cooked, add the kale and sprinkle with salt. Cook the kale for about 2 minutes until it is tender. Put the contents of the pan in the same bowl as the eggs.
Pour the remaining oil into the pan. To this, add the coconut flakes and cook. Keep stirring till the flakes turn lightly golden. Then, add rice and cook for about 2-3 minutes.
Put the eggs and vegetables back in the pan and stir all of the ingredients to mix them together.
Remove the pan from heat and add soy sauce, sriracha and the juice of 1/2 lime. Stir to combine all the flavors.
Put the fried rice into a serving bowl and garnish it with lime wedges and fresh cilantro leaves.
There you have it! This beautiful and delicious recipe. But kale sounds healthy, is the recipe as healthy as it sounds? Let's find out!
Nutritional Breakdown Of Spicy Kale And Coconut Fried Rice
Here is a table for the nutritional breakdown of this recipe.
| | |
| --- | --- |
| Calories | 624 |
| Fat | 35.7 g |
| Carboohydrates | 63.7 g |
| Fiber | 8 g |
| Protein | 15.7 g |
So, that was all about this. If you have nay suggestions, queries or any kind of feedback, please share them with me in the comments. I'll love to hear from you. Till then, happy eating!