How to Make Spicy Cheese Cracker at Home
Note- This post may contain affiliate links, we earn from qualifying purchases made on our website. If you make a purchase through links from this website, we may get a small share of the sale from Amazon and other similar affiliate programs.
What comes to your mind when you want to eat something crispy and something cheesy at the same time? I know everyone has their eating preferences but crackers and cheese are my favorites if I tell you about mine.
This combination of crisp and smooth texture is the most satisfying meal ever. I usually enjoy having it whenever I am alone and have no snacks available in my refrigerator. They are easy to make and takes almost no time. What else can be a reason not to eat these crispy crackers with cheese?
This recipe that I have brought today for you foodies is both simple and delicious. All you have to do is, get the ingredients and start making it. But before that, what is this recipe called? Today I am going to tell you how to make a spicy cheese cracker at home.
These crackers are a delight to eat and will make you fall in love with their spicy and tangy flavor. Enjoy them while watching a movie or chilling out with buddies. It is the best recipe you can have in less time and will satisfy your need to eat something different from usual meals.
Enough of the talks, now let's come to the deal. The ingredients are provided below. Get them and move straight to the kitchen to follow the rest of the procedures. Also, there are other recipes that you can have as starters, let's check them out.
1. Mac and Cheese Bites– Hearing of Mac and Cheese makes everyone drool. The recipe today is not of the basic mac and cheese we eat in a plate. It is of Mac and cheese that you can finish in just two bites.
2. Scottish Shortbread– Scottish shortbread is a traditional Scottish biscuit that was originated in 1736. This shortbread recipe is very famous among people. But as the name suggests, this bread is primarily popular in places like Ireland and Scotland.
3. Jalapeno Cheese Sticks– Jalapeno cheese sticks are a favorite party snack. They are delicious, cheesy and really easy to make. They also get ready in no time. The recipe is quite simple, but the results are amazing.
4. Vegetable Gold Coins with Sesame Coating– The Vegetable Gold Coin is the vegetarian version of the very famous Chinese appetizer known as Chicken Gold Coil.
Ingredients for Spicy Cheese Cracker
| Ingredients | Quantity |
| --- | --- |
| Cheddar Cheese  | 8 ounces  |
| Salted Butter  | ½ cup |
| Kosher Salt  | 1 tsp |
| Cayenne Pepper  | ½ tsp |
| Ground Black Pepper  | ¼ tsp  |
| Garlic Powder  | ⅛ tsp  |
| All-Purpose Flour  | 1 ½ cups |
Now, let's see how long you have to wait to get this delicious and cheesy recipe on your plate. The time details are given below. You only have to wait 1 hour and after that, you are all set to have this crispy and smooth spicy cheese cracker ready.
How Much Time Will it Take?
| Preparation time | Cooking time | Total time |
| --- | --- | --- |
| 45 minutes | 15 minutes  | 1 hour |
Here is the procedure you need to follow to get the best spicy cheese cracker recipe at home. Follow these steps and make this recipe different from other similar recipes available.
Spicy Cheese Cracker Recipe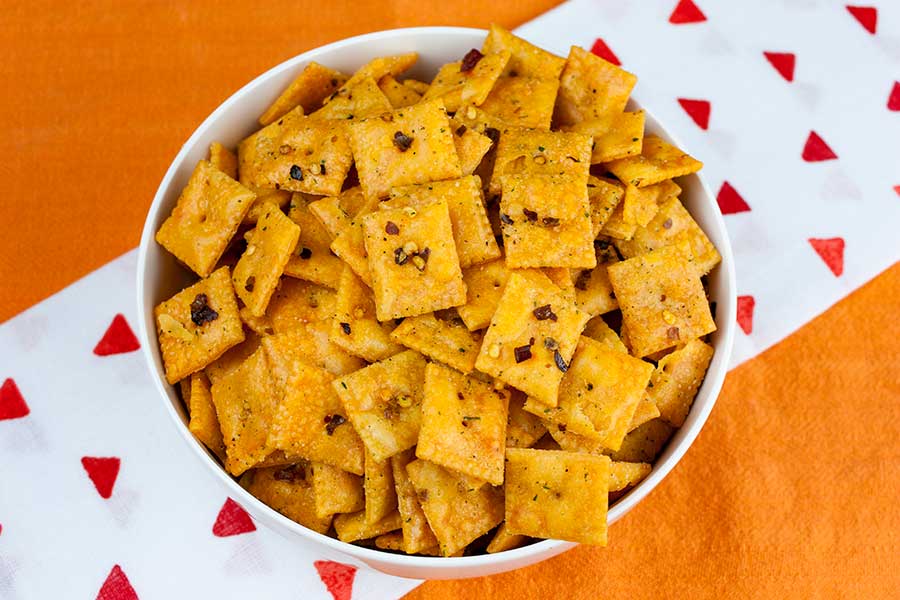 In a large mixing bowl, add cheese and butter and beat them with an electric mixer until fluffy. After 3 minutes, reduce the mixer's speed and add salt, cayenne, black pepper, and garlic powder. Add a ½ cup of flour to it using a spatula and mix it well until a dough is formed.
Take the dough out on the parchment paper or plastic wrap and roll it into a log having a 1-inch diameter. Turn the parchment paper's ends or wrap and keep it in the refrigerator for about 30 minutes.
Now align your parchment paper or a baking mat with a baking sheet and preheat your oven to 375F.
Take the dough out from the refrigerator and cut it into long and thick slices, keeping each other on the baking sheet.
Now nake this lot until they turn light brown for about 15 minutes. Transfer it to a cooling rack and let it cool completely. As your spicy cheese cracker are ready, store them in an airtight container for up to 1 week at room temperature.
Nutritional Breakdown of Spicy Cheese Cracker
The nutritional facts and values of this recipe are provided in the table below. Have a look and know what exactly you are consuming within your food.
| | |
| --- | --- |
| Calories  | 40 |
| Fat  | 2 gm |
| Cholesterol  | 8 mg |
| Sodium  | 75 mg |
| Carbohydrates  | 2 gm |
| Protein  | 1 gm |
How to Make Spicy Cheese Crackers at Home | Video
Here is a video of this recipe that you can refer, to make it more quickly at home.
That's it for today and I hope you will like this recipe. Will love to hear your experience and stories regarding these spicy cheese crackers. If you liked it, then please recommend it to your friends and relatives as well. Till then, have a great day!