How to Make Spelt Pasta at Home
Note- This post may contain affiliate links, we earn from qualifying purchases made on our website. If you make a purchase through links from this website, we may get a small share of the sale from Amazon and other similar affiliate programs.
Have you ever tried Spelt Pasta? It is the best pasta noodles I have ever tried. I am very fond of Italian food and often make it at home. This recipe is unique because of the spelled flour used in it. This flour is said to be very healthy and rich in many nutrients such as zinc, Vitamin B1 and fiber. 
Spelt flour is considered to have a large number of health benefits like it improves the cholesterol level, reduce blood pressure, helps in better digestion, reduced risk of diabetes and many more. Ever thought that pasta can have this much health benefits? And it is the reason why spelt is considered better than wheat. 
This recipe is an old one and is usually made in most European and western countries. These Spelt Pasta noodles are made up of the spelled flour which I already told you and some other ingredients such as eggs and olive oil which adds to its healthy nature. Now let's start making this recipe at home without any confusion. This is the easiest recipe you will ever find.
This pasta is really easy to make and takes very little time to prepare. But here are some other amazing recipes that you should definitely try.
1. Escargots a la Bourguignonne– Escargots is a French term used for snails. This is an amazing French recipe which is then liked by German people also. These snails are also known as burgundy snails or Roman snails.
2. Corn Nuggets Salmon Stir Fry– Make your own take-out quality stir fry at home with this Salmon Stir Fry recipe. This yummy Asian stir fry recipe is quick to make, high in protein, and packed with fresh vegetables.
3. Irish White Pudding– I fell in love with white pudding living in New York and eating numerous Sunday breakfasts at our local Irish pub, Fiona's. 
4. Barbacoa de Res– This Barbacoa De Res is a perfect meal for your boring Sundays. It is basically a Mexican traditional dish that people make mostly on special occasions.
Ingredients For Spelt Pasta
| | |
| --- | --- |
| Ingredients | Quantity |
| White Spelt Flour | 1 cup |
| Egg | 1 pc |
| Olive Oil | 1 tsp |
| Water  | As needed |
Yes, this recipe only takes 4 ingredients to prepare. Now this recipe will take much of your time but to be precise here is the time frame of this recipe in the table below.
How Much Time It Will Take?
| | | |
| --- | --- | --- |
| Preparation time | Cooking time | Total time |
| 10 minutes | 30 minutes  | 40 minutes |
Now as we have everything to make this recipe, we can cook it in our own kitchen. What are you waiting for? No need to order this from outside. Let's cook it and make everyone happy in your home.
Spelt Pasta Recipe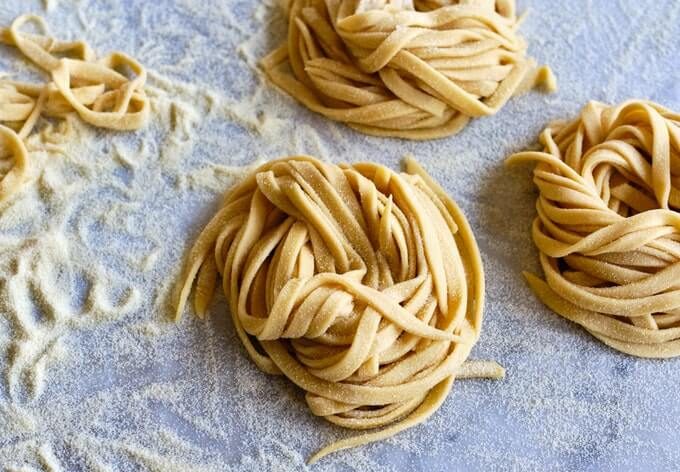 Take the flour and spread it on the plain surface and make a circular cavity at its center. Add salt to this flour.
Now in a separate bowl, mix the eggs, olive oil and some water.
Now in the flour, pour this mixture and mix it well with the flour.
Knead the dough and add more water if required. The dough should be flexible and soft.
Now let the dough rest for about 15-20 minutes or more as per your convenience.
To make the pasta noodles, you have two options: to make it with the pasta machine or you can make it by using your knife and cut it in the shape of pasta.
If you have a pasta machine, then make the dough flat and rectangular in shape and roll your dough in the machine. You can adjust the size of the pasta as per your requirement.
You can also cut out the pasta with a roller cutter or your knife and make the pasta shapes in case if you don't have a pasta machine.
Repeat the procedure for the rest of the dough.
To make the pasta, take a pan and bring water to a boil in it and add this pasta into it and boil them for 5 minutes until the pasta rises and floats on the top.
And done! You have made this pasta at home. Now you can just make it by using some sauces and seasoning and they are ready to eat.
Nutritional Facts Of Spelt pasta
This recipe is healthy and nutritious as it is homemade and I've already told you that it has Spelt Flour, which has a lot of health benefits. You can check the nutritional breakdown of this recipe in the table below.
| | |
| --- | --- |
| Calories | 296 |
| Protein | 11.1 gm |
| Fiber | 5 gm |
| Fat | 8 gm |
| Carbohydrates | 42 gm |
| Calcium | 13.9 gm |
| Iron | 1.9 gm |
| Cholesterol | 93 mg |
I hope you have liked this Spelt Pasta recipe and I highly recommend you to cook this pasta after making it. If you want to share any review or ask any query, do share it in the comments section below. Till then stay safe and stay tuned for more such amazing recipes.