How To Make Southern Fried Okra At Home
The recipe I am going to share with you all is Southern-fried okra. It's a delicious and crispy snack that you can munch on. The okra is covered with a cornmeal mixture that gives the okra's exterior the much-loved crunch.
The trick to making fried okra crispy is using fresh okra. Make sure you dry it well after washing as wet okra will not turn crispy. Drier the okra, the crisper it will be. Avoid using frozen okra as it will turn slimy.
To make Southern fried okra, mix flour, cornmeal, salt, seasoning blend, and pepper in a bowl. Then, dip the okra in buttermilk and coat with the cornmeal mixture. Lastly, fry the okra until it becomes crispy and serve hot.
This is only a summary of the recipe. Find the complete recipe below. Also, there are other recipes that you can have as starters, let's check them out.
1. Berenjenas Con Miel– Berenjenas Con Miel is a fried eggplant and honey dish. This dish is a great combination of sweetness and saltiness. It is a classic dish of Moorish origin and is served across Granada, Córdoba, Málaga, and Jaén.
2. Vegetarian Nachos Grande– This recipe is very easy to make at I bet that these nachos will taste better than your normal nachos. These nachos can help to fulfill your hunger while gaming and they are convenient to eat.
3. Corn Dodgers– Corn dodgers are also known as "Hushpuppies." This corn cake genre is most popular in East Texas. If you want to explore different cultures, food is the best way and with this dish, one can easily know about American culture.
4. Greek Spaghetti– Twirling long strands of Greek spaghetti around a folk is one of my guilty pleasures. Every time I eat a plate of spaghetti, I get some sweet "guilt" satisfaction no matter where or why.
Ingredients For Southern Fried Okra
1 1/2 cups Fresh Okra (sliced)
3 tablespoons Buttermilk
2 tablespoons All-Purpose Flour
2 tablespoons Cornmeal
1/4 teaspoon Salt
1/4 teaspoon Garlic Herb Seasoning Blend
1/8 teaspoon Pepper
Oil (for deep frying)
Additional Salt and Pepper (optional)
How Much Time Will It Take To make Southern Fried Okra?
| Preparation Time | Cooking Time | Total Time |
| --- | --- | --- |
| 10 Minutes | 5 Minutes | 15 Minutes |
Steps To Make Southern Fried Okra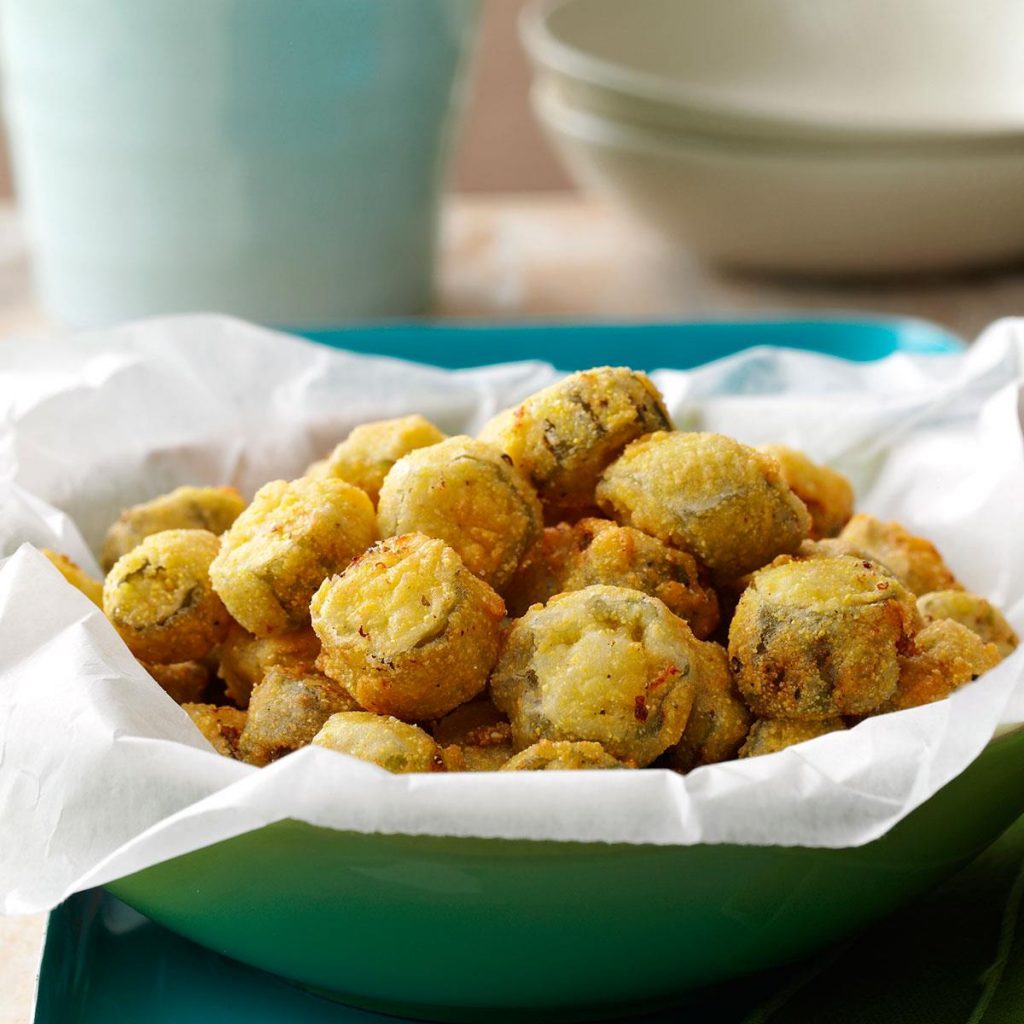 Wash okra and pat dry using a paper towel. In a shallow bowl, add buttermilk. In another bowl. prepare a mixture of flour, cornmeal, salt, seasoning blend and pepper.
Dip okra in buttermilk and then roll it in the bowl with cornmeal mixture.
Using an electric skillet or fryer, fry okra in 375oF heated oil. Fry few pieces of okra at a time for 1-2 minutes on each side until golden brown. Drain them on a paper towel and season with salt and pepper.
Serve immediately.
Nutritional Breakdown of Southern Fried Okra
| | |
| --- | --- |
| Calories | 368 |
| Protein | 5 g |
| Carbohydrates | 19 g |
| Fat | 31 g |
| Cholesterol | 1 mg |
| Sodium | 410 mg |
How To Make Southern Fried Okra At Home | Video