How to Make Sous Vide Pastrami at Home
Making a restaurant based dish at your home is what everyone of us desires for. The recipe I am going to share with you all today is Sous vide Pastrami. It is a dish which involves different technique called Sous Vide to cook the beef brisket. The beef is first pickled or cured then rubbed with spices and smoked. Lastly, it is steamed to cook it to perfection. It is an American-Jewish cuisine.
This recipe requires a lot of patience. But all your patience will be worth the treat. The preparation of this recipe needs to be done prior. You will get to know about this in detail as you will go through the recipe. Sous vide is a technique used to cook meat into tender and moist meat. If you like your meat to be slowly cooked and taste smoky, then this recipe is for you.
It is a perfect cuisine for a party. It is an expensive dish because of the various processing steps involved in it. Processing the meat multiple times makes it expensive. Pastrami is from highly fatty meat near the beef navel. But here are some other amazing recipes that you should definitely try.
1. Smoked Turkey Breast– Turkey is something that everyone. And what more can you ask for if you are getting smoked turkey breast. But it would be best if you brined the turkey because this crucial step will make the turkey moist and flavorful.
2. Bell Stuffing– Not only will this recipe be a useful baste for the turkey, but it can also be served as a side dish. It can be served with pumpkin soup. This stuffing is an American cuisine made with the oldest American spices.
3. Sweet Potato Crunch– Sweet Potato Crunch is buttery sweet potatoes mashed with brown sugar, buttermilk and topped with pecans and crumble of flour and brown sugar. This is a perfect combination with turkey because of the crunch it gives.
4. Smoked Pineapple– In this recipe, the pineapple is baked over a grill with some honey brushed on its surface. The smoky and grilled flavor makes it a treat for the tongue.
Ingredients for Sous Vide Pastrami
| Ingredients | Amount |
| --- | --- |
| Beef Brisket | 12 pounds |
For Brine
| Ingredients | Amount |
| --- | --- |
| Water | 1 gallon |
| White Sugar | 2 cups |
| Kosher Salt | 1 ½ cups |
| Garlic | 10 cloves crushed |
| Pink curing salt | 4 teaspoons |
| Ice cubes | 1 gallon |
For Pickling Spice
| Ingredients | Amount |
| --- | --- |
| Coriander Seeds | 1 tablespoon |
| Whole black peppercorns | 1 tablespoon |
| Mustard seeds | 1 tablespoon |
| Red Pepper flakes | 1 tablespoon |
| Whole cloves | 1 tablespoon |
| Ginger | 1 teaspoon |
| Bay leaves | 2 |
Ingredients for this recipe are easy to find. Grab them and get started. Till then let me tell you how much time it will take to make this delicacy.
How Much Time Will It Take?
| Preparation Time | Cooking Time | Additional Time | Total Time |
| --- | --- | --- | --- |
| 30 minutes | 23 hours 10 minutes | 5 days | 6 days |
This cuisine is a time consuming dish. But all your efforts will pay off as you will taste it. It is going to turn out pretty awesome. Take a note of the instructions below.
Sous Vide Pastrami Recipe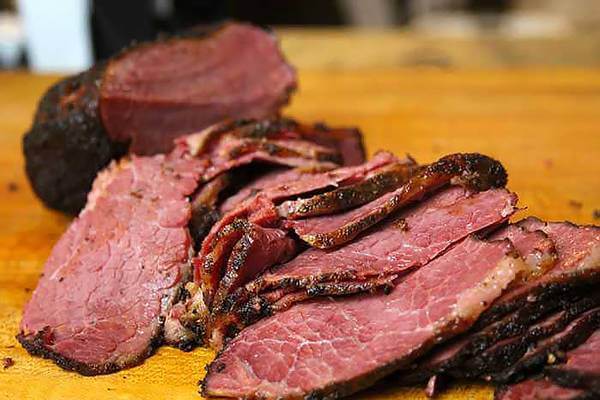 Cut all the fat from the beef brisket and poke out holes in it with the help of a paring knife.
Take a large pot and bring the water to boil. Please remove it from the stove and cool it down. When it cools down a bit, add white sugar, kosher salt, garlic and pink curing salt.
In a food-grade non-reactive container with a lid, pour the brine and ice in it and lastly add the brisket. Keep it in the refrigerator for 5 -7 days. Just remember to flip the brisket every 24 hours.
After it is done, remove the brisket and rinse under cold water.
Tale a pan and heat it on a low flame: slightly roast coriander seeds, peppercorns and mustard seeds in it for 2 minutes. Transfer them to a food processor and add red pepper flakes, cloves, ginger and bay leaves. Grind them.
Take ½ of this spice mixture and coat the brisket with it. Seal the brisket in food saver bag. Place the brisket in sous vide for 18 hours at 137 degrees F (58 degrees C).
After 18 hours, cut the bag and tale out the brisket. Place it on a wire rack for 30 minutes. Re-coat the brisket with the remaining pickling spice.
Add wood chips to the smoker and heat at 225 degrees F (107 degrees C). Now, place the wire rack on the smoker.
Smoke the brisket till it turns brown with no pink centre and gets tender. It will take about 5 hours. Remove the brisket from the smoker 15 minutes before slicing it. 
Serve hot.
Making it at home will be a great attempt. So without any second thought, give this dish a try. Enjoy each and every step of its cooking and you will see how amazing the outcome is. You can even make a sandwich with it.
Nutritional Breakdown of Sous Vide Pastrami
| | |
| --- | --- |
| Calories | 204 |
| Protein | 20.3g |
| Carbohydrates | 19.8g |
| Fat | 4.7g |
| Cholesterol | 45.6mg |
| Sodium | 7339.7mg |
How to Make Sous Vide Pastrami at Home | Video
If you prefer step-by-step instructions of the recipe, watch the video I have added to make it easier for you.
Can't wait to begin with the recipe? Try it and share your reviews in the comment section. Just in case you have any query related to the recipe, you can ask your questions in the comment section. If you liked this recipe, do share with your family and friends. Bon Appetite!