How To Make Sous Vide Carrots At Home
Note- This post may contain affiliate links, we earn from qualifying purchases made on our website. If you make a purchase through links from this website, we may get a small share of the sale from Amazon and other similar affiliate programs.
Here, I'm bringing this yummy and healthy recipe for you and the name of this recipe is sous vide carrots.
I am a very big fan of sous vide recipe because of the sweetness and the flavour filled in this recipe because they are perfectly cooked. I leanred this recipe from one of my friends who is a great chef. He made this recipe for me when I went to his home for dinner. I really loved this dish that I asked for the detailed recipe.
To make these sous vide carrots, peel the carrots and add carrots, olive, oil and black pepper in a freezer bag. Put the bag into water and seal it and submerge the bag of carrots in the pot. Cook for few minutes and sprinkle some chopped tarragon and drizzle oil over carrots.
That was just a glimpse of the recipe. I will explain the complete recipe along with its ingredients and nutritional values below. But here are some other amazing recipes that you should definitely try.
1. Espinacas con Garbanzos– This recipe is also known as spinach and Chickpeas. It is a Spanish dish that was invented by moors as they were the first people to bring spinach, chickpeas and cumin to Spain.
2. Mama's Cabbage– If you love eating healthy and green veggies, then try making Mama's Cabbage at your home.
3. Christmas Green Beans– Christmas green beans are dressed up with pimentos and chopped pecans that are caramelized in butter and honey. A simple, healthy side dish to complete your family dinner.
4. Collard Greens– Collard Greens are a member of the cabbage family. They are leafy green vegetables like spinach that are commonly used in the U.S.A. Cooking them is a must, as they are too raw to eat.
Ingredients For Sous Vide Carrots
1lb. Carrots
2tbsp. Chopped fresh terragon
1tsp. Kosher Salt
1tsp. Black Pepper
1tsp. Olive Oil
Grab these ingredients from the nearest supermarket and let's see the time we need to make this recipe at home.
How Much Time It Will Take To Make Sous Vide Carrots?
| Preparation Time | Cooking Time | Total Time |
| --- | --- | --- |
| 10 minutes | 20 minutes | 30 minutes |
You can make this recipe in just 30 minutes. Now let's move to the steps to make this recipe at home.
Steps To Make Sous Vide Carrots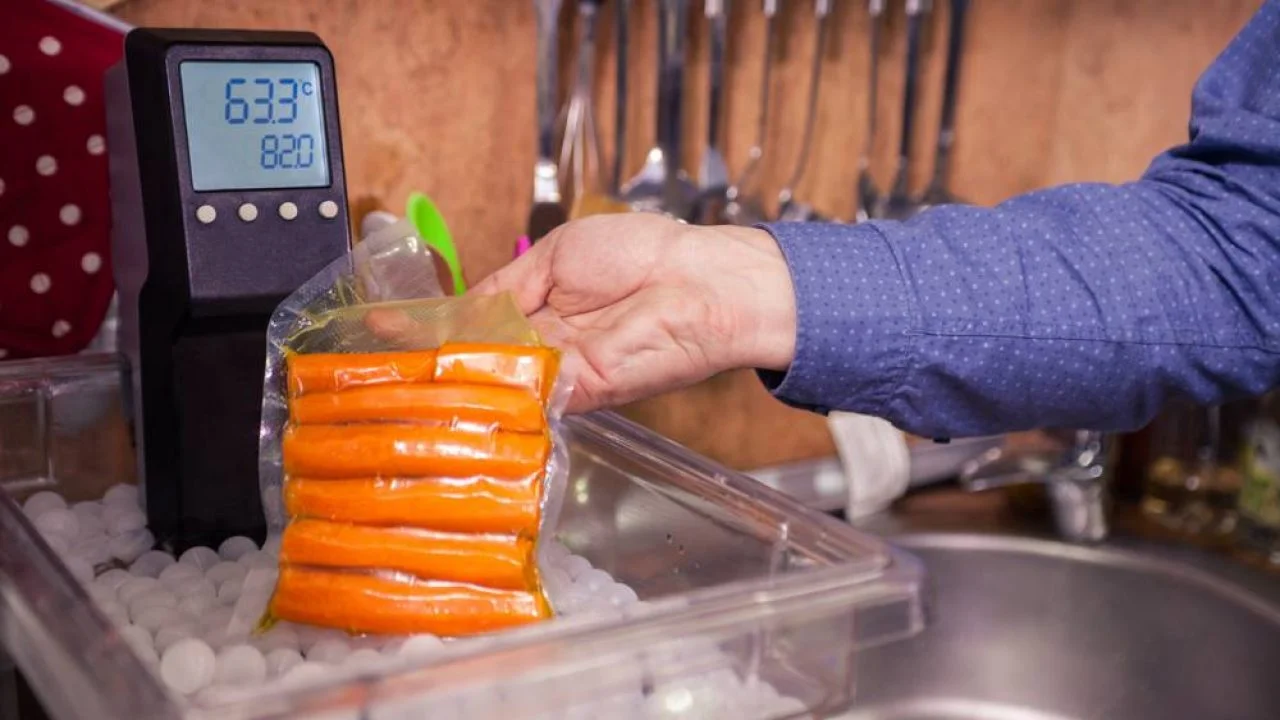 Boil the water upto 194F.
Wash carrots, peel them and cut off the green leafy tops, and slice off the tops and bottoms.
In a freezer bag, add carrots, black pepper, olive oil and toss them in a bag to distribute the ingredients.
Put food in a bag and lower it into the water.
Seal it above the water line once the air is out.
Submerge the bag of carrots in the pot at the proper temperature.
Cook for few minutes, sprinkle some chopped tarragon and drizzle oil over carrots.
Your sous vide carrots are ready now.
Your carrots recipe using sous vide cooking technique is ready.
Nutritional Breakdown Of Sous Vide Carrots
Here are the nutritional breakdown of the nutrients present in this recipe.
| | |
| --- | --- |
| Calories | 168kcal |
| Protein | 2g |
| Carbohydrates | 6.8g |
| Fat | 3g |
| Sodium | 12.3mg |
How To Make Sous Vide Carrots At Home | Video
Here is a video for your better understanding. If you have any issue with the recipe, you can easily watch this dish to make this dish at home.
Give a try to this recipe and share your experience in the comment section. Also, share your important feedback in the comment section and if you liked this recipe, then do share it with your friends and family.