How To Make Soft Pretzel Bites At Home
Note- This post may contain affiliate links, we earn from qualifying purchases made on our website. If you make a purchase through links from this website, we may get a small share of the sale from Amazon and other similar affiliate programs.
As a mother, I always care for my children and I always have a thought to make something for them which will not affect their health. One day, I was at a kitty party where I have my friends and relatives.
The ambience around the party was very energetic. After we played games, all of us went to eat food. There was a kids corner where they were serving cupcakes, chocolates, and many other things eaten by kids. But the one that attracted me the most was soft pretzel bites, it was very tasty and I thought it will be liked by my kids also.
I asked the man who was serving the eatables at the kid's corner about the Soft Pretzel Bites Recipe. He gave me the recipe with proper instructions. When I went back home, I made it for kids and they loved it a lot. So, I thought to share soft pretzel bites recipe with my lovely people over here.
If you don't have yeast for the pretzel bites, you can use any of the yeast substitutes. But here are some other amazing recipes that you should definitely try.
1. Bourbon Whipped Cream– Bourbon whipped cream is not an average whipped cream. It's full of flavor and richness. You might know how to make whipped cream but adding a dash of bourbon to it will surely bring out an addictive savor.
2. Puppy Chow– Puppy Chow is one of the best American desserts and snacks. Known variously as monkey munch, muddy buddies, muddy munch, reindeer munch or doggy back, this easy puppy chow recipe can be made quickly.
3. Pecan Crackers– These pecan crackers are a great snack or appetizer. Serve these at your next party and your guests will be begging for the recipe.
4. Buckeye Balls– Buckeye Balls are an EASY dessert made from peanut butter balls dipped in chocolate and refrigerated to make a no-bake candy treat with only 6 ingredients
Ingredients For Soft Pretzel Bites
| Ingredients | Amount |
| --- | --- |
| Warm Water | 1/2 Cup |
| Packet of Instant Yeast | 1 |
| Salt | 1 tsp |
| Brown Sugar | 1 tbsp |
| Unsalted Butter | 1 tbsp |
| All-Purpose Flour | 4.25 Cups |
| Baking Soda | 1/2 Cup |
| Egg | 1 |
| Sea Salt | 1 tsp |
You will get all these ingredients from the supermarket and some must be already in your kitchen. But without wasting time, let's see how much time we have to invest in making Soft Pretzel Bites.
How Much Time It Will Take?
| | | |
| --- | --- | --- |
| Preparation Time | Cooking Time | Total Time |
| 40 Mins | 15 Mins | 60 Mins |
We are finally at the last stop for which we are waiting for. Any guesses what is it? Yes, it is Soft Pretzel Bites Recipe. We are just one step away from it.
Soft Pretzel Bites Recipe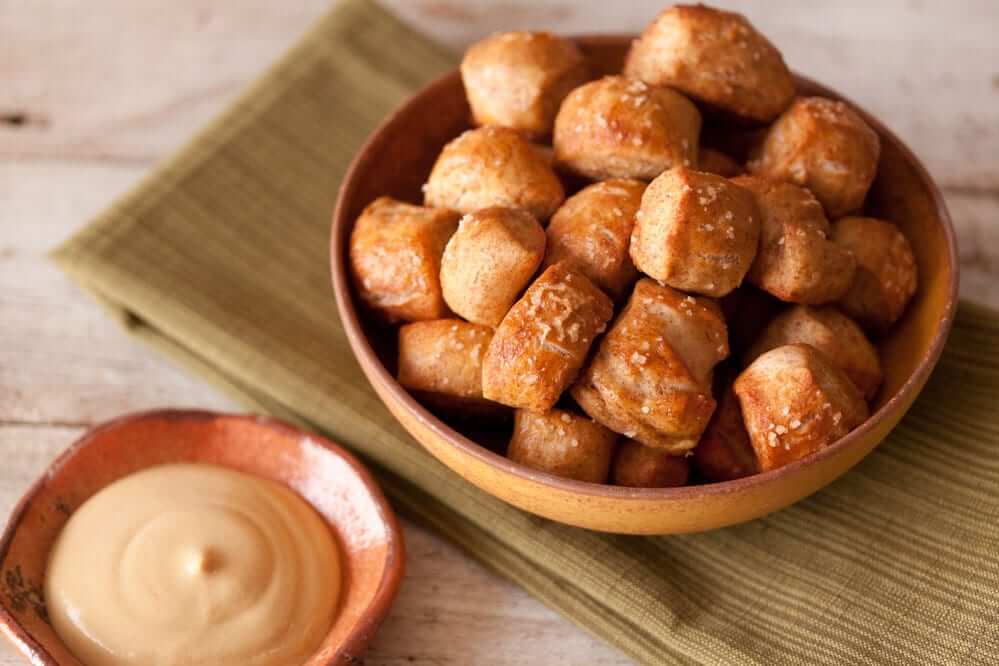 In warm water, whisk the yeast and leave it aside for 1 minute. In the yeast mixture add brown sugar, salt, and melted butter.
When the mixture is combined and add flour to it.
Mix the dough mixture until it will become thick.
For 3 minutes, knead the dough on a floured surface and make a ball of it.
Grease a large bowl with olive oil in which you will place the dough and cover it, place it aside for 10 minutes.
At 425°F, preheat the oven and line it with baking sheets with mats.
Cut the dough into 6 sections with a knife and make the ropes of those dough sections, Cut the rope into small bite pieces.
In a large pot add water and baking soda bring that to boiling, add pretzel bites into that water and boil for 10 seconds.
Remove those balls with a spoon and place them on the baking sheet.
On pretzel bite, apple beaten egg with brush and sprinkle sea salt over, bake the bite for 15 minutes or until it will turn golden.
Serve Immediately.
Finally, Soft Pretzel Bites are ready. Serve them with white chocolate it will elevate their taste and your kids will love it.
Nutritional Facts Of Soft Pretzel Bites
For all the mothers who are very conscious about the health of their children, I have mentioned the nutritional breakdown of Soft Pretzel Bites.
| | |
| --- | --- |
| Calories | 141 |
| Carbohydrates | 31 g |
| Fats | 0 |
| Protein | 4 g |
| Sodium | 110 mg |
How To Make Soft Pretzel Bites at Home | Video
I am the kind of person who grabs thing quickly while watching it live. So, I have added a video of the recipe of Soft Pretzel Bites. While watching the video, you can easily make it.
I hope you've liked this recipe. Make this at home and you and your fall in love with these tasty Soft Pretzel Bites. Do share your reviews regarding Soft Pretzel Bites Recipe in the comments section below. And till then, stay tuned for more recipes like these.