How To Make Soft And Spicy Cornmeal Hamburger Buns At Home
Cornmeal hamburger buns are made from the same ingredients as a wheat bun. The only addition is the cornmeal. They are soft, delicious and high in fiber than the normal hamburger buns.
A few days back, I decided to make hamburgers at home. I wanted to make the cornmeal hamburger buns just like my mother used to make. She is a brilliant cook and always makes healthy and delicious food. I called her up and noted her recipe. After a few hours of hard work, I finally had delicious cornmeal hamburgers.
To make cornmeal hamburger buns, mix water, milk sugar, and yeast in a bowl. Then, add egg yolks, salt, butter, cornmeal, and flour to it. Knead it and make the dough. Transfer the dough to a bowl and set it aside for half an hour. Then, make small balls of the dough. Place them on a baking tray and bake them for 30 minutes. 
This was just a snippet of the recipe. Follow the below-given steps for the best result. Make sure you follow the full recipe. Here is some other recipe that you might like.
1. Orange Cranberry Bread– This moist & flavorful orange cranberry bread is packed with orange zest and tart cranberries, topped with cinnamon streusel, and finished with orange glaze.
2. Pioneer Woman Cornbread– It is baked cornbread and that you can ake in less than 30 minutes. It is delicious and has simple ingredients.
3. Yufka– Yufka is a type of Turkish flatbread. It is very thin and goes great when made into Shawarma roll. You can easily make it at home though it is a bit time-consuming.
4. Corn Pone– Corn pone is made without milk and eggs. It can be baked or fried. The ingredients are simple and easily available. It is easy to make corn pones at home and it takes less than an hour to make them.
Ingredients for Soft and Spicy Cornmeal Hamburger Buns:
| | |
| --- | --- |
| Ingredients | Amount |
| Bread Flour | 2 cups |
| Water | 1/2 cup |
| Milk | 1 tablespoon |
| Sugar | 1 1/2 cup |
| Active Dry Yeast | 1 Packet |
| Egg Yolk | 4 |
| Salt | 1 1/2 tablespoons |
| Unsalted Butter | 3 tablespoons |
| Yellow Cornmeal | 1 cup |
| Olive Oil | 2 tablespoons |
Cornmeal Hamburger Buns Recipe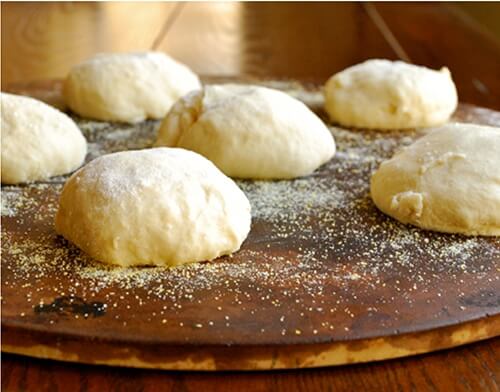 Add warm milk, water, and sugar to an electric mixer that has a paddle attached to it. Sprinkle active dry yeast on it as well. Mix it until the mixture becomes foamy.
Now, in the same mixture, add 3 egg yolks, salt, butter, cornmeal, and bread flour. Mix it until the dough become soft and smooth.
Oil the inside of a bowl and place the dough.
Cover the top of the bowl with plastic wrap and keep it aside for around 30 minutes.
Preheat the oven. Also, line a baking sheet with parchment paper.
Then, take the dough out of the bowl. Make small balls from it of around 2 1/4-inches-diameter each. Place the balls on the baking sheet.
Now, in a small bowl, take some egg yolk and some milk and mix it. Brush the top of the dough with this mixture and sprinkle cornmeal on them.
Place the baking tray in the oven. Bake them in the oven for about 30 minutes until they start to rise and become golden brown.
Take the buns out of the oven and split them in half using a knife.
How much Time it Will Take?
| | | |
| --- | --- | --- |
| Preparation Time | Cooking Time | Total Time |
| 45 Minutes | 30 Minutes | 1 Hour 15 Minutes |
Nutritional Information of Cornmeal Hamburger Buns Recipe
| | |
| --- | --- |
| Calories | 200 |
| Fat | 2.5 g |
| Cholesterol | 0 mg |
| Sodium | 340 mg |
| Carbohydrates | 38 g |
| Fiber | 1 g |
| Sugar | 3 g |
| Protein | 6 g |
How to Make Cornmeal Hamburger Buns at Home | Video