How to Make Shrimp Empanadas at Home
One day, I was chilling at home and suddenly my friends came over to surprise me and my mother asked them what would you like to eat? They were like whatever you make and after some time, my other called me in the kitchen and she was ready with some roll in which she filled something.
I bring them out for my friends and they were literally delectable and delicious, all of my friends liked it. After they went, I asked my mother the name of the dish and from where she learned the recipe.
My mother replied the name of the dish is Shrimp Empanadas and she learned this recipe from her Facebook friend who was from California and I asked her to teach me the Shrimp Empanadas Recipe so that I will share it with you.
Come let's see How Shrimp Empanadas Recipe works. But here are some other amazing recipes that you should definitely try.
1. Loup De Mer This recipe is from the Mediterranean region and is consumed in various continents of the world. US, France, UK and many other countries love this recipe and make it often. This recipe is also known as Mediterranean Seabass.
2. Shrimp with Tasso Gravy– Are you looking for a dish that is having gravy and tasty different with marvelous taste? Today, I am here to share my uncle's Shrimp with Tasso Gravy Recipe.
3. Red Lobster Shrimp Scampi The food chain- Red Lobster is famously known for its cheddar biscuits, shrimp scampi and bringing seafood to the Midwest. And if you are a shrimp lover, then you can't ignore its shrimp scampi.
4. Boiling Crab This recipe is one of the best seafood recipes that you'll ever try. It's really easy to make it home with just a few easy steps.
Ingredients For Shrimp Empanadas
For the Empanada Dough
| | |
| --- | --- |
| Cold Water | 1/2 Cup |
| Egg | 1 |
| Egg White | 1 |
| Vinegar | 1 tbsp |
| All-Purpose Flour | 3 Cups |
| Salt | 1 tsp |
| Shortening | 3 tbsp |
For the Shrimp Filling
| | |
| --- | --- |
| Tomato Sauce | 8 ounce |
| Sofrito | 3 tbsp |
| Raw Shrimp | 10 ounce |
| Salt | 1 tbsp |
| Pepper | 1 tbs |
| Colby Jack Cheese | 2 Cup |
How Much Time It Will Take?
| | | |
| --- | --- | --- |
| Preparation Time | Cooking Time | Total Time |
| 30 Mins | 15 Mins | 45 Mins |
How To Make Shrimp Empanadas Recipe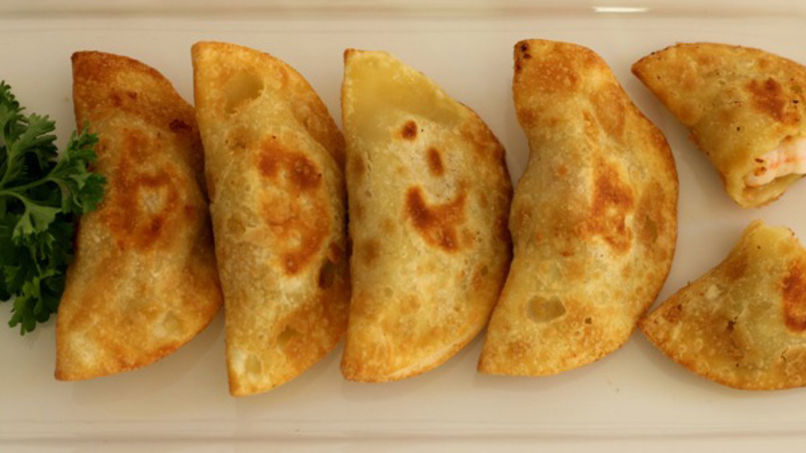 Make The Dough
Add water, egg, egg white, and vinegar in a medium bowl and set it aside.
Whisk 3 cups of flour and salt in a large separate.
In a pastry blender add flour and in the flour add the sliced shortening and mix them properly. In the centre of flour mix make a well and pour the liquid ingredients from the first bowl into the centre.
Mix them all until it becomes stiff.
Knead the dough until it will become smooth.
In a plastic wrap, wrap the dough and keep it in the refrigerator for at least 1 hour.
Make Shrimp Filling
Add tomato sauce and sofrito in a saucepan on medium heat to simmer over.
Add salt and pepper to pat the shrimp dry.
Put the shrimp into the saucepan with the tomato sauce and add the cheese and stir occasionally.
For about 3 to 5 minutes cook the shrimp or until it turns pink.
Turn the heat off and remove the pan from the heat and allow to cool before filling the empanadas.
Filling and Frying the Empanadas
On a floured countertop place the empanada dough. Roll the dough and make it thick and cut it into circles with a biscuit cutter.
In the centre of the circles place the fillings and fold the dough over the filling into a half-circle shape and with fork crimp the edges.
For 1-2 minutes fry the filled empanadas at 375 F until they turn light golden. Cool it before the servings.
Nutritional Facts Of Shrimp Empanadas Recipe
| | |
| --- | --- |
| Calories | 322 |
| Carbohydrates | 24 g |
| Fat | 22 g |
| Protein | 6 g |
| Sodium | 254 mg |
| Cholesterol | 15 mg |
How to Make Shrimp Empanadas at Home | Video