How To Make Shrimp Capellini At Home
Shrimp capellini is a popular dish packed with highly essential nutrients. Laced with scrumptious capellini, you are in for a flavor that is both dreamy and out of the earth!
If you are in for a recipe that needs less time, few ingredients, no fancy equipment, and the yummiest taste, you got lucky! The recipe I have for you today is a classic seafood dish with the toss and turn of shrimp, pasta, and a few seasoning agents. 
I have only used shrimp in this recipe, which is my favorite seafood. Feel free to add mussels, clams, and sea scallops. Capellini is an Italian variety of pasta that can be substituted with Angel hair pasta. 
As I said before, less time, fewer ingredients, and the yummiest taste. What stops you from trying it out? Check out the recipe for this instant go-to comfort food.
What Equipment Will You Need To Make Shrimp Capellini?
Skillet – You need a skillet to fry and cook shrimp with other ingredients. 
Saucepan – You require a saucepan to cook capellini.
Spatula – You need a spatula to stir the ingredients while cooking.
Bowl – You require a bowl to set the cooked capellini aside.
How Much Time Will You Need To Make Shrimp Capellini?
| Preparation Time | Cooking Time | Total Time |
| --- | --- | --- |
| 10 Minutes | 20 Minutes | 30 Minutes |
What Ingredients Will You Need To Make Shrimp Capellini?
Olive Oil – Olive oil is the most suitable oil in this recipe to retain moisture. 
Garlic Cloves – Garlic as the best seasoning agent renders unique flavor to your recipe.
Shrimp – Peeled shrimp are used in making shrimp capellini.
Capellini – There is no better substitute for capellini in seafood recipes owing to its light texture.
Paprika – Wonder where those vibrant colors come from? Behold a spoon of paprika!
Salt – A pinch of salt that turns your recipe edible!
Pepper – Pepper absolutely upgrades the flavor of your recipe.
Tomatoes – Turn to tomatoes for that sweet, juicy tang. 
Basil Leaves – As a significant healthy herb, basil leaves boost the overall flavor in this recipe.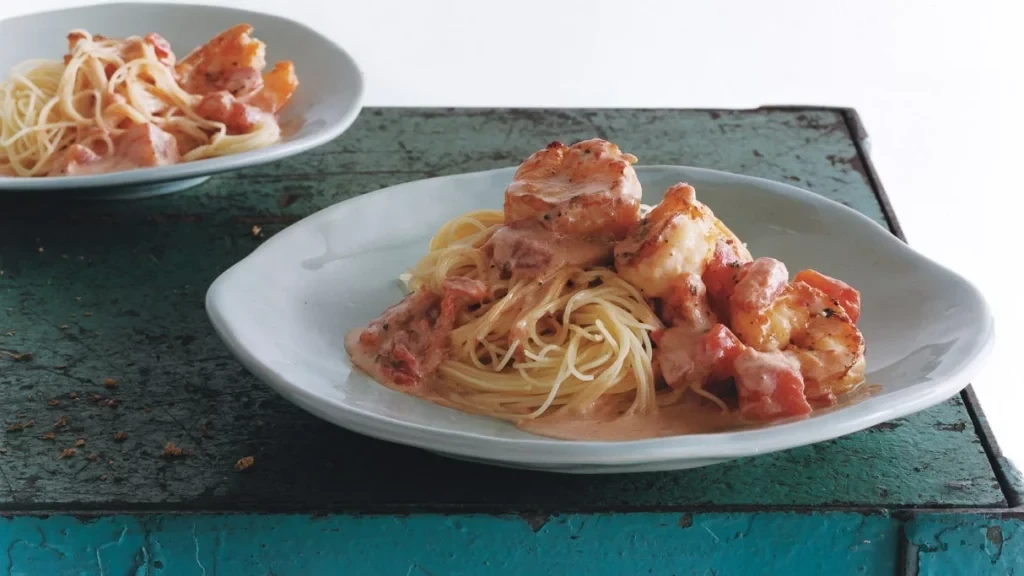 Steps To Make Shrimp Capellini
1. Cooking Capellini
Take a saucepan and fill it with water. Boil it over medium flame and add capellini. Cook the capellini al dente (cooked until firm when bitten). Drain the pasta and keep it aside in a bowl.
2. Time To Saute
In a skillet, add olive oil over medium flame. Add shrimp, after sprinkling it with salt and pepper, to the skillet. Saute with a spatula for over five to ten minutes until the shrimp is cooked well. To this, add minced garlic, tomatoes, paprika, and chopped basil leaves. 
3. The Final Touch
Once the seasoning agents are blended with the shrimp, add the cooked capellini and cook for about five minutes. Transfer your shrimp capellini on a platter and serve with tomato sauce.
Adding parsley, thyme, or oregano to this recipe is a worthy option to consider. Ensuring pasta is cooked al dente is crucial in this recipe. Some foodies prefer to top capellini with shrimp. You can also saute shrimp and other ingredients separately in the same skillet if you have the luxury of time. 
Nutritional Information
| | |
| --- | --- |
| Calories | 398.6 kcal |
| Fat | 20.8 g |
| Saturated Fat | 7.2 g |
| Polyunsaturated Fat | 2.0 g |
| Monounsaturated Fat | 10.3 g |
| Cholesterol | 274.2 g |
| Sodium | 536.5 g |
| Potassium | 287.3 g |
| Carbohydrates | 23.2 g |
| Dietary Fiber | 0.5 g |
| Sugar | 2.1 g |
| Protein | 28.7 g |
How Will Shrimp Capellini Look and Taste Like?
Shrimp capellini, with its dashing, appealing look, is a treat to your eyes. Not to mention the deliciousness it owes you. Topped with capellini, and merged with condiments, shrimp capellini is a must-try recipe if ever you need a quick bite of something that is truly mouth-watering!
Shrimp Capellini Recipe
The shrimp capellini is a smooth, herby, and garlicky pasta. The pasta has tangy, herby, and garlicky flavors. The smooth strands of capellini pasta make this dish so much better. If you want, you can add scallops and clams in addition to the shrimp in the pasta.
Skillet

Saucepan

Spatula

Bowl
6

Shrimp (deveined, peeled)

½

pound

Capellini

4

cloves

fresh Garlic (minced)

1

teaspoon

Paprika

1

tablespoon

Salt

1

teaspoon

Pepper

1

cup

Tomatoes

8

Basil Leaves

1

ounce

Olive Oil
Cook the capellini in water al dente in a saucepan over medium flame. Transfer the drained capellini into a bowl.

Add olive oil, shrimp (sprinkled with salt and pepper), garlic, tomatoes, paprika and basil leaves. Saute over medium flame.

After sauteing, add capellini to the skillet and cook for about five minutes. Your shrimp capellini is ready to be served with tomato sauce.
I hope I made your day with this instant seafood recipe. Remember me and this recipe when the spirit of cooking suddenly invigorates you to try something divine. Let me know if it came out as I reckoned. Peace out, foodies!