How To Make Shoofly Pie At Home
A pie is perfect for every occasion. Today I will be sharing with you the recipe of Shoofly Pie. I hope you also like the recipe like I do.
Shoofly Pie is a traditional pie in Pennsylvania Dutch since 1880s. My grandmother makes the best Shoofly Pie. Since childhood, I have been eating this pie and loving it. This time I wanted to make this pie on my own. So I asked my grandma for her recipe. She helped me understand every detail of the recipe and here I am sharing the recipe with you.
Shoofly Pie can be made by combining the molasses, baking soda and hot water in a bowl with beaten eggs. Transfer this to the pie shell to make the bottom layer of the pie. For the crumb topping, combine brown sugar and flour. Add some shortening and spread it on the molasses. Bake it in the preheated oven first and then reduce the temperature and bake again.
You will know more details in the recipe further. You can even make pie crust a night before. This will take some load off the day you are going to serve the pie. But first, I've mentioned some other cherry pie recipes that I think you should definitely try at your home.
1. Lemon Meringue Pie– An incredible, classic sweet and tart dessert, lemon meringue pie is more like a sweet dream. The pie filling surely makes you crazy, prompting you to have it over and over again. Nothing can beat a simple and quick-to-make lemon meringue pie.
2. Chicken Pot Pie– Have you ever imagined pie in a pot? If no, then you should definitely try this chicken pot pie. It is a pot pie that includes a variety of fillings like meat, vegetables, and gravy.
3. Green Tomato Lattice Pie– Green tomato lattice pie is a dessert. Surprisingly, it seems like a savory pie, but green tomatoes do not taste like any vegetable. They have a really basic texture and are good at soaking up the spices. This pie tastes much like apple Pie. 
4. Buttermilk Pecan Pie– This pie is sweet and nutty like all the other pecan pies. But butternut pecan pie is much creamier than any other pecan pies. The tang because of the buttermilk in it will bring a whole new flavor to the pie. 
Ingredients For Shoofly Pie
1 (9 inch) Pie Shell
1 Cup Molasses
¾ Cup Hot Water
¾ Teaspoon Baking Soda
1 Egg (beaten)
1 ½ Cups All-Purpose Flour
1 Cup Packed Brown Sugar
¼ Cup Shortening
The ingredients required for this pie recipe might be stocked up in your pantry. If not, then you will surely get them all in the supermarket nearby you. Now, let's take a look at the time it will take to be prepared.
How Much Time It Will Take To Prepare Shoofly Pie?
| Preparation Time | Cooking Time | Total Time |
| --- | --- | --- |
| 15 minutes | 30 minutes | 45 minutes |
A pie ready in 45 minutes! What else can we ask for! It is not a time taking dish. Follow up the instructions given below with all accuracy and you will get the best outcome.
Steps To Prepare Shoofly Pie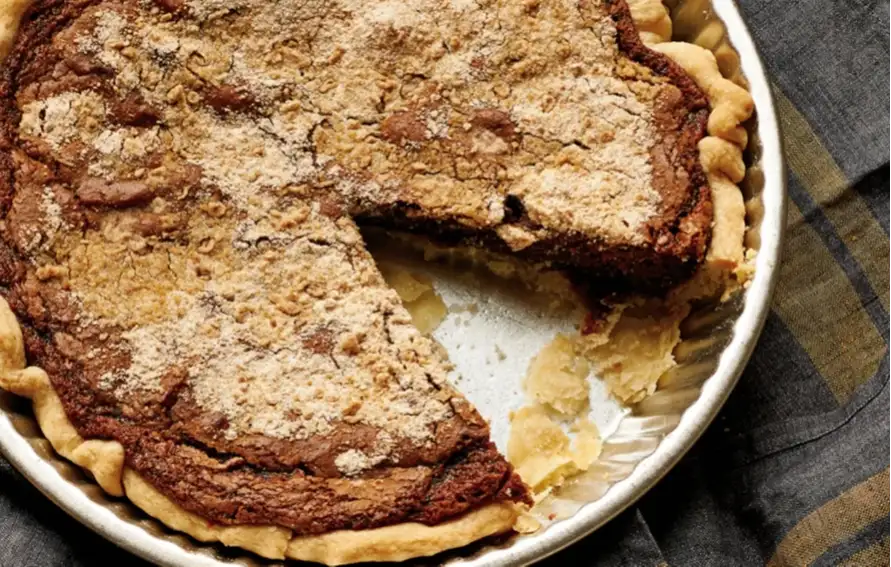 Set the oven on preheat mode to 400 degrees F (200 degrees C).
In a medium bowl, add molasses, hot water and baking soda. Combine them well and whisk some beaten eggs in it. Take the pie shell and pour this mixture in it. This makes the bottom layer of the pie.
In another bowl, add flour and brown sugar. Mix them well. Now, add some shortening to it to make it look like coarse crumbs. Sprinkle this mixture over the molasses layer. 
Bake it in the oven for 15 minutes. Now, reduce the temperature to 350 degrees F (175 degrees C ). Bake it again for 30 minutes.
Serve warm.
Note– Avoid using dark molasses for this pie as they taste bitter and can be overpowering in the pie.
It tastes best with coffee. If you want a coffee break, then grab a slice of this pie and surely enjoy it.
Nutritional Breakdown Of Shoofly Pie
Let's take a look at the nutritional breakdown of the Shoofly Pie.
| | |
| --- | --- |
| Calories | 455 |
| Protein | 3.9g |
| Carbohydrates | 83.4g |
| Fat | 12.5g |
| Cholesterol | 23.3mg |
| Sodium | 253mg |
How To Make Shoofly Pie At Home | Video
In any case, you are not clear of any step involved in this recipe, I have uploaded the video. Do watch the video once to know about every detail.
Try this shoofly pie and share your reviews in the comment section below. I will be happy to know how much you liked the recipe. Not just this, you are free to share any suggestion or a recipe you would love to know more about. I will be happy to help you. For now, grab them as a snack. Enjoy the sweetness!