How to Make Shepherd Pie at Home
Are you bored of eating apple pie? Then I have something which you will love and it can replace your apple pie also. You want to know what is it? It is Shepherd Pie. I learned the Shepherd Pie Recipe from my uncle who has a Pie Cafe where he sells different varieties of pies.
When I went to his cafe for the first time, I asked him to suggest to me the best pie he makes and he suggested to me Shepherd Pie. I ordered Shepherd Pie and I found it delicious. I asked him about the recipe and luckily he gave me.
Today, I was thinking about what to make for breakfast and I thought to make Shepherd Pie. While making my breakfast, I thought to share the Shepherd Pie Recipe with my lovely people over here. But first, I've mentioned some other cherry pie recipes that I think you should definitely try at your home.
1. Lemon Meringue Pie– An incredible, classic sweet and tart dessert, lemon meringue pie is more like a sweet dream. The pie filling surely makes you crazy, prompting you to have it over and over again. Nothing can beat a simple and quick-to-make lemon meringue pie.
2. Sausage Pie– Sausage Pie is a vintage recipe that has a flaky crust, and a savory sausage cheese base. This easy sausage pie recipe is so easy to make and requires just a few ingredients. 
3. Meat Pie– These meat pies are delicious pastries filled with minced beef, pork, potato and onion. The pastry is slightly flaky and very rich in flavor, the filling is moist and very flavorful.
4. Seafood Pie– The good thing about this pie is that it is very adaptable- add your favorite seafood and dial-up or down the creaminess by adjusting the amount of cream.
Ingredients For Shepherd Pie
For Meat Filling
| Ingredients | Amount |
| --- | --- |
| Olive Oil | 2 tbsp |
| Chopped Yellow Onion | 1 Cup |
| Ground Beef | 1 lb |
| Dried Parsley Leaves | 2 tsp |
| Dried Rosemary Leaves | 1 tsp |
| Dried Thyme Leaves | 1 tsp |
| Salt | 1/2 tsp |
| Ground Black Pepper | 1/2 tsp |
| Worcestershire Sauce | 1 tbsp |
| Garlic Cloves | 2 |
| All-Purpose Flour | 2 tbsp |
| Tomato Paste | 2 tbsp |
| Beef broth | 1 Cup |
| Mixed Peas | 1 Cup |
| Corn Kernels | 1/2 Cup |
For Potato Topping
| Ingredients | Amount |
| --- | --- |
| Russet Potato | 2 lb |
| Unsalted Butter | 8 tbsp |
| Half and Half | 1/3 Cup |
| Garlic Powder | 1/2 tsp |
| Salt | 1/2 tsp |
| Ground Black Pepper | 1/4 tsp |
| Parmesan Cheese | 1/4 Cup |
To make Shepherd Pie you need to have patience because it takes some time. So let's see how much time does Shepherd Pie takes to prepare.
How Much Time It Will Take?
| | | |
| --- | --- | --- |
| Preparation Time | Cooking Time | Total Time |
| 20 Mins | 50 Mins | 70 Mins |
If you compare apple pie's recipe with shepherd pie recipe, it is a little tough but I have mentioned the simplest way below to make it at home.
Shepherd Pie Recipe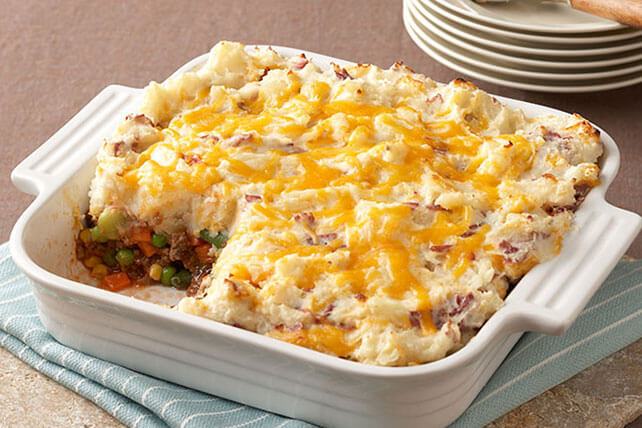 For Meat Filling
In a large skillet, add oil at medium heat for 2 minutes.
When the oil is heated, add onions and cook for 5 minutes.
In the skillet, add ground beef with parsley, thyme, rosemary, salt, and pepper.
Cook for 10 minutes, until the meat, will look brown.
Add the garlic and Worcestershire sauce.
Combine by stirring and cook for around 1 minute. In the skillet add Worcestershire sauce and garlic, store the mixture accordingly and cook for 1 minute.
Add the flour and tomato paste.
Stir well no tomato paste clumps remain.
In the mixture add flour and tomato paste with broth, frozen peas, carrots, and frozen corn.
Simmer the mixture for 5 minutes and set the meat mixture aside.
For Potato Toppings
In a large pot, add potatoes with water and boil until potatoes tender for 15 minutes.
After the boiling of potatoes, drain them and again in the same pot with potatoes add butter, half and half, garlic powder, salt, and pepper.
Mash the potatoes accordingly and add parmesan cheese, stir it occasionally.
For The Assembling Of Casserole
In a baking dish, pour the meat mixture and spread it in a layer and with a spoon spread mashed potatoes on the top in meat.
Bake the mixture for 30 minutes and serve hot.
Finally, Shepherd Pie is ready to make you replace your apple pie's.
Nutritional Facts Of Shepherd Pie
For all the health-conscious and fitness freaks who check the nutritional facts of everything first when they eat something new, I have mentioned the nutritional breakdown of the Shepherd Pie below.
| | |
| --- | --- |
| Calories | 400 |
| Carbohydrates | 13g |
| Protein | 19g |
| Fats | 30g  |
| Cholesterol | 97mg |
| Sodium | 751mg |
| Potassium | 483mg  |
How To Make Shepherd Pie at Home | Video
I always recommend everyone to watch a video before trying something for the first time. So for the recipe, I have added a video in which you will see different ways to make Shepherd Pie.
I hope you've liked this recipe of the Shepherd Pie Recipe. Make sure to try this pie recipe at your home and share your reviews in the comments section below. Till then, stay tuned for more recipes like this.