How to make She-Crab Soup at Home
Note- This post may contain affiliate links, we earn from qualifying purchases made on our website. If you make a purchase through links from this website, we may get a small share of the sale from Amazon and other similar affiliate programs.
Do you know, What is She-Crab soup? She-Crab Soup is a soup made with female crabs. I know it sounds a little bit weird but I researched a lot and then I came to know that in crabs- we have two types of varieties that are male crabs and female crabs.
The difference between both the crabs is that female crabs have the capitol building on their bellies and male crabs have the Washington monument on their undersides, which creates a difference between them.
I bet after having this crab soup, it'll become your favourite recipe. Usually on weekends or after a month, I make this soup for my whole family and they enjoy it a lot.
Today, I will share the recipe of this She-Crab Soup with all of you. First of all, let's see the list of ingredients that we are going to use in this She-Crab Soup recipe. Also, there are other recipes that you can have as starters, let's check them out.
1. Broccoli Beer Cheese Soup– This recipe has beer is added to the soup just to give it a bit earthy flavor and make it even tastier. Try it once; you won't regret it at all.
2. 10 Bean Soup– With the dash of spice, this soup gives you a rich flavor. Make the soup part of your diet will make you healthy as its liquid will not only hydrate you but the solids will make it a hearty meal for you.
3. Fried Crab Legs– Crab legs are valuable sources of protein, high in Omega-3 Fatty Acid, helps to build the immunity. Crab Legs is also very good for our bones as well.
4. Low Country Boil– This Low Country Boil is a blend of shrimp, crab, sausage, corn and potatoes, all cooked together to create a hearty dinner. A complete meal in one pot that's perfect for feeding a large group of people.
Ingredients for She-Crab Soup
| | |
| --- | --- |
| Ingredients | Amount |
| Butter | 5 tbsp |
| All-purpose flour | 5 tbsp |
| Small white onion (grated) | 1 |
| Celery stalk (grated) | 1 |
| Garlic cloves (minced) | 2 |
| Salt and pepper | 1 pinch |
| Half-and-Half cream | 2 quarts |
| Heavy cream | 1/2 Cup |
| Chicken broth | 1 Cup |
| Hot pepper sauce | 1 tsp |
| Worcestershire sauce | 2 tsp |
| Fresh dill (chopped) | 2 tbsp |
| Lump crabmeat | 1 pound |
| Fresh chives (chopped) | 2 tbsp |
| Sherry wine | 1/2 Cup |
Don't get scared by the list of ingredients. I know it's quite lengthy but all the ingredients are easily available from your nearest stores.
How much time it will take?
| | | | |
| --- | --- | --- | --- |
| Prep time | Cook time | Total time | Servings |
| 15 minutes | 45 minutes | 1 hour | 8 |
Now without wasting a single moment, let's see the final part that is the procedure of making this She-Crab Soup at home.
She-Crab Soup Recipe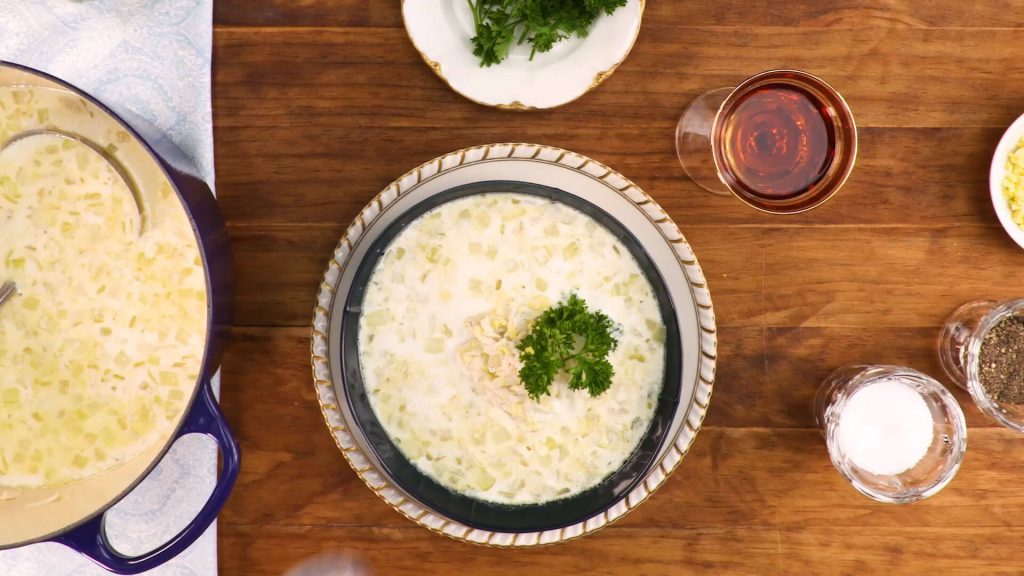 Take a large stockpot and melt butter in it over medium flame. Add flour in it to make a smooth paste and cook it for 3 minutes.
Add onion, garlic, and celery, sprinkle with salt and pepper, cook it continuously for about 4 minutes.
Meanwhile, whisk in half and half cream so that no lumps were left.
Add chicken broth and heavy cream and after that, add half of the sherry.
Season the mixture with hot sauce, Worcestershire sauce, and dill. Cover and cook it for 30 minutes until soup has reduced.
Add crabmeat and cook it for another 10 minutes on medium-low flame.
Serve the She-Crab Soup into bowls, garnish it with a splash of remaining sherry and fresh chives. I bet everyone will love it.
Nutritional Facts of She-Crab Soup
You all might be having a question in your mind that is this soup healthy or not? This breakdown of nutrients given below is the answer to all your questions.
| | |
| --- | --- |
| Calories | 676.7 |
| Protein | 20.8 g |
| Carbohydrates | 19.6 g |
| Cholesterol | 240.1 mg |
| Fat | 57.7 g |
| Sodium | 485.4 mg |
| Calcium | 361.5 mg |
| Iron | 1.2 mg |
How to make She-Crab Soup at Home | Video
Watching things live will help us in understanding things easily. So, without making it complicated, I've added a video of the She-Crab Soup recipe below.
I know this will make you more excited to try this recipe. So, what are you waiting for? Go and try this recipe at your home and share your experience with us in the comments section below.