How To Make Shaved Cauliflower Salad At Home
Thanksgiving is finally here! Are you ready to sag your dinner table under the weight of the turkey and other Thanksgiving dishes? But it's better to balance a heavy Thanksgiving meal with a light yet scrumptious salad like shaved cauliflower salad. It gives a healthy twist to the feast and you can work it in moments before serving. So, get ready to toss some raw florets into a healthy and delicious Thanksgiving salad.
Shaved cauliflower salad has thin slices of cauliflower florets oozing with creamy smooth Dijon dressing. It's prepped up with a zesty twist and a hint of seasoning flavors from garlic powder, pepper, and salt. The lettuce leaves add more nutrition and freshness to the salad. Try this salad for the Thanksgiving meal and watch all the guests crushing over this delicious cauliflower salad.
The best part is that you need quite a bit of equipment and a handful of ingredients to make shaved cauliflower salad. Read the lists below and collect all of these to start with the recipe procedure. Try this recipe and enjoy this fresh and healthy salad with the Thanksgiving meal. But before you read out the entire recipe, check out other dishes from the chef delight section of our blog.
1. Garrotxa Bread Salad– Garrotxa bread is a tantalizing salad treat filled with crispy bread and Garrotxa cheese. Arugula leaves add freshness and delicious earthy flavors to the salad. This salad is dressed with the flavors of Dijon mustard, horseradish, white wine vinegar, honey, salt, and pepper. The membrillo adds to the sweet delight of the salad.
2. Scallion Salad– Have you tried a simple salad with a twist of Korean BBQ flavors? If not, then Scallion salad is the one you should try. This salad has thin white and green scallion strips tossed in rice vinegar dressing. It's mildly flavored with sugar and is topped with chopped cilantro.
3. Antipasto Salad– Antipasto salad is an Italian salad. It's a delicious chorus of pasta, veggies, and meat. Cheese and pepperoni added to this salad add more fun and flavor to this salad. It's dressed with mouth-watering flavors of oregano, vinegar, salt, and pepper.
4. Holiday Fruit Salad With Marshmallows– Holiday fruit salad with marshmallows is a delicious holiday salad. It has sweet and sour fruits combined with marshmallows. It's mixed with sour cream dressing and sweetened shredded coconut. This salad is perfect to be enjoyed at holiday dinners.
What Equipment Will You Need For Shaved Cauliflower Salad?
Bowl- Use a large bowl to mix the ingredients and to prepare the salad. 
Spatula- Use a spatula to combine the veggies with the salad dressing. 
Whisk- You can use a whisk to mix the ingredients for a smooth salad dressing. 
Knife- You can use a sharp kitchen knife to cut the veggies for the salad.
How Much Time Do You Need To Make Shaved Cauliflower Salad?
| Preparation Time | Cooking Time | Total Time |
| --- | --- | --- |
| 15 Minutes | – | 15 Minutes |
What Ingredients Will You Need For Shaved Cauliflower Salad?
Lime zest- Give a zesty twist to the salad by adding a teaspoon of finely grated lemon zest to the salad.
Lime juice- Give a citrusy flavor to the salad by adding a one-fourth cup of lemon juice to the salad. 
Dijon mustard- Add a teaspoon of Dijon mustard in the salad dressing to brighten up the taste of the salad with a hint of mustard flavor. 
Honey- Honey is healthier and sweeter than regular sugar. Add a teaspoon of honey to add a subtle sweetness to the salad. 
Olive oil- Olive oil maintains the consistency of the salad dressing and nicely coats all the veggies with the flavors and spices added to the salad.
Kosher salt- Use kosher salt according to your taste to enhance the flavors in the salad.
Pepper- Add freshly ground black pepper to make the salad spicy. 
Cauliflower florets- Cauliflower is the star in the recipe. Thinly slice (length-wise) the cauliflower florets form a half-small cauliflower head. 
Nutritional yeast- Add a tablespoon of nutritional yeast to the salad mixture. It gives a nutty and slightly cheesy flavor. Also, use a teaspoon of nutritional yeast to garnish the salad. 
Lettuce- To fill your salad with the richness of green leaves, add two cups of lollo rosso lettuce or romaine lettuce. Make sure you cut the lettuce into one-inch wide strips before tossing it into the salad.
Frisée- Frisee is the curly endive leaves that give a slightly bitter and peppery taste to the salad. 
Parmesan- Use two ounces of parmesan cheese in the salad to add more flavor and fun to every bite. You can also garnish the salad with grated parmesan cheese.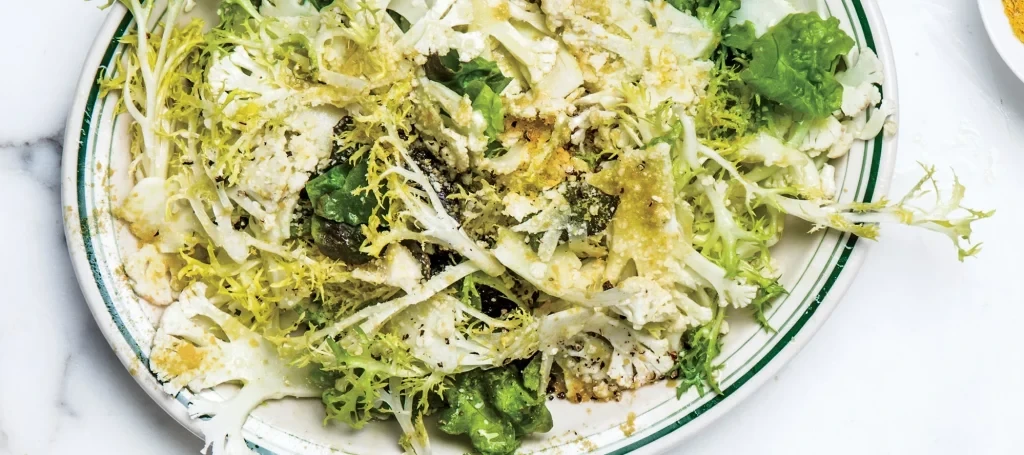 Steps To Make Shaved Cauliflower Salad
1. Prep the Salad Dressing 
Take a bowl and add lime juice, Dijon mustard, lemon zest, honey, and whisk by slowly adding olive oil. Season with kosher salt and freshly ground black pepper.
2. Toss in Cauliflower and Lettuce
Add cauliflower florets, lettuce leaves, and frisee to the bowl containing salad dressing. Toss the veggies in the bowl after adding nutritional yeast, parmesan, salt, and pepper. 
3. Garnish and Serve
Transfer the salad to a serving plate and garnish it with parmesan cheese. Add some nutritional yeast on top and serve.
Nutritional Information
| | |
| --- | --- |
| Calories | 220 kcal |
| Carbohydrates | 10 g |
| Protein | 8 g |
| Fat | 18 g |
| Saturated Fat | 4 g |
| Polyunsaturated Fat | 2 g |
| Monounsaturated Fat | 11 g |
| Cholesterol | 10 mg |
| Sodium | 276 mg |
| Potassium | 447 mg |
| Fiber | 4 g |
| Sugar | 4 g |
| Vitamin A | 359 IU |
| Vitamin C | 49 mg |
| Calcium | 221 mg |
| Iron | 1 mg |
How Will Shaved Cauliflower Salad Look and Taste?
Our delicious salad bowl is ready! The shaved cauliflower salad is a perfect Thanksgiving salad. These thin little florets are bursting with flavors of mustard, garlic-pepper seasoning, lemon zest, lime juice, and honey. Parmesan and nutritional yeast complement the taste of the salad. Try this Thanksgiving salad to brighten up your celebration meal.
Recipe Card
Shaved Cauliflower Salad Recipe
Shaved cauliflower salad has thin cauliflower florets and lettuce leaves tossed with Dijon salad dressing. This salad is loaded with the flavors of lemon zest, lemon juice, mustard, and nutritional yeast. Parmesan cheese adds more flavor and delight to this Thanksgiving salad. It's super easy to make and gets ready within 15 minutes.
10

ounces

Cauliflower Florets

2

cups

Lollo Rosso Lettuce (Romaine lettuce)

2

cups

Frisee (torn)

2

ounces

Parmesan Cheese

1

tablespoon

Nutritional Yeast

1

teaspoon

Lemon Zest

1

teaspoon

Dijon Mustard

1

teaspoon

Honey

1/4

cup

Lemon Juice

1/4

cup

Olive Oil

Kosher Salt

Freshly Ground Black Pepper
Take a bowl and add lemon juice, lemon zest, honey, and Dijon mustard to it. Mix them well while gradually adding olive oil to the bowl. Season this salad dressing with salt and pepper.

Add thinly sliced cauliflower florets to the bowl along with lettuce and frisee. Add nutritional yeast to the bowl and toss the salad mixture to combine, Add parmesan cheese and mix again.

Transfer the salad to serving platter and garnish it with parmesan cheese. Top this salad with a teaspoon of nutritional yeast and serve.
Tell me about your recipe in the comments below and try out other recipes too.