How To Make Self-Rising Biscuits At Home
Note- This post may contain affiliate links, we earn from qualifying purchases made on our website. If you make a purchase through links from this website, we may get a small share of the sale from Amazon and other similar affiliate programs.
Most of us have this practice of grabbing something from the kitchen to munch upon. Is munching in between meals your habit? No worries, same goes with me. I am too fond of picking up something from my pantry to eat in mid-meals. And the most common picked up item is a biscuit.
So why not bake the biscuits at home. Let's try self-rising biscuits today. For those who love to bake, it will be a good idea. But don't you worry my non-baker readers. This recipe will surely make up to your list of easy recipes. To everyone's surprise, these biscuits are made of only three ingredients. And it will be a good idea to bake it for your guests and serve them hot.
I can assure you that the kids will love these homemade biscuits at your home. So now you do not need to worry if your kid wants some biscuits. These can be prepared in less than an hour. Plus we do not need to make our hands all covered in the dough to roll it and cut. You need a scoop of the batter to bake it into a biscuit.
Out of shortening? Here is a list of shortening substitutes that you can try. You must be curious to know the recipe now. So without making you more interested, let me share a recipe with you. But here are some other amazing recipes that you should definitely try.
1. Sausage Biscuits– These handy biscuits are so delicious that you will not be able to stop yourself from having one after the other. You can serve these biscuits with a soup or an egg dish. Munching these biscuits will surely be a delight. 
2. Ritz Crackers– Ritz Crackers is one of the things that many people remember from their childhood. And if you have come to this article, then you want to have that nostalgic feeling once again.
3. Bob Evans Sausage Gravy– Bob Evans is a very old restaurant chain and they serve some of the best kind of cheese, macaroni and sausage gravy.
4. Snickerdoodle– Snickerdoodle is a cookie made of flour, white sugar, butter and rolled in cinnamon sugar with eggs, baking soda and cream of the tart. Its texture is crisp outside on the edges but soft inside.
Ingredients for Self-Rising Biscuits
| Ingredients | Amount |
| --- | --- |
| Gold Medal Self-Rising Flour | 2 cups |
| Shortening | ¼ cup |
| Milk | ¾ cup |
The ingredients also are easy to access. To find it in your pantry or fetch them from your nearest supermarket. To make these biscuits take a look at the time you need to bake them.
How Much Time Will It Take?
| Preparation Time | Cooking Time | Total Time |
| --- | --- | --- |
| 15 minutes | 15 minutes | 30 minutes |
Baking makes everyone happy but some get worried about the time taken in the baking recipes. And try to avoid baking recipes. But to bake them, you do not require long hours. So check the steps involved and get started.
Self-Rising Biscuits Recipe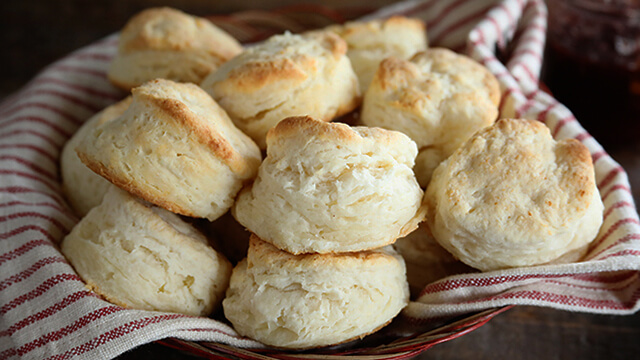 Set the oven to 450°F and heat. Grease the baking sheet with some cooking spray or shortening.
Take a large bowl. Add flour and shortening to it mix them till it forms crumbly. 
Add milk to it and stir well until you get a dough. 
Take this dough out of the bowl and knead it on a floured surface. Roll it into ½ inch thick rolls and cut out with a 2-inch cutter. 
Place the cutouts on the baking sheet and bake for 12-15 minutes till they turn golden. 
Serve warm.
Can't wait to bite them? Don't worry; piping hot biscuits are on the way now. I can smell them.
Nutritional Breakdown of Self-Rising Biscuits
| | |
| --- | --- |
| Calories | 100 |
| Protein | 2g |
| Carbohydrates | 14g |
| Fat | 4g |
| Cholesterol | 0mg |
| Sodium | 230mg |
How to Make Self-Rising Biscuits at Home | Video
Baking for the first time? No worries. Here is the video to help you in every step. There are two ways to bake these biscuits. One way is to roll the dough and cut out biscuits to bake. Another way is to scoop out the dough and place it on the baking sheet directly. Choose how you want it and bake. If you want to know more details of the recipe, kindly watch this video as it will be a great help to you.
So what are your views about this recipe? Let me know your reviews so that I can help you out if anything has to be made clear. I am happy to help you. Share this recipe with your friends and do comment in the section below with your experience and queries.