How To Make Scallion Salad At Home
Give a Korean BBQ touch to your Thanksgiving meal!  Accompany your main dish with Korean-style scallion salad. It has scallions flavored with rice vinegar, sugar, seasoning spices, and chili. So, why don't you try it for Thanksgiving dinner? I'm sure you'll have your guests hooked on this delicious Thanksgiving salad on the dinner table. 
Scallion salad is filled with green and white scallions tossed in delicious and spicy flavors. The cilantro adds a more earthy flavor and fresh aroma to it. The best thing about this salad is that it is super easy and gets ready in moments before you can serve it. You can add some more veggies if you like. Keep it simple (with just scallions) if you want to give a traditional Korean base to the side dish. It can be enjoyed as a salad and a side dish.  
You can make scallion salad with just a couple of equipment and a few ingredients. Read the lists below and try this recipe. Check out the recipe below and present this Korean-style scallion salad on the Thanksgiving dinner table. But before you read out the entire recipe, check out other dishes from the chef delight section of our blog.
1. Shaved Cauliflower Salad– Shaved cauliflower salad has thin cauliflower florets filled with the flavors of Dijon mustard, lemon zest, lemon juice, and nutritional yeast. This salad is topped with grated parmesan cheese and is seasoned with salt and pepper. It's a simple yet scrumptious salad to be enjoyed at a holiday feast.
2. Garrotxa Bread Salad– Garrotxa bread is a tantalizing salad treat filled with crispy bread and Garrotxa cheese. Arugula leaves add freshness and delicious earthy flavors to the salad. This salad is dressed with the flavors of Dijon mustard, horseradish, white wine vinegar, honey, salt, and pepper. The membrillo adds to the sweet delight of the salad.
3. Antipasto Salad– Antipasto salad is an Italian salad. It's a delicious chorus of pasta, veggies, and meat. Cheese and pepperoni added to this salad add more fun and flavor to this salad. It's dressed with mouth-watering flavors of oregano, vinegar, salt, and pepper.
4. Holiday Fruit Salad With Marshmallows– Holiday fruit salad with marshmallows is a delicious holiday salad. It has sweet and sour fruits combined with marshmallows. It's mixed with sour cream dressing and sweetened shredded coconut. This salad is perfect to be enjoyed at holiday dinners.
What Equipment Will You Need For Scallion Salad?
Bowl- Use a small bowl to keep sliced chile, cilantro or scallions, before using them in the recipe. Use a large bowl to make the salad. 
Spatula- You can use any type of spatula to stir or toss the ingredients to the salad. 
Spoon- Use a spoon to add salt or pepper into the bowl containing salad veggies. 
Knife- You can use any sharp knife to slice chile, scallions, and cilantro.
How Much Time Do You Need To Make Scallion Salad?
| Preparation Time | Resting Time | Total Time |
| --- | --- | --- |
| 5 Minutes | 10 Minutes | 15 Minutes |
What Ingredients Will You Need For Scallion Salad?
Scallions- Scallions are the main ingredient in the recipe. Use a bunch of scallions for this salad. 
Rice vinegar- Add a tablespoon of unseasoned rice vinegar to add a slight tarty taste to the salad. 
Sugar- Add a pinch of sugar to add mild sweetness to the salad and to balance the flavor of chile and rice vinegar. 
Kosher salt- Kosher salt will enhance the taste of the salad. 
Chile- Add a red chile to add some heat to the salad. 
Cilantro- Add a cup of cilantro leaves with tender stems to add earthy and fresh aromatic flavors to the salad. 
Sesame oil- Add just two teaspoons of toasted sesame oil to blend all the flavors in the coated scallions in the salad.
Pepper- Add some more heat by adding freshly ground black pepper to the salad. 
Sesame seeds- Serve this delicious salad with toasted sesame seeds.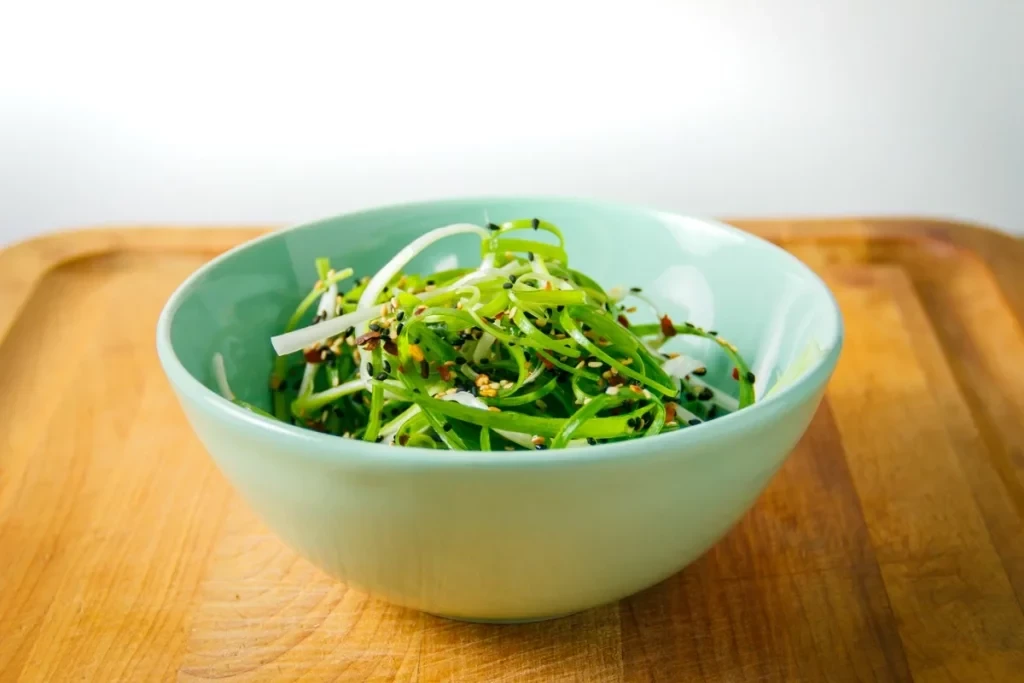 Steps To Make Scallion Salad
1. Slice the scallions
Cut the white parts of the scallions lengthwise after separating them from the green part of the scallions. Holding the knife at the angle of 45⁰, slice the greens of the scallions in a  rocking motion. Slice a red chile using the same angle and keep it aside in a bowl. 
2. Season the scallions
Combine the scallion whites with rice vinegar and sugar. Add a pinch of salt, mix and keep it aside for a few minutes. 
3. Prep the salad
Take a large bowl and add sesame oil, cilantro, scallions greens, and chile. Toss by adding scallion whites to the bowl. Season this salad with salt and pepper and add sesame seeds on top. 
Nutritional Information
| | |
| --- | --- |
| Calories | 26 kcal |
| Carbohydrates | 2 g |
| Protein | 1 g |
| Fat | 2 g |
| Saturated Fat | 1 g |
| Polyunsaturated Fat | 1 g |
| Monounsaturated Fat | 1 g |
| Sodium | 4 mg |
| Potassium | 74 mg |
| Fiber | 1 g |
| Sugar | 1 g |
| Vitamin A | 437 IU |
| Vitamin C | 18 mg |
| Calcium | 9 mg |
| Iron | 1 mg |
How Will Scallion Salad Look and Taste?
Our fresh Scallion salad is ready! It's a super delicious Thanksgiving salad rich in nutrition and flavors. The rice vinegar adds a bitter-sweet flavor to the salad while chili and pepper add some heat and taste to the salad. The sugar added perfectly balances the taste of vinegar and chile. Try this salad for Thanksgiving and enjoy your holiday feast. 
Recipe Card
Scallion Salad Recipe
Scallion salad is Korean-styled salad with scallions tossed in vinegary salad dressing. The salad dressing has rice vinegar and sugar to perfectly balance the seasoning spices and the flavors in the salad. The cilantro and chili in the salad give it a spicy and an earthy lift. It's a perfect Thanksgiving salad to have with heavy holiday meal.
1

bunch

Scallions

1

Red Chili

1

cup

Cilantro leaves (with tender stems)

Sesame Seeds (toasted)

1

Tablespoon

Rice Vinegar (Unseasoned)

2

teaspoons

Sesame Oil (toasted)

Pinch of Sugar

Kosher Salt (to taste)

Freshly Ground Black Pepper
Separate the green parts from the white parts of the scallions. Slice white parts lengthwise into thin strips about 1-inch in length. Slice the green scallions using a knife placed at an angle of 45 degrees.

Toss the scallions with rice vinegar, sugar, pepper and a pinch of salt in a bowl. Keep it aside to rest for about 10 minutes.

Add sliced chili, cilantro, sesame oil, and scallion greens to the bowl containing seasoned scallion whites. Add salt and pepper and toss the salad mixture to combine. Add toasted sesame seeds on top and serve.
Did you try this recipe? Tell me about your salad in the comments below and try other recipes too.