How to Make Sausage Pie at Home
Note- This post may contain affiliate links, we earn from qualifying purchases made on our website. If you make a purchase through links from this website, we may get a small share of the sale from Amazon and other similar affiliate programs.
Craving for something but don't know what? Happens to me every time. What about a pie that fills up the whole tummy and no space is left? A pie is something that I can never refuse. Pie is the most delicious meal that one can ever have. There are various types of pies that one can have. Different fruits and flavors make them more tempting.
But do you know a pie that has a filling of sausage in it? Yes, you heard it right. A sausage pie is something that you should try. Today, I will tell you how to make this pie at home and the ingredients you need to make it and all the other important stuff. This recipe has a long story of origin and is basically from the European sub-continent. Its delicious taste and flavor got popular in the whole world, and people widely accepted it as their primary meal.
Let's move further and make this sausage pie. It will not take much of your time and it is easy to make. Just imagine a delicious dish on your dinner table and you are the one who is going to make it. It gives immense pleasure to make such treats for your family or friends and when they praise your food, its like a cheery on the top of a cake.
But first, I've mentioned some other cherry pie recipes that I think you should definitely try at your home.
1. Shepherd Pie– Make this super yummy Shepherd Pie made with beef at your home with this easy recipe. You can have it for breakfast, lunch or dinner; whenever you want it to.
2. Chicken Pot Pie– Have you ever imagined pie in a pot? If no, then you should definitely try this chicken pot pie. It is a pot pie that includes a variety of fillings like meat, vegetables, and gravy.
3. Farmhouse Cheddar Skillet Pie– Eggs and cheese make a perfect breakfast. But having them in the form of this farmhouse cheddar skillet pie can be really interesting. This recipe is partially made on flame and partially in the oven.
4. Pork Pie– Traditional pork pies have their origins in England. They are basically an upgraded version of meat pies and people love them so much because of their amazing and rich taste. It has pork and beef, which makes it high in protein and calories.
Ingredients for Sausage Pie
| Ingredients | Amount |
| --- | --- |
| Olive Oil  | 3 tsp. |
| Brown Onion  | 1 pc. |
| Beef Sausages  | 6 pc. |
| Carrots  | 1 pc. |
| Zucchini  | 2 pc. |
| Grated Cheese  | 1 cup |
| Plain Flour  | ½ cup  |
| Eggs  | 3 pc |
Well, the ingredients listed above are enough to make this sausage pie at home. Grab them and let's start this journey of delicious taste and flavor.
How Much Time Will it Take?
| Preparation Time | Cooking Time | Total Time |
| --- | --- | --- |
| 10 Minutes  | 50 Minutes  | 1 Hour |
It only takes an hour to make this sausage pie recipe. Isn't it quite amazing? No need to work the whole day out in your kitchen. Just 1 hour and your pie is ready.
Let's move further and see the exact method and steps involved in making this sausage pie recipe. I will show the easy steps that will help you make this recipe comfortably at home without any trouble.
Sausage Pie Recipe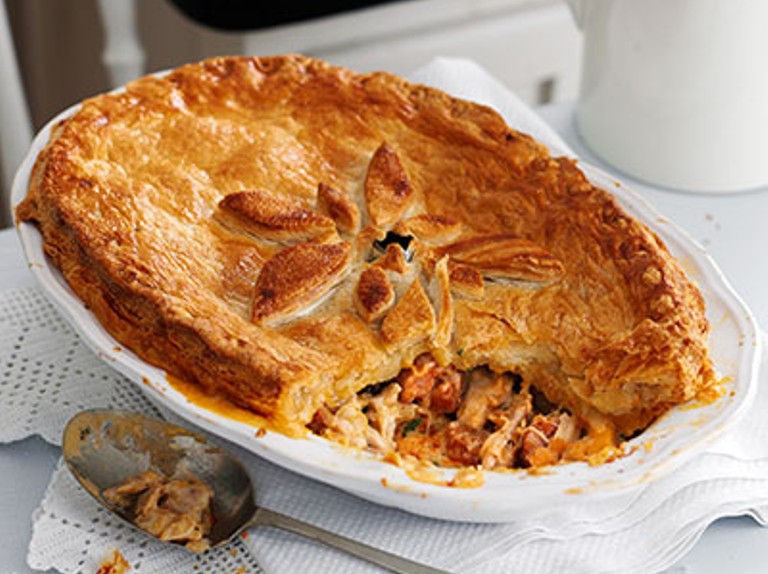 Grease your baking dish in which you want to make this pie. And allow your oven to preheat to about 160C
Take a pan and keep it over medium heat, add some oil and cook the onions for about 2 minutes in it. After the onions are a little soft, remove them and add the sausages to the pan and cook them.
After 6 minutes, remove the sausages and let them cool. Slice it thinly and add onion, carrot, zucchini and cheese to the baking dish's bottom.
In another mixing bowl, add some flour and milk. I wish them and make a beer out of it.
Add eggs, salt and pepper to the batter and mix it well. Put the sausages in between.
Bake this batter for about 50-60 minutes and keep it aside for about 5 minutes after it's done and you are about to serve.
Here you go! Your sausage pie recipe is ready and look the whole family is waiting for this pie to be on their plates. Enjoy this meal and tell us how it was.
Nutritional Breakdown of Sausage Pie
The nutritional calculations and values are in the table below. I recommend you to see it to check out how healthy this pie is.
| | |
| --- | --- |
| Calories  | 376.6 |
| Cholesterol  | 121.7 mg. |
| Sodium  | 750.5 mg. |
| Carbohydrates  | 13.9 gm. |
| Sugars  | 1.1 gm. |
| Fiber  | 1 gm. |
| Protein  | 15.4 gm. |
How to Make Sausage Pie at Home | Video
Here is a video that you can watch to know more about the steps and procedure to make this sausage pie recipe. Do watch it.
So are you ready to try this recipe? We welcome your thoughts and any other suggestions that you have regarding this recipe. Please reach out by commenting on your views and ideas in the box below. We would love to add the necessary details and thoughts of yours.