How to Make Sambusa at Home
Note- This post may contain affiliate links, we earn from qualifying purchases made on our website. If you make a purchase through links from this website, we may get a small share of the sale from Amazon and other similar affiliate programs.
Sambusa's are great snacks to make at your home. In this post, I am going to share the recipe for Somalia's most famous dish Sambusa.
My friend, who visited Somalia told me about Sambusa. I searched for it on the internet and found it similar to Samosa, which is a famous Indian snack. The only difference between both is the stuffing inside. So I decided to make them as I was really bored with eating Samosa and here's how made it.
Sambusa recipe involves 2 steps: making filling and wrappers. Sambusa filling is made with beef, onion, cumin, salt, chili and pepper. The wrappers are prepared with flour and water. Cook the filling and fill it in the wrappers. Then seal the wrappers properly and fry them in deep oil. Sambusa is ready!
It's very important to properly seal the wrappers; otherwise, they can break when you put them to oil. So make you see the complete recipe below to make the Sambusa just like they make in Somalia. Also, there are other recipes that you can have as starters, let's check them out.
1. Mustard Greens– Mustard Green is an easy-to-make dish that you can have as a side dish with any food. Today I will share with you its recipe. With the help of this recipe, you will be able to cook mustard greens in minutes.
2. Hasselback Potatoes– If you're looking for a baked potato snack, then make these crispy Hasselback Potatoes at your home.
3. Grilled Fish with Lemon Vegetable Sauce– Grilled fish with lemon butter sauce is a very popular dish in European countries. This wonderful recipe will make your mouth water when you have a bite of this lemon butter spiced fillets.
4. Masaledar Chicken Lollipop– Chicken is one of those things that I crave for every single time when I think of it. And of the biggest reasons for it is because how much chicken is important for our regular diet.
Ingredients For Sambusa
For Filling
1 Pound Ground Beef or Lamb
1 chopped Small Onion
2 tsp Coriander powder
2 tbsp Oil
2 tbsp finely chopped Cilantro
1 chopped Green Onions
2 tsp Cardamom Powder
2 tsp Cumin Powder
1 tsp Pepper
1 tsp Salt
1 minced Garlic Cloves
1 Green Chilli
For The Flour
1/4 cup All-Purpose Flour
1/4 Water
For Sambusa Wrappers
3 cups All-Purpose Flour
2 tbsp Oil
1 cup Luke Warm Water
1 pinch Salt
Don't be scared watching the ingredients list you will get all these from your nearby supermarket and I know you must be thinking about the timings to make Sambusa. I have mentioned the proper timings in the table I have mentioned below.
How Much Time It Will Take To Make Sambusa?
| Preparation Time | Cooking Time | Total Time |
| --- | --- | --- |
| 30 Minutes | 90 Minutes | 120 Minutes |
So this will help you to manage your time accordingly. Moving on, here is the main step which you will look for in this recipe. So let's start preparing.
Steps To Make Sambusa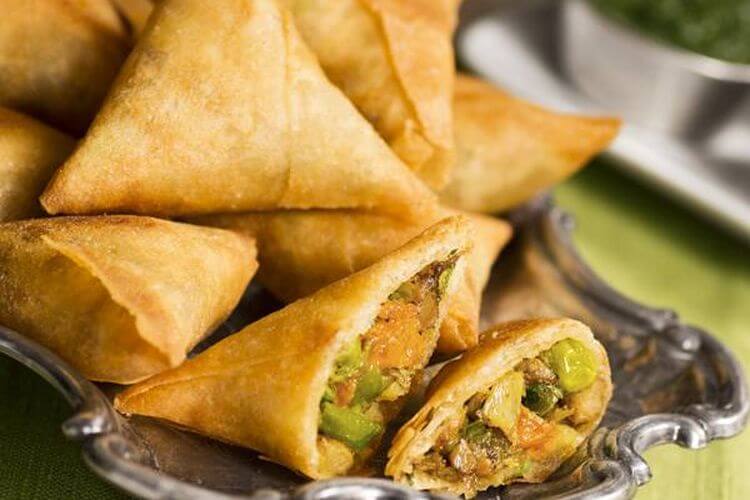 To Make Sambusa Wrappers
In the large bowl, add the flour, water with salt. Knead the mixture properly to make a dough and make a ball. Apply oil to the ball and place it in the bowl.
Make small balls of the dough and with a roller, make small tacos and leave them aside.
To Make Fillings
In a skillet, cook the meat with oil over medium the add onion, green chili, stir the mixture accordingly until tenders.
When the mixture tends to add coriander, cumin, cardamom, salt, pepper, garlic, green onion, and cilantro. Cook the whole mixture for 3-4 minutes.
Cool the mixture for some time.
In a small bowl, add flour and water make a watery mixture.
Pick the taco you have and shape it as sambusa wrappers.
Fill the wrappers with the filling we have made and seal it with the watery flour mixture.
Repeat the process to make Sambusa with other sambusa wrappers.
In a saucepan, add enough oil to heat.
When the oil heats, drop the sambusa wrappers precautional.
Heat until it turns crispy and chewy.
Finally, Sambusa is ready to replace your crispy starters.
Nutritional Breakdown Of Sambusa
This recipe is really healthy and safe. One can have it without having any health concerns. For nutritional breakdown, consider the table below.
| | |
| --- | --- |
| Calories | 165 |
| Protein | 8.1g |
| Carbohydrates | 10.8g |
| Fats | 9.5g |
| Cholesterol | 24.5mg |
| Sodium | 213.4mg |
How To Make Sambusa at Home | Video
I know you people have the experience to make things from frying at a deep level but I will suggest you watch the video first before you make it.
I hope you have liked this video and will surely make this recipe at home. Please let us know your valuable comments and experiences about this recipe in the comments section below. Till then, stay tuned for more recipes like these.