How to Make Salmon Stir Fry at Home
Note- This post may contain affiliate links, we earn from qualifying purchases made on our website. If you make a purchase through links from this website, we may get a small share of the sale from Amazon and other similar affiliate programs.
Salmon Stir Fry is a delightful dish. It is one of my favourite seafood. During summers, this used to be the staple diet of my family. My sister cooked it effortlessly. It seemed as if the dish had a divine taste. During family gatherings, Salmon Stir Fry dish is the centrepiece of the entire meal. Being my favourite, I learnt the Salon Stir Fry recipe pretty soon.
If you are a seafood lover, then you must surely be excited to know how this is made like I was when I came across this dish for the first time. It is simple and easy to make at home.
So, here I have brought the Salmon Stir Fry Recipe for you. This lip-smacking dish would surely give you much happiness and joy. But here are some other amazing recipes that you should definitely try.
1. Ahi Tuna Steaks– Ahi Tuna is a fish that is divided into different species called yellowfin and bigeye. The word ahi comes from Hawaiian ahi which is known as yellowtail tuna.
2. Blackened Swordfish– Blackened swordfish is a New Orleans delicacy. Actually the fish is seasoned, briefly seared at high heat until spices and fish's surface gets blackened but not burnt. Hence the name blackened.
3. Broiled Haddock– It is a popular food dish. It is sold fresh, preserved by smoking, freezing, drying or sometimes canning. Haddock along with Atlantic cod and plaice is one of the most popular fish used in British fish and chips.
4. Salmon Salad– It's the perfect recipe when you're in need of a quick lunch and even makes for a tasty afternoon snack. It can be served in a variety of different ways – as a sandwich, a lettuce wrap, on top of cucumber slices, or on a bed of greens.
Ingredients required for Salmon Stir Fry Recipe
| | |
| --- | --- |
| Ingredients | Amount |
| Cooked Rice | 4 cups |
| Frozen Vegetables | 11 oz. |
| Extra Virgin Olive Oil | 2 tbsp |
| Sesame Oil | 2 tsp |
| Salmon Filets (cut into chunks) | 1 lb. |
| Seasoned Rice Vinegar | 2 tbsp |
| Garlic (minced) | 4 cloves |
| Ground Ginger | 1 tsp |
| Soy Sauce | 1/4 cup |
Note : Cooked rice are to be served additionally to the salmon.
How much time will it take?
| | | |
| --- | --- | --- |
| Preparation time | Cooking time | Total time |
| 5 minutes | 15 minutes | 20 minutes |
Salmon Stir Fry Recipe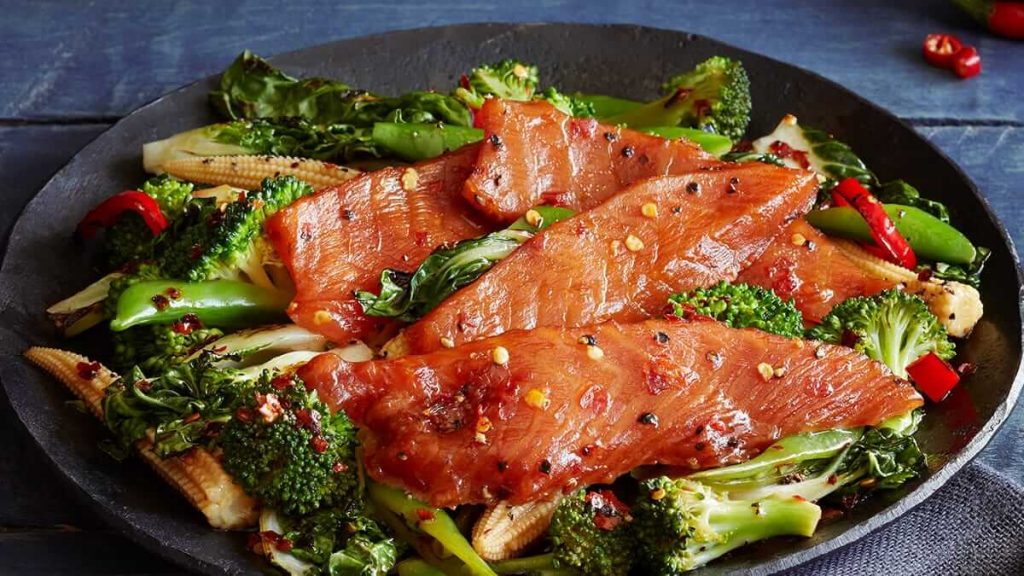 Heat olive oil and sesame oil in a large saucepan over medium heat.
Firstly, cook rice in water and make 4 cups cooked rice.
Put garlic and ginger into the saucepan for cooking not more than a couple of minutes, keep stirring at regular intervals.
Now, add chunks of salmon. Let it cook for a few minutes. After covering the saucepan, cook salmon chunks for until it gets opaque.
Remove the cover lid from saucepan. Now add frozen vegetables, soya sauce and vinegar and cook them for 4-5 minutes (Don't forget to stir it).
You can add toppings like green onions or coriander(optional).
Nutritional information of Salmon Stir Fry Recipe
| | |
| --- | --- |
| Calories | 449.8 |
| Saturated fat | 1.9gm |
| Total fat | 9.8gm |
| Dietary fibre | 10.5gm |
| Sugars | 2.7gm |
| Total carbohydrates | 53.4gm |
| Cholesterol | 71 mg |
| Sodium | 1283 mg |
| Potassium | 1262.7 mg |
| Proteins | 38.2 gm |
How to Make Salmon Stir Fry at Home | Video