How to make Rose Mastani at home
A rich essence to make you a great dessert is what we would love to have. Lavish, thickened shake, with this royal essence of rose, is going to be a new addition to your life today. Make a dessert drink with its simplicity and touch of lavish; blows your taste buds with its delicacy.
I was surfing over the internet about the variety of Mastani's and I found a drink named Rose Mastani and note done the recipe and made it at my place and was very delicious and like you, I share every delicious recipe with my people but before I share this Rose Mastani recipe with you, I will tell the history.
Rose Mastani is one of the most famous deserts in Pune, India. Apart from its traditional value, its deliciously creamy texture makes it unforgettable. This is a simple yet the most amazing dessert you would ever come across. But there are many other drink recipes that we've covered in our blog. You should definitely check them as well.
1. Dry Fruit Mastani– This dry fruit mastani topped with vanilla ice cream is something that you can't resist. So let's try out this delicious mastani at our home this summer.
2. Chocolate Monkey– Have you ever imagined chocolate with vodka. If no, then you should definitely try this chocolate monkey cocktail using just 4 ingredients.
3. Sitaphal Mastani– This Sitaphal Mastani or the Custard Apple Milkshake is the healthiest thing you can ever try during a long exhausting weekend. The Sitaphal Mastani blends down to a smooth textured drink due to its already sweet and creamy flesh.
4. Mango Mastani– Mango, the king of fruits makes an amazing pair with milk. Amongst varieties of milkshakes, Mango Mastani is my favourite. The combination of milk, mangoes and ice cream makes it perfect for summertime.
Ingredients Required for Rose Mastani Recipe
| | |
| --- | --- |
| Ingredients | Amount |
| Milk (Chilled) | 2 Cups |
| Sugar | 3 Tablespoons |
| Rose Essence | ½ Teaspoon |
| Vanilla Ice-Cream | 2 Scoops |
How Much Time It Will Take?
| | | |
| --- | --- | --- |
| Preparation Time | Extra Time (Chilling) | Total Time |
| 10 MINS | 30 MINS | 40 MINS |
How to Make Rose Mastani Recipe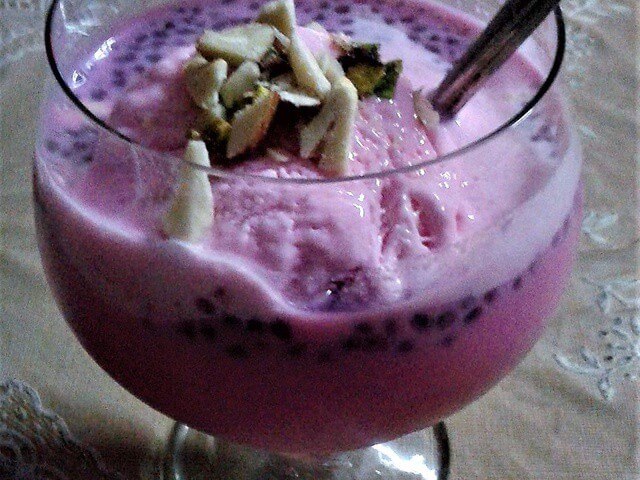 Pour milk in a jug, add sugar and mix well with rose essence. Pour the mixture in a blender.
Add 1 scoop of vanilla ice-cream and blend the ingredients.
Pour the blended mixture in a serving glass, and chill for 30 minutes.
Add a scoop of vanilla ice cream in the chilled ingredients.
Serve cold.
Serve this thick drink yet having the delicacy to become your favorite dessert. Adorable insight and taste yet so amazing to make you feel the best after devouring it.
Rose Mastani Recipe Nutritional Information
| | |
| --- | --- |
| Calories | 315 |
| Protein | 8.7 g |
| Carbohydrates | 40 g |
| Fiber | 0 g |
| Fat | 13 g |
| Cholesterol | 33 mg |
How to Rose Mastani at Home | Recipe