How To Make Rhubarb Jam At Home
A vegetable known for its reddish stalks and sour taste, rhubarb is cooked and often sweetened in European and North American countries while it is used for medicines in the Asian continent. It's an unusual vegetable often mistaken to be a fruit and grows in the mountainous regions. It is a rich source of antioxidants and fibre.
My grandmother prepares Rhubarb Jam many a times for us. I spend my summer vacations with her only. Her company is wonderful. She teaches me a lot and also taught me how to make Rhubarb Jam. I made mistakes initially. But gradually I learnt to make it on my own without any help. I even surprised my mother with jars of Rhubarb jam. Indeed, it is quite yummy and tasty.
Another great jelly? Apple jelly! Here is everything you need to know about apply jelly and its substitutes. You too can make it at your own by following the below mentioned Rhubarb Jam Recipe. But here are some other amazing recipes that you should definitely try.
1. Sweet Tamales– This recipe is one of my favorite recipes and it is a very famous Mexican cuisine. I am talking about the Sweet Tamales. This recipe is made using the corn husks that we usually throw away without knowing that it can be utilized.
2. Elderberry Jelly– I know the easiest way to make Elderberry Jelly, which only requires 4 ingredients. I have shared the recipe for that tasty jelly that you can make at home in this post.
3. Apricot Freezer Jam– Apricot freezer jam! Sounds yummy and with this, you might get a picture of apricot jam on your crunchy toast.
4. Apple Jam– Apple Jam and bread is no doubt the staple diet of the majority of us. I begin my day with jam and bread. When I learnt that it can be made at home with much ease, I immediately sprung into action.
Ingredients Required for Rhubarb Jam Recipe
| | |
| --- | --- |
| Ingredients | Amount |
| Chopped Fresh Rhubarb | 2 1/2 pounds |
| White Sugar | 2 cups |
| Orange Juice | 1/3 cup |
| Water | 1/2 cup |
| Grated Orange Zest | 2 teaspoons |
How much time will it take?
| | | |
| --- | --- | --- |
| Preparation time | Cooking time | Total time |
| 25 minutes | 45 minutes | 1 hour 10 minutes |
Rhubarb Jam Recipe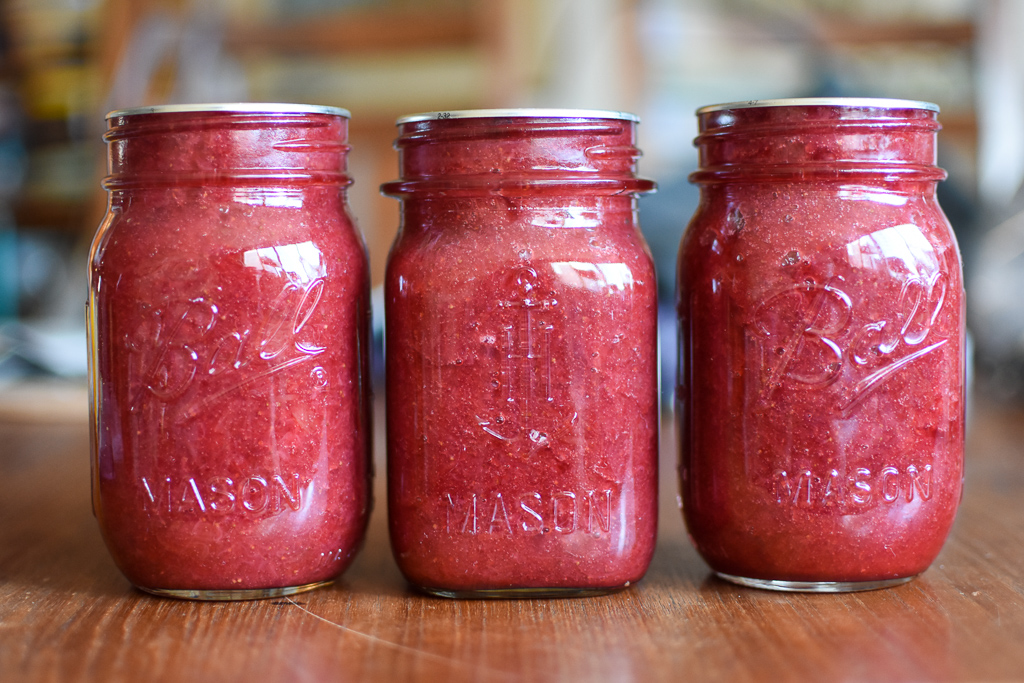 Mix the sugar, rhubarb, orange juice, orange zest, and water in a saucepan.
After bringing to a boil, cook over medium-low heat for about 45 minutes with occasional stirring.
The mixture would keep on thickening as it cools down.
Scoop it into hot sterile jars and afterwards seal them with lids and rings.
These open jars are to be stored in the refrigerator.
Nutritional Information of Rhubarb Jam Recipe
| | |
| --- | --- |
| Calories | 57 |
| Total fat | 0.1 g |
| Sodium | 2 mg |
| Potassium | 108 mg |
| Sugars | 13 g |
| Dietary fiber | 0.7 g |
| Total carbohydrates | 14.4 g |
| Vitamin A | 42 IU |
| Vitamin C | 4 mg |
| Calcium | 31 mg |
| Proteins | 0.3 g |
How to Rhubarb Jam at Home | Video