How To Make Red Lobster Tartar Sauce At Home
A sauce can elevate any recipe in a jiffy. Red Lobster's great tartar sauce is top on that list. To understand this better, whip up a batch of copycat Red Lobster tartar sauce at home with us. Once you try this recipe, I am sure you will never go back to countertop tartar sauce. 
Red Lobster tartar sauce is easy to make at home but what sets it apart is a touch of sweetness added to it. It comes alongside the fish entree at Red Lobster. Prepared with just a few ingredients, this copycat sauce is a great option. 
Stir in the mayonnaise, sweet relish, finely minced onions, and carrots in a bowl. The sauce will be ready. Refrigerate to let it set before you serve. This will help in the proper infusion of flavors. Only the cooling process takes some time, the sauce is prepared in the blink of an eye!
So, don't delay anymore and get started with this simple sauce in your comfort. Dive in to see the list of ingredients, equipment, nutritional facts, step-by-step instructions, and some important FAQs. But before getting the instructions, check out our other copycat recipes.
1. Red Lobster Cheddar Bay Biscuits – Red Lobster cheddar bay biscuits are soft and cheesy. These biscuits are enriched with the goodness of buttermilk, flour, and cheddar cheese. Sugar adds sweetness to these biscuits while garlic and cayenne pepper adds spiciness to them. Parsley gives a herbal aroma and taste to the biscuits.
2. Red Lobster Shrimp Scampi – Red Lobster shrimp scampi has shrimp fried to perfection and spiced up by adding garlic, salt, and pepper. Parsley adds herbal earthiness to this dish while white wine and parmesan amp up the taste of this dish. Lemon juice adds a citrusy twist to this dish.
3. Red Lobster Pina Colada – Red Lobster Pina colada is a flavorsome dip. It has crushed pineapple, coconut flakes, and cornstarch mixed together with a Pina colada mix. This dip has the taste of pineapple, Pina Colada, and the sweetness of sugar. You can easily make this dip at home with ease.
4. Red Lobster Nantucket Cod – Red Lobster nantucket baked cod has crispy cod topped with a mouth-watering aromatic blend. This dish has the tanginess of tomatoes, the taste of parmesan, the zesty taste of lemon, and the spiciness of the spice blend. It's the main course dish from American cuisine and is served with beans, a lemon wedge, and rice.
What Equipment Will You Need To Make Red Lobster Tartar Sauce?
Bowl – Take a bowl to stir in all the elements. 
Spoon – Mix the elements in a bowl using a spoon. 
How Much Time Will You Need To Make Red Lobster Tartar Sauce?
| Preparation Time | Cooking Time | Total Time |
| --- | --- | --- |
| 2 Minutes | – | 2 Minutes |
What Ingredients Will You Need To Make Red Lobster Tartar Sauce?
Mayonnaise – A tablespoon of mayonnaise will be used as a base of tartar sauce. 
Yellow Onions – Diced onions will bring out sweet and savory flavors. 
Carrot – Prepare the colorful tartar sauce with diced carrots. 
Sweet Relish – Adding a sweet relish to the sauce will bring out sweet and tart flavors. 
Parsley – Garnish your tartar sauce with freshly chopped parsley.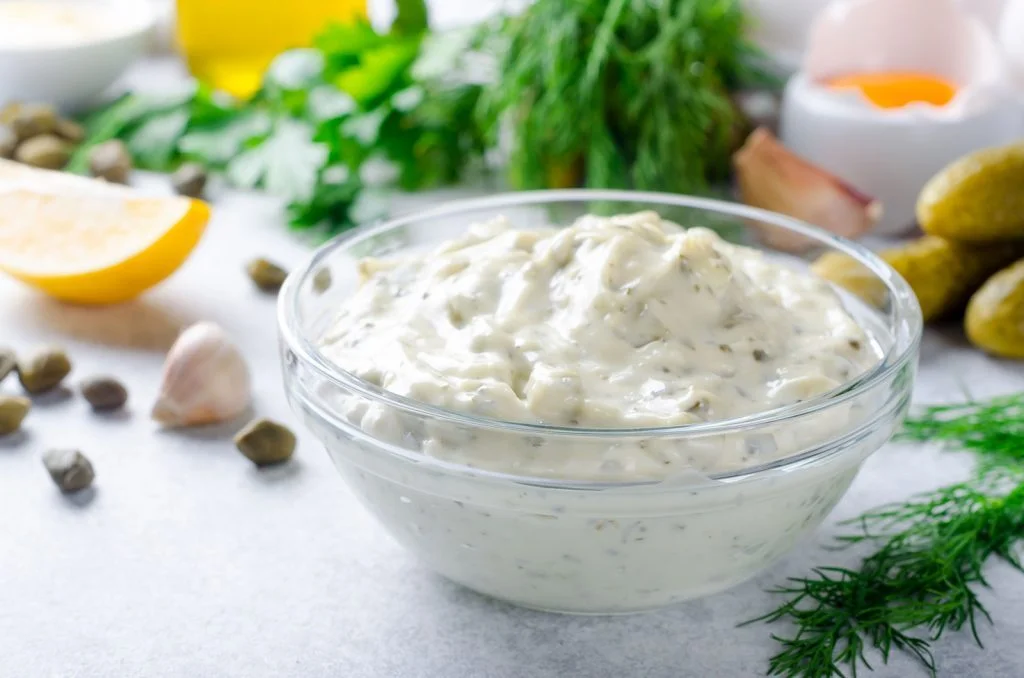 Steps To Make Red Lobster Tartar Sauce
1. Sauce Concoction 
Get the copycat Red Lobster tartar sauce ready in a trice. Whisk in all the elements together and serve! Yes, you read that right. Add mayonnaise, yellow onions, diced carrots, and sweet relish. Stir 1-2 minutes to combine. Refrigerate before you serve. 
Nutritional Information
| | |
| --- | --- |
| Calories | 210 kcal |
| Carbohydrates | 4 g |
| Sugar | 3 g |
| Dietary Fiber | 1 g |
| Fat | 21 g |
| Protein | 1 g |
| Sodium | 180 mg |
| Cholesterol | 15 mg |
How Will Red Lobster Tartar Sauce Look And Taste Tartar Sauce?
Red Lobster tartar sauce has a subtle sweet touch and a creamy taste. The colorful carrots and onions add savory and nutritious flavors to the sauce. It is great to eat with fish or any other seafood, but no less than delicious with other dishes. 
Red Lobster Tartar Sauce Recipe
Red Lobster tartar sauce is quick and easy to make. Just a little whisk and your tartar sauce will be ready. You need mayonnaise, yellow onions, carrots, and sweet relish.
½

cup

Mayonnaise

½

cup

Yellow Onions

½

cup

Carrot

1

tablespoon

Sweet Relish

1

teaspoon

Parsley
Finely mince onion, carrots, and chunks of relish.

In a small bowl, add all ingredients and stir in to combine.

Refrigerate for some time before you serve.

Enjoy!
Frequently Asked Frequently (FAQs)
1. How do you make red lobster tartar?
Stir in mayonnaise, carrot, onions, and sweet relish. Whisk until it is combined well. 
2. How Long Will homemade tartar sauce last in the refrigerator?
You can store the tartar sauce in the refrigerator for up to two weeks. 
3. Why is it called tartar sauce?
It originated in France and was named after two tatars who were later settled in Ukraine.
4. Can you freeze tartar sauce?
There is no need to freeze the tartar sauce. However, you can simply refrigerate for up to two weeks. 
Surprise yourself with a 2-minute copycat tartar sauce recipe. Refer to the article above for all the details. Share your experience in the comment section below.