How To Make Red Lobster Pina Colada At Home
A delightful Red Lobster pina colada is a classic and sweet dipping sauce. It is often served with fried seafood like shrimps, fish, or sometimes with chicken nuggets. Making Red Lobster pina colada sauce at home is as easy as pie. This homemade version tastes exactly like Red Lobster. 
If you love the homemade sauces, it's hard to miss out on the pina colada sauce. It only needs pina colada mix, sugar, crushed pineapple, water, and cornstarch. Serve the coconut-flavored sauce with your favorite fried dishes. 
No matter the occasion, any dish could be elevated from a Lobster-inspired pina colada sauce. You'll relish this sauce at home so much that you don't have to go back to the restaurant. 
Look no further than this copycat Red Lobster's pina colada dip for a real party winner! The notable list of equipment, ingredients, nutritional facts and step-by-step instructions is mentioned below. 
1. Red Lobster Cheddar Bay Biscuits – Red Lobster cheddar bay biscuits are soft and cheesy. These biscuits are enriched with the goodness of buttermilk, flour, and cheddar cheese. Sugar adds sweetness to these biscuits while garlic and cayenne pepper adds spiciness to them. Parsley gives a herbal aroma and taste to the biscuits.
2. Red Lobster Shrimp Scampi – Red Lobster shrimp scampi has shrimp fried to perfection and spiced up by adding garlic, salt, and pepper. Parsley adds herbal earthiness to this dish while white wine and parmesan amp up the taste of this dish. Lemon juice adds a citrusy twist to this dish.
3. Red Lobster Tartar Sauce – Red Lobster tartar sauce has mayonnaise whipped up with minced carrots, yellow onions, sweet relish, and parsley. This sauce can be paired with snacks, appetizers, and seafood. Red lobster tartar is nutritious and can be made at home within a few minutes.
4. Red Lobster Nantucket Cod – Red Lobster nantucket baked cod has crispy cod topped with a mouth-watering aromatic blend. This dish has the tanginess of tomatoes, the taste of parmesan, the zesty taste of lemon, and the spiciness of the spice blend. It's the main course dish from American cuisine and is served with beans, a lemon wedge, and rice.
What Equipment Will You Need To Make Red Lobster Pina Colada Sauce?
Saucepan – Boil the sauce using a saucepan. 
Ladle – Stir in all the elements using a ladle.
How Much Time Will You Need To Make Red Lobster Pina Colada Sauce?
| Presentation Time | Cooking Time | Total Time |
| --- | --- | --- |
| 2 Minutes | 5 Minutes | 7 Minutes |
What Ingredients Will You Need To Make Red Lobster Pina Colada Sauce?
Pina Colada Mix – To make the pina colada sauce, take a teaspoon of pina colada mix. 
Water – For the right consistency, add half a cup of water with cornstarch. It will help in thickening the sauce. 
Crushed Pineapple – The sauces, cocktails, or any beverages have crushed pineapple to them. It adds fruity and tangy flavors to the sauce. 
Coconut Flakes – With a hint of sweetness, the coconut flakes are well-paired to make the sauces. 
Cornstarch – Thicken the sauce by adding a teaspoon of cornstarch.
Sugar – Add sugar to your taste.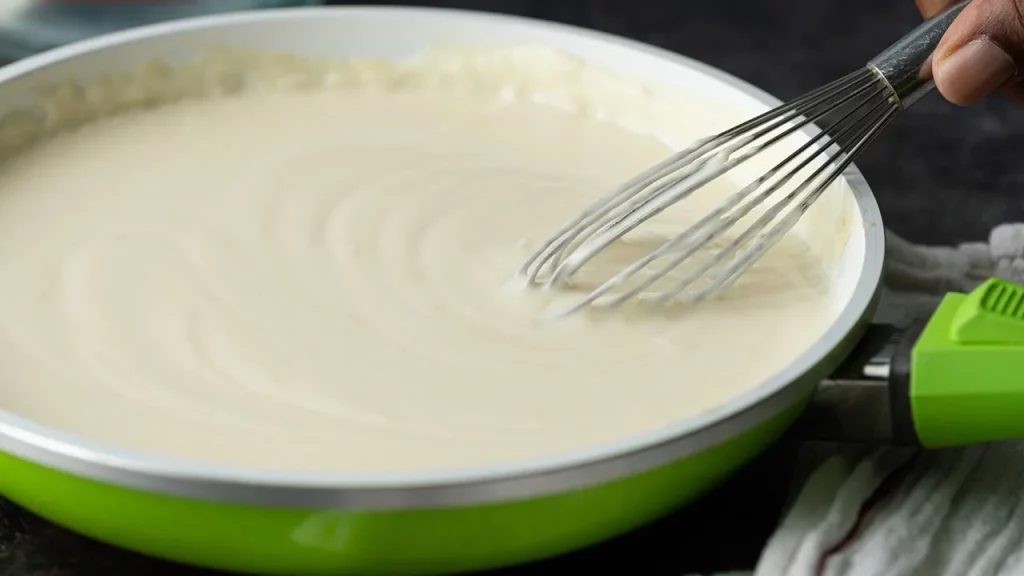 Steps To Make Pina Colada Sauce 
1. Merge 
Take a saucepan, add water, sugar, and cornstarch. Cook it for 2 minutes until it is thick. Then, add pina colada mix, crushed pineapples, and flaked coconut. Let it cook for 3-4 minutes until you see the bubbles forming. The sauce will be ready! Let it sit for some time before you serve. 
Nutritional Information
| | |
| --- | --- |
| Calories | 120 kcal |
| Carbohydrates | 16 g |
| Fat | 5 g |
| Sodium | 20 mg |
How Will Red Lobster Pina Colada Sauce Look And Taste Like?
The Pina colada sauce is tangy, flavorful, and delicious. It complements the shrimps so well and satiates your seafood cravings. It is glazy, sweet, and a must-have sauce in your kitchen.
Red Lobster Pina Colada Recipe
Red Lobster pina colada is a flavorful dipping sauce served with seafood dishes. This sauce is prepared in 5 minutes. Moreover, you can store the sauce for up to two weeks. Get ready with your pantry staples and prepared this copycat sauce with us.
½

cup

Pina Colada Mix

½

cup

Water

½

cup

Crushed Pineapple

½

cup

Coconut Flakes

1

teaspoon

Corn Starch

1

teaspoon

Sugar
Take a bowl, add water, sugar, and cornstarch. Stir this up and put it in the saucepan over low heat. Cook for 1 minute until thickened.

Then, add pina colada mix, crushed pineapples, and flaked coconut.

Cook for 3-4 minutes until you see the thick and smooth consistency of the sauce.

Serve with your favorite fried dishes.
Frequently Asked Frequently (FAQs)
1. What sauces does Red Lobster have?
Red Lobster has various sauces like cocktail sauce, ketchup, Marinara sauce, Pina Colada sauce, and tartar sauce.
2. Does Red Lobster Have Pina Colada?
Yes, Red Lobster offers pina colada sauce on its menu.
3. How much is pina colada at Red Lobster?
Pina colada is served for free with delectable seafood dishes. 
4. Does Red Lobster have coconut shrimp bites?
Red Lobster serves coconut shrimps, popcorn shrimps, garlic shrimps, and many other shrimps. 
This copycat Pina colada dipping sauce is easy as a pie. Refer to the article for all the details. Let us know how it goes in the comment section below.