How To Make Red Lobster Lobster Bisque At Home
Incredible flavors from the ocean in a little bowl of lobster bisque. It is filled with rich and umami flavors. How about you get the bisque in your kitchen? Recreate your favorite dining experience with our copycat recipe of Red Lobster lobster bisque at home. Scroll down for the details. 
Become a food connoisseur and prepare a Red Lobster feast at home for your family and loved ones. For making Red Lobster lobster bisque, you need a lobster tail, white wine, olive oil, whipping cream, veggies, and some rich spices. 
Boil the lobster tail and prepare the stock. Saute the veggies, combine everything and let it simmer over medium heat. The warm, hearty, and soul-satisfying bowl of bisque will be ready! This crowd-pleaser dish will remind you of all the flavors offered at Red Lobster. 
Follow to know the detailed measurements and full instructions in the article below, The list of important equipment, ingredients, and nutritional facts are also given in the article below. But before getting the instructions, check out our other copycat recipes.
1. Red Lobster Popcorn Shrimps – Red Lobster popcorn shrimp has shrimp seasoned with spice rub and then coated with egg batter. These shrimp are again dredged in the dry mixture and then deep-fried. These juicy crispy shrimp are loaded with the flavors of egg, salt-pepper seasoning, and Cajun seasoning. These crispy shrimp are served with cocktail sauce or any other condiment.
2. Red Lobster Coconut Shrimps – Red Lobster coconut shrimp has shrimp coated with the breading batter and then fried until they are crispy and golden brown. The breading batter is a mixture of bread crumbs, coconut flakes, pina colada mix, pineapple bits, powdered sugar, and rum. These shrimp are filled with these delicious flavors and are served with a pina colada dipping sauce.
3. Red Lobster Corn On The Cob – Red Lobster corn on the cob is a super easy-to-make dish. The corn is sweet and juicy. It's filled with the flavors of butter and old bay seasoning. It's a healthy side dish and can be enjoyed with any main course meal.
4. Red Lobster Chicken Pasta – Red Lobster chicken pasta has pasta combined with delicious creamy sauce and boneless chicken pieces. It is loaded with the flavors of Cajun seasoning, heavy cream, sun-dried tomatoes, linguine, and sat-pepper seasoning. It's the main course dish and is perfect to be served at a celebration feast.
What Equipment Will You Need To Make Red Lobster Lobster Bisque?
Saucepan – Bring the soup to a boil in a saucepan.
Skillet – Saute all the veggies in a skillet. 
Ladle – Stir in the spices and components with a ladle. 
Knife – Finely chop the veggies using a knife. 
How Much Will You Need To Make Red Lobster Lobster Bisque?
| Preparation Time | Cooking Time | Total Time |
| --- | --- | --- |
| 10 Minutes | 30 Minutes | 40 Minutes |
What Ingredients Will You Need To Make Red Lobster Lobster Bisque?
Lobster – Take half a pound of lobster to prepare this rich bowl of soup. 
Water – Increase the liquid content of the soup by adding half a cup of water. 
Olive Oil – Saute the veggies using olive oil. 
White Wine – Add a tablespoon of white wine for flavoring the lobster stock.
Butter – Make a roux gravy by combining butter and flour. 
Whipping Cream – A teaspoon of whipping cream will add a velvety texture to the soup. 
Garlic – Enhance the aromatic blend to the bisque by adding minced garlic. 
Parsley – Garnish the soup with freshly chopped parsley. 
Shallots – Add some finely chopped shallots to the soup. 
Celery – Celery is a player as it adds an aromatic edge to the pot. 
Carrots – Some chopped carrots will balance the sweet and savory blends. 
Bay Leaves – Add 2 spears of bay leaf. It brings out a strong and sharp taste to the bisque. 
Black Pepper – Fresh black peppercorns to heat up the soup. 
Thyme Leaves – For earthy and minty flavors, add dried thyme leaves to the soup bowl. 
Tomato Puree – Tomato puree will enrich the tangy flavors. 
 All – Purpose Flour – Prepare the roux gravy to achieve the thick consistency of the soup. 
Chives – Garnish the bisque with freshly chopped chives.
Cayenne Pepper – Spice up the lobster bisque, adding a teaspoon of cayenne pepper. 
Salt – Season the soup with salt to your taste.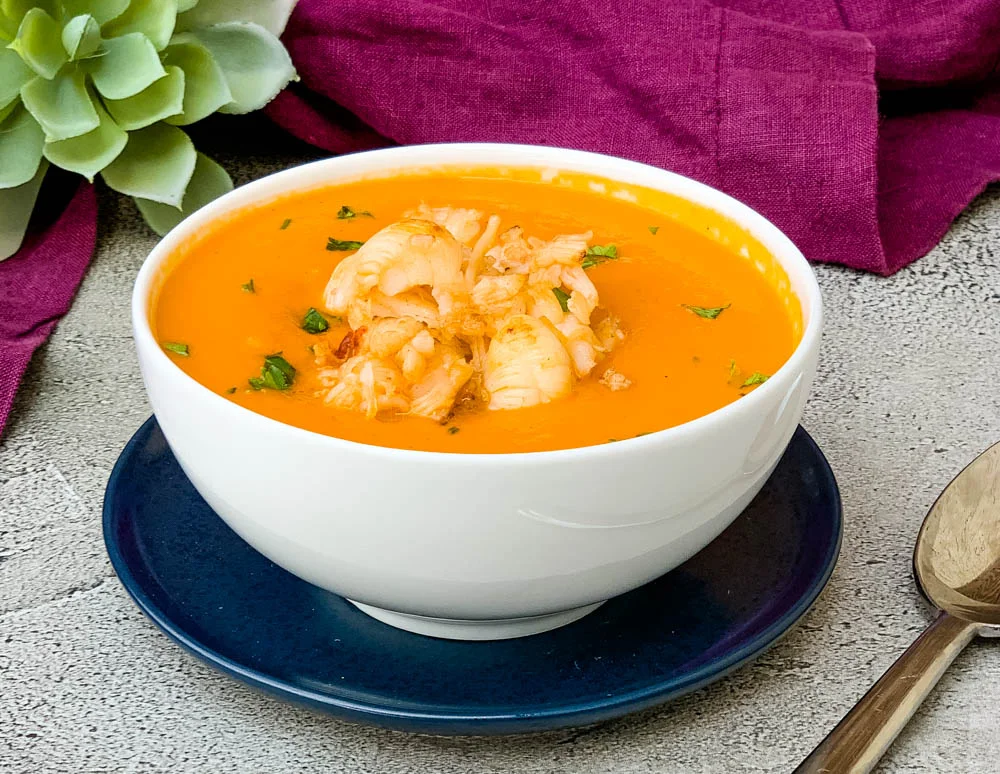 Steps To Make Red Lobster Lobster Bisque
1. Boil The Lobster
Take a large pot and boil the lobster for about 7 minutes. Once the lobster is boiled, drain off the excess water. Shell the lobster and separate the meat. 
2. Profound Veggies
Saute the veggies in butter. Immediately, add flour to create the roux gravy. Then, add the lobster broth, heavy cream, white wine, tomato puree, and thyme. Bring it to a boil for 5 -10 minutes until it thickens. Serve the bisque warm with cooked lobster. 
Nutritional Information
| | |
| --- | --- |
| Calories | 543 kcal |
| Carbohydrates | 30 g |
| Protein | 15 g |
| Fat | 40 g |
| Sodium | 1740 mg |
| Sugar | 4 g |
| Dietary Fiber | 15 g |
| Cholesterol | 12 mg |
| Potassium | 23 mg |
How Will Red Lobster Lobster Bisque Look And Taste Like?
Red Lobster lobster bisque is creamy, sweet, and succulent. The perfect flavors are well emulsified and taste delicious. This heart-warming bowl of soup is high in protein and low in calories. This homemade gourmet dish serves the purpose of this hot seafood soup. 
Recipe Card
Red Lobster Lobster Bisque Recipe
Red Lobster Lobster bisque is a hearty, rich, warm, and soul-satisfying soup. It is filled with incredible flavors staright from the ocean. Make this soup in your kitchen with white wine, lobster tail, lemon juice, veggies, and some spices.
Saucepan

Skillet

Ladle

Knife
½

pound

Lobster

½

cup

Water

2

tablespoons

Olive OIl

1

tablespoon

White Wine

1

tablespoon

Butter

1

tablespoon

Heavy Cream

1

tablespoon

Garlic (Minced)

1

tablespoon

Parsley

½

cup

Shallots

½

cup

Celery

½

cup

Carrots

½

cup

Tomato Puree

1

Bay Leaves

1

tablespoon

Thyme Leaves

1

tablespoon

Chives

1

teaspoon

Cayenne Pepper

1

teaspoon

Salt
Boil the lobster tail for 7 minutes.

Roast the veggies like shallots, celery, carrots, and garlic. Season it with salt, pepper, and cayenne pepper.

Make a lobster stock in accordance with the directions above and below.

Drain the lobster stock and broth from the shells.

Sautee veggies in butter and add flour to create a roux and thicken.

Add the lobster stock broth, heavy cream, white wine, tomato paste, and thyme. Bring the bisque to a boil.

Serve the bisque with cooked lobster meat.
Frequently Asked Questions (FAQs)
1. What is in the lobster bisque at Red Lobster?
Lobster bisque offered at Red Lobster is a soul-warming bowl of soup prepared with lobster meat, veggies, heavy cream, and rich spices. 
2. Is the lobster bisque at Red Lobster good?
It is one of the classic soups offered at Red Lobster. Moreover, the Lobster bisque is better and has a thick consistency. 
3. Are lobster bites real lobster?
The Lobster bites are the real lobsters prepared by using the meat of Langoustines, a member of the lobster family.
4. Is lobster mushroom edible?
Lobster mushrooms are edible and eaten fresh. They have a flavor similar to seafood.
Refer to the recipe above and prepare the copycat bisque in your kitchen. Stay tuned for more recipes and let us know how it goes in the comment section below.