How To Make Red Lobster Cheddar Bay Biscuits At Home
Red Lobster cheddar bay biscuits are filled with sweet and cheesy flavors. Above and beyond, it is easy to prepare a basket of fresh-baked biscuits in your kitchen. Skip the drive-thru, and see for yourself how to make Red Lobster Cheddar Bay biscuits at home!
Cheddar Bay Biscuits have been trending since the day it got introduced. From kids to adults, these biscuits are a favorite menu item from Red Lobster. Cheesy, garlicky, and buttery flavors are infused to make the Bay biscuits rich and delectable. 
For making copycat bay biscuits, you will find the basic pantry staples right in your kitchen. Butter, flour, sugar, garlic powder, cheese, parsley, and buttermilk are some of the key elements. Mix the dry rubs with liquids to prepare the batter.
Drop the batter by a heaping spoonful of biscuit and put it in the oven to bake. Warm and buttery Bay biscuits will be ready in 20 minutes. If you can get the right consistency of the batter, the result will be gratifying. Let's dive in to see the list of equipment, ingredients, nutritional facts, and step-by-step instructions. But before getting the instructions, check out our other copycat recipes.
1. Red Lobster Shrimp Scampi – Red Lobster shrimp scampi has shrimp fried to perfection and spiced up by adding garlic, salt, and pepper. Parsley adds herbal earthiness to this dish while white wine and parmesan amp up the taste of this dish. Lemon juice adds a citrusy twist to this dish.
2. Red Lobster Tartar Sauce – Red Lobster tartar sauce has mayonnaise whipped up with minced carrots, yellow onions, sweet relish, and parsley. This sauce can be paired with snacks, appetizers, and seafood. Red lobster tartar is nutritious and can be made at home within a few minutes.
3. Red Lobster Pina Colada – Red Lobster Pina colada is a flavorsome dip. It has crushed pineapple, coconut flakes, and cornstarch mixed together with a Pina colada mix. This dip has the taste of pineapple, Pina Colada, and the sweetness of sugar. You can easily make this dip at home with ease.
4. Red Lobster Nantucket Cod – Red Lobster nantucket baked cod has crispy cod topped with a mouth-watering aromatic blend. This dish has the tanginess of tomatoes, the taste of parmesan, the zesty taste of lemon, and the spiciness of the spice blend. It's the main course dish from American cuisine and is served with beans, a lemon wedge, and rice.
What Equipment Will You Need To Make Red Lobster Cheddar Bay Biscuits?
Bowl – Merge all the elements in a large batter to form the biscuits batter. 
Spatula – Combine the batter and fold it evenly with a spatula. 
Ladle – Scoop the biscuits onto the parchment paper
Parchment Paper – To avoid stickiness, bake the biscuits on the parchment paper. 
Grater – Grate the cheddar cheese with the help of a grater. 
Basting Brush – Slather some melted butter on the baked biscuits. 
How Much Time Will You Need To Make Red Lobster Cheddar Bay Biscuits?
| Preparation Time | Cooking Time | Total Time |
| --- | --- | --- |
| 5 minutes | 20 Minutes | 25 Minutes |
What Ingredients Will You Need To Make Red Lobster Cheddar Bay Biscuits?
All-Purpose Flour – Biscuits are made by using all-purpose flour as a base.
Kosher Salt – Add kosher salt to your taste.
Baking Powder – Increase the volume and lighten the texture of biscuits using a teaspoon of baking powder. 
Parsley – Garnish your biscuits with fresh parsley mixed with melted butter.
Sugar – For adding sweetness to the biscuits, add a teaspoon of biscuits. 
Cheddar Cheese – As the bay biscuits are cheesy, add some shredded cheddar cheese to the biscuits batter. 
Butter – Adding butter to the biscuits batter will keep the biscuits moist and result in a flaky texture. 
Buttermilk – Buttermilk maintains the liquid content and results in a tender finish. 
Garlic Powder – For aromatic and strong flavors, add a teaspoon of garlic powder to the biscuits batter.   
Cayenne Pepper – A teaspoon of cayenne pepper will bring out natural and peppy flavors to the biscuits.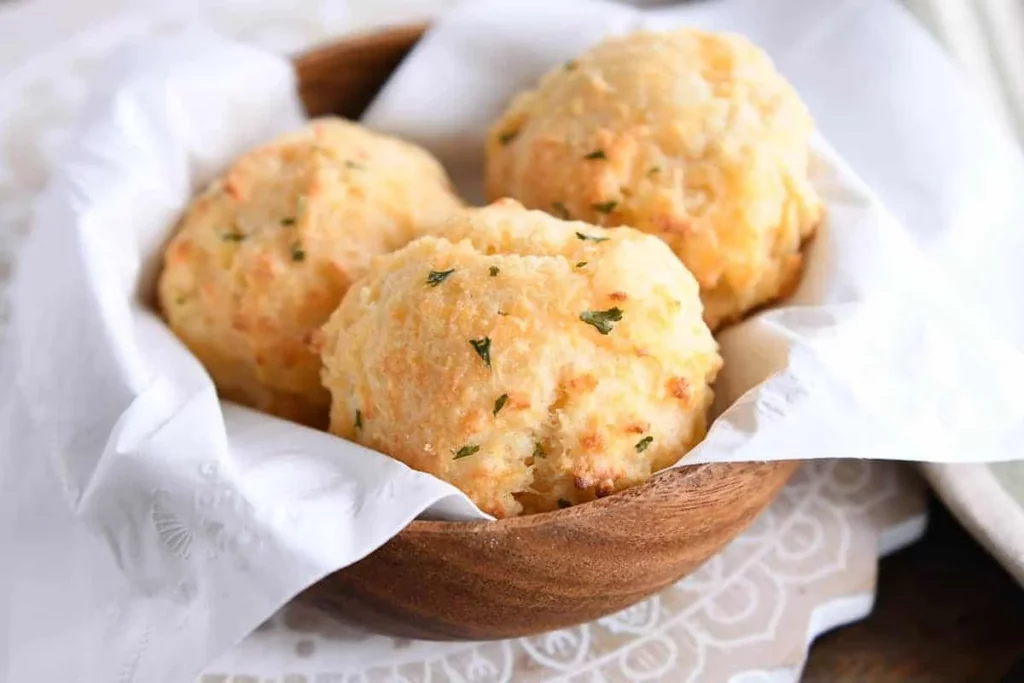 Steps To Make Red Lobster Cheddar Bay Biscuits
1. Blend 
Take a large bowl to mix all the elements uniformly. Begin with the dry rubs. Add flour, sugar, baking powder, salt, and cayenne pepper. Then, add a tablespoon of butter. Mix it well until it is moist. Blend your dry mixture with butter to form a flaky texture. 
2. Next Step 
Further, add shredded cheddar cheese to the flour mixture. Mix it for 2 minutes. At last, half a cup of buttermilk will form the biscuit batter. Put together everything using a spatula. 
3. Bake 
Once you see the thick and consistent batter is ready, begin to bake. With a ladle, scoop the biscuits on the parchment paper and put them in the oven to bake. Garnish your copycat biscuits with garlic butter mixed with fresh parsley. Serve hot!
Nutritional Information 
| | |
| --- | --- |
| Calories | 140 kcal |
| Carbohydrates | 18 g |
| Protein | 2 g |
| Fat | 7 g |
| Sugar | 1 g |
| Sodium | 420 mg |
| Dietary Fiber | 1 g |
How Will Red Lobster Cheddar Bay Biscuits Look And Taste Like?
Red Lobster Bay biscuits are baked to perfection with a golden-brown texture. These biscuits are cheesy and soft on the inside and crispy on the outside. Incredibly mouth-watering these biscuits can be served with warm soups, sausage gravy, and much more. 
Red Lobster Cheddar Bay Biscuits Recipe
Red Lobster cheddar bay biscuits are delicious and easy to make at home. The copycat biscuits recipe is prepared in just 20 minutes with flour, sugar, butter, buttermilk, and some spices. Bay biscuits are soft and cheesy on the inside and flaky on the outside.
½

cup

All-Purpose Flour

1

teaspoon

Kosher Salt

1

teaspoon

Baking Powder

½

cup

Buttermilk

teaspoon

Sugar

½

cup

Cheddar Cheese

1

tablespoon

Butter

1

teaspoon

Parsley

1

teaspoon

Garlic Powder

1

teaspoon

Cayenne Pepper
In a large bowl, mix the all-purpose flour with dry rubs like sugar, baking powder, garlic powder, salt, and cayenne pepper.

Add butter to the dry elements. Mix it well using your hands.

Then, add cheddar cheese and buttermilk. With the help of a spatula, mix until it is combined and moist. The batter should not be runny.

Moving forward, use a ladle and add 5-7 scoops on the parchment paper. Put it in the oven to bake for 20 minutes.

Garnish your baked biscuits with melted butter that is mixed with fresh parsley and garlic powder.

Serve Warm!
Frequently Asked Frequently (FAQs)
1. Why are Red Lobster biscuits so good?
Red Lobster's cheddar Bay biscuits are amazingly delicious because they are served pretty fresh and warm right on your table.
2. Did Red Lobster get rid of Cheddar Bay Biscuits?
Red Lobster cheddar Bay biscuits aren't going anywhere. The stock is sometimes finished due to a lot of biscuit orders. However, Red Lobster is not at all getting rid of one of the best menu items. 
3. What Forks Cheddar Bay Biscuits?
Cheddar Bay biscuits are biscuits made from buttermilk, flavored garlic butter, spices, cheese, and some herbs. When they are baked, they are brushed with melted butter. 
4. Does Red Lobster serve gluten-free biscuits?
Yes, Red Lobster serves biscuits as a treat for gluten-free folks. Red Lobster's gluten-free cheddar biscuits are prepared with a gluten-free mix. 
Get ready to prepare the easy Red Lobster Cheddar Bay Biscuits at home. Refer to the tips and tricks mentioned in the article above. Share your cooking experience with us in the comment section below!